10 Essential Restaurants in Cheshire, CT
Whether you're a visitor or a local, Cheshire has something to offer everyone. With a variety of restaurants to choose from, you'll never run out of options.
In this article, we go over the 10 best restaurants in Cheshire, CT. From fast, casual restaurants to hidden gems, so stick around!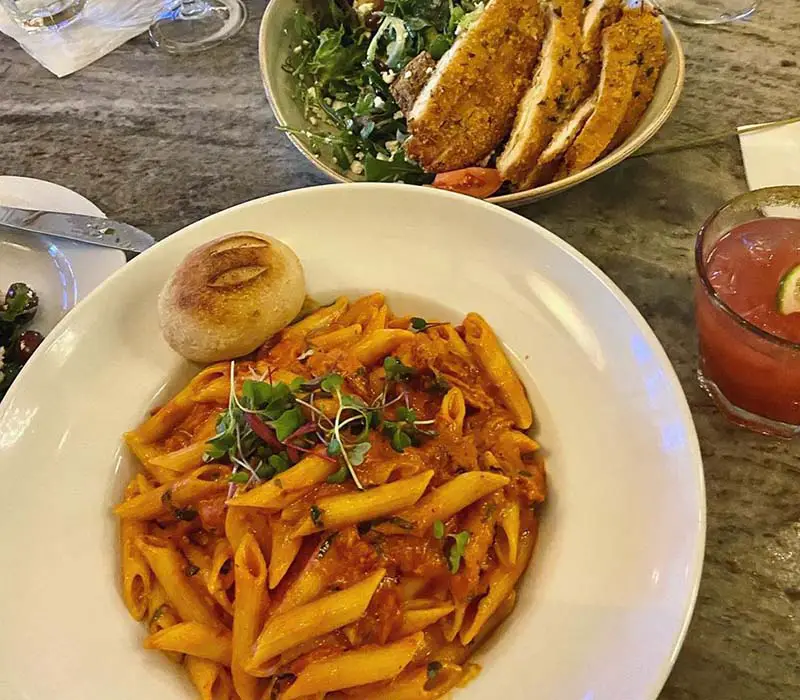 Restaurants in Cheshire, Connecticut
1. Viron Rondo Osteria
Want to treat yourself to an unforgettable dining experience? Viron Rondo Osteria is definitely worth a try. With its elegant Italian cuisine and classy interior, this restaurant is perfect for either cozy outdoor seating or a romantic dinner. 
Their menu features nearly every popular Italian dish you can think of, including wood-fired paninis, Italian sandwiches, pasta, pizza, and antipasti.
One thing that stands out for Viron Rondo is the variety of its menu. If you want a fancy meal, you can try other dishes like Penne Vodka or Veal Chop Milanese. Also, be sure to spice up your experience with a high-end bottle of wine from their extensive wine collection.
This isn't only one of the top Italian restaurants in Cheshire, it's also rated as one of the best Italian restaurants in the entire state!
Address: 1721 Highland Ave, Cheshire, CT
2. Bone in Prime
When you're looking for a truly special evening, you'll want to make a reservation at the acclaimed steakhouse, Bone in Prime.  
Boasting a menu filled with steak, prime rib, and gourmet seafood, it's easy to have an amazing evening here. The restaurant's highlights don't stop at its menu, though!
The fancy decor and exotic ambiance will take your experience to another level. Moreover, the restaurant is known for its professional service and friendly staff. This is certainly one of the top steakhouses in Connecticut.
Address: 1410 Highland Ave, Cheshire, CT
3. Bella'Gio
Bella'Gio is another amazing spot known for its Italian food. The restaurant serves some of the best Italian dishes in the area. 
From their famous Penne Alla Vodka to their wood-fired pizzas and perfectly cooked pasta dishes, you'll be sure to find something for everyone on their menu. 
What's more, all of their food is made with fresh ingredients and spices, so you know it's going to be tasty.
Address: 835 W Main St, Cheshire, CT
4. Yougu Hibachi & Sushi Lounge
When your sushi cravings take over, Yougu Hibachi & Sushi Lounge is a must-visit if you're in Cheshire, CT.
The Japanese restaurant offers a wide selection of sushi, including California Rolls, Chicken Hibachi, Shrimp Tempura Roll, Spicy Tuna Rolls, Crab Rangoon, and Spicy Crab Rolls.
To ensure fantastic taste and value for every meal, the chefs use the freshest ingredients with daily fish deliveries. 
In addition to its flavorful menu, the restaurant has a full bar and space for private parties and catering. This is one of the best sushi spots in the area.
Address: 195 Highland Ave, Cheshire, CT
5. Paul's Restaurant
Looking for a classic American brunch spot? Paul's restaurant should be on your list. Established in 1986, Paul's restaurant offers some of the best breakfast dishes in town.
The menu covers all the favorites like omelets, salads, fresh burgers, wraps, pancakes, and eggs benedicts as well as homemade soups. Don't forget to check out their daily specials and desserts too!
At Paul's Restaurant, you'll get nothing but great service and delicious food. Whether it's your first time or your hundredth time there, you're sure to have a memorable dining experience.
Address: 1127 Highland Ave, Cheshire, CT
6. Blackie's Hot Dog Stand
If you're in the mood for a classic hot dog with all the fixings, Blackie's Hot Dog Stand is the way to go. Since 1928, the family-owned restaurant has been one of the most popular restaurants in Cheshire, CT.
Whether you're looking for a classic hot dog with mustard and onions, a fresh burger, or ice cream, Blackie's has it all!
With its retro vibe, casual atmosphere, and friendly staff, Blackie's Hot Dog is perfect for either a quick bite while you're on the road or a chill night out with friends and family.
Address: 2200 Waterbury Rd, Cheshire, CT
7. Vespucci's Restaurant
One of the best restaurants in Cheshire is Vespucci's Restaurant. This Italian restaurant has perfected its traditional Italian fare, and you can tell from the moment you walk in.
The atmosphere is warm and inviting, and the service is always friendly and attentive.
The dishes are always top-notch, like their Pappardelle Carbonara. And don't forget to save room for dessert! The tiramisu is one of the best around.
Address: 150 Main St, Cheshire, CT
8. Rossini's Italian Restaurant and Pizza
When you're visiting Cheshire, you'll want to check out Rossini's Italian Restaurant and Pizza. From creamy Alfredo to cheese pizza with all the fixings, you'll find something to please everyone. 
The menu includes classic Italian appetizers like bruschetta and calamari, as well as family favorites like chicken parmigiana and lasagna. They even have vegan options available.
When you come to Rossini's make sure you try one of their famous pizzas. You can go for the classic Margherita or pepperoni but they also have some more creative toppings.
If you don't want to get a whole pizza they also offer individual slices so you can mix and match flavors. 
Address: 529 W Main St, Cheshire, CT
9. Cheshire Pizza & Ale
Cheshire Pizza & Ale is another solid pizza joint. This cozy pizzeria is one of the town's most popular destinations, with an inviting atmosphere and delicious hand-tossed pizzas.
Cheshire Pizza & Ale has something for everyone, from classic Italian Margherita to specialty pizzas like the Chicken Bacon Ranch. Plus, they have a wide selection of salads, appetizers, and desserts to choose from as well!
It's certainly one of the more popular pizza joints in this part of CT. You can order online for takeout or delivery.
Address: 133 Highland Ave #2520, Cheshire, CT
10. China Dragon
China Dragon is the perfect spot for Chinese food lovers. Their menu is extensive and packs a flavor punch. From their signature General Tso's chicken to the fried rice, you can't go wrong
Everything is freshly made, and their prices are pretty reasonable for a sit-down restaurant. Plus, their portions are generous, so you get what you pay for. 
It's not just Chinese food though, as they offer Thai dishes as well. The restaurant is open every day of the week except Monday.
Address: 460 W Main St, Cheshire, CT
Other Solid Dining Spots in Cheshire
If you still haven't found your perfect restaurant in Cheshire, don't worry. Here are some other restaurants in Cheshire, Connecticut you may want to try out.
Victorian House Restaurant & Tavern
Main Street Caffe
Fuoco Apizza
Restaurants Cheshire, CT – Final Thoughts
Connecticut has a ton of excellent places to eat, but the Cheshire restaurants stand out. The Italian food is particularly good in this town. Specifically, Viron Rondo Osteria, which receives rave reviews online.
Whether you're dining for breakfast, lunch, or dinner, you won't be disappointed with any of these spots.