11 Excellent Restaurants in Branford, CT
If you're visiting the shoreline town of Branford, you might be wondering about the best place to try the local food, mingle with the people, and chill after a long day. I've got the answer for you. 
During my travels, I came up with a list of the best restaurants in Branford, CT. So, next time you're in town, you'll find the proper meal to satisfy your hunger.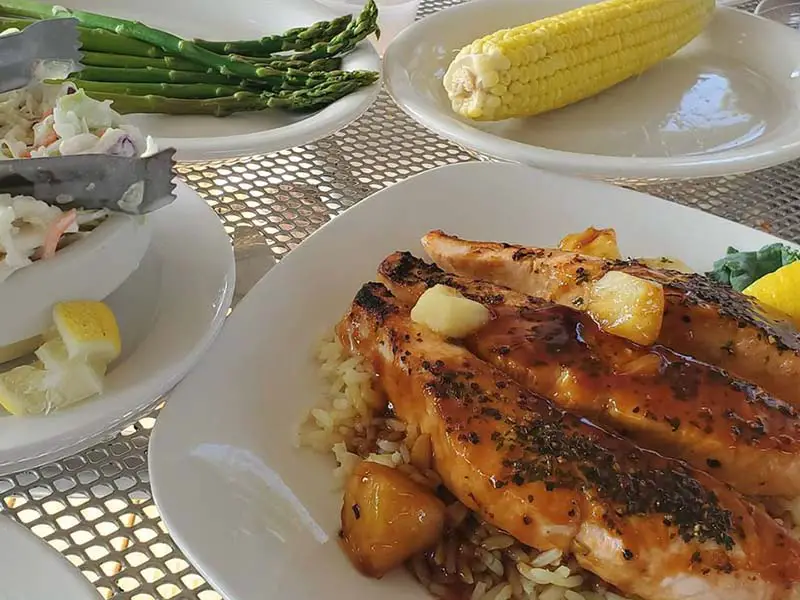 1. U.S.S. Chowder Pot III
U.S.S. Chowder Pot III is an American diner that serves seafood plates, appetizers, and soups. I personally believe that it's the number one spot to try the local cuisine. 
The place has been going strong for more than 40 years, and guests love the vast and varying menu options.
There are three menus for lunch, dinner, and kids, but my absolute favorite is the fresh live lobster, selected right from the tank and served with the restaurant's special seafood stuffing. 
Not only is this one of the best restaurants in Branford, Connecticut, but it's also one of the top seafood restaurants in the entire state.
Address: 560 E Main St, Branford, CT
2. Branford Townhouse Restaurant
Branford Townhouse Restaurant is a cozy and affordable diner to grab a bite any time you like without breaking the bank. It's a traditional American diner with affordable prices.
The space is clean, the staff is friendly, and you can pair your food with a satisfying selection of local beers and wines. Orders can sometimes be slow, but the food is totally worth waiting for. 
I love the homemade soup, and I would recommend checking out the daily seafood option. It's a great spot for family gatherings, too. 
Address: 18 N Main St, Branford, CT
3. LoMonaco's Ristorante Italiano
Enjoy the best Italian cuisine in town at LoMonaco's Ristorante Italiano. This is an old-school Italian spot with a white tablecloth dining room, but the place has recently added an extension for takeout pizza and sandwiches.
The Gnocchi Napolitano is a must-order, and the pizza menu is very satisfying. Plus, there are several healthy and vegetarian options on the menu as well. 
People can rent the place for private events, and the restaurant offers a special party menu. 
Address: 990 W Main St, Branford, CT
4. Guacamole's Mexican Cuisine
As the name suggests, Guacamole's Mexican Cuisine is the best spot in town to try authentic Mexican food in CT. 
Unlike other joints that serve Mexican American fusion, this place sticks to the traditional recipes. The prices are super affordable, and the staff is friendly. 
You can enjoy a satisfying meal for less than $10, but some plates from the main menu cost a little bit more. Indoor and outdoor dining spots are available, and my absolute favorite item is the taco salad. 
Address: 2 Sybil Ave, Branford, CT 
5. Home Restaurant
Home Restaurant is the top-rated restaurant in Branford, offering an American fusion bar experience with seafood and meat plates. There are also several vegan and vegetarian options to choose from. 
This is the best place to try local comfort food and drinks in a cozy setting. Plus, the staff is friendly and will explain the contents of every dish. The place is suitable for special dinners and dates but can also be the perfect spot for a family gathering. 
I personally recommend trying the mac & cheese dishes, as they offer various unique options that you can try. 
Address: 1114 Main St, Branford, CT
6. 9 East Hibachi & Asian Kitchen
Visiting the 9 East Hibachi & Asian Kitchen for the best shoreline Asian and hibachi experience will be something that you won't forget.
This restaurant offers a lot of Asian, Japanese, and Chinese fusion and traditional recipes in a classic-style hibachi setting. The chefs use carefully sourced and selected fresh ingredients from the local market and prepare them to provide you with an authentic Asian flavor.
The flashy hibachi shows make this spot a great attraction for tourists and first-time town visitors. There's also a full drinks menu, and a big selection of sushi rolls to discover. 
The salt pepper prawn is my absolute favorite, but there are plenty of other menu items you might like. 
Address: 310 E Main St, Branford, CT
7. Cafe Fiore
Cafe Fiore is a cozy spot to enjoy Italian dishes in an elegant setting. The portions are generous, and the food is delicious, so you won't leave your table hungry.
I love the chicken piccata and the amazing wine selection. You can also check out the happy hour menu.
This Branford restaurant is great for dining in, but they offer takeout as well. However, there is no option for delivery at Cafe Fiore.
Address: 420 E Main St, Branford, CT
8. La Luna Ristorante
La Luna Ristorante is another restaurant in Branford. It's a traditional Italian eatery with a special menu for martinis. With a cozy interior, helpful staff, and a wide selection of Italian specialties, this should definitely be on your list if you're visiting Branford for the first time. 
The outdoor patio is great on warm evenings, and the live music show makes it more special. 
The restaurant offers lunch, brunch, dinner, party menus, and orders to-go. I highly recommend their seafood items, especially the fried calamari and baked clams. You can also enjoy the Happy Hour from 4 pm to 6:30 pm.  
Address: 168 N Main St, Branford, CT
9. Dockside Seafood and Grill (Seasonal)
The Dockside Seafood and Grill is a waterfront marina-side spot for fresh seafood you can enjoy in the summer. The open restaurant and the live events make this one of the best experiences you shouldn't miss. 
Food is caught and served fresh, so you can enjoy the explosion of flavors with every bite. I highly recommend the lobster salad and the lobster with mussels if you want to experience some amazing New England seafood. 
The place is open for lunch and dinner and serves cool drinks. It's one of the more affordable seafood spots in the area. 
As one of the few waterfront restaurants in Connecticut, I highly recommend taking in the view here.
Address: 145 Block Island Rd, Branford, CT
10. Lenny's Indian Head Inn
Lenny's Indian Head Inn is a simple yet relaxing American eatery with seafood specials and fantastic waterfront views. Guests here can enjoy the amazing food and the fun and relaxed dining experience. 
Everything on the menu is prepared from the day's fresh catch, handcrafted with high-quality ingredients, and cooked to perfection. 
It's a wonderful place to enjoy traditional New England seafood, especially the batter-dipped cod. I also love the homemade fries, which show how the chefs pay attention to every detail. It's an excellent choice for families and friends. 
Address: 205 S Montowese St, Branford, CT
11. Hornets Nest Breakfast, Lunch and Catering
Hornets Nest Breakfast, Lunch and Catering is a family-run deli serving a wide variety of tasty sandwiches, wraps, and breakfast specials. 
The place opens at 6:30 am and offers food until 3:30 pm, so this is your chance to grab breakfast or lunch. The food always comes quickly and is warm and delicious. 
It's an affordable spot to grab a healthy snack on a busy day, and my favorite choice is the buffalo chicken sandwich. 
Address: 269 E Main St, Branford, CT
Other Branford Restaurants Worth Dining At
All of the aforementioned Branford restaurants get rave reviews online, however, there are a handful of other good restaurants in town. Here are a few of them:
Eli's Branford
Rossitto's Ristorante
Marco Pizzeria
Jalapeno Heaven
Takumi Sushi Ramen & Lounge
Restaurants Branford CT – Final Thoughts
Discovering a small town like Branford, CT, can be a fun experience. The town is famous for its seafood specials, but there are other cuisines and plates to try. So, don't forget to check this list before you head out for lunch or dinner.