Record Stores in CT – 10 Best Vinyl Record Shops in Connecticut
Digital streaming services dominate the way we consume music today, however, nothing beats a good vinyl record. Vinyl records seem to remain timeless, even in our modern world.
That's why I compiled a list of the best Connecticut record stores. Whether you own a record player, or simply collect vinyl, you're going to want to these awesome record stores in CT.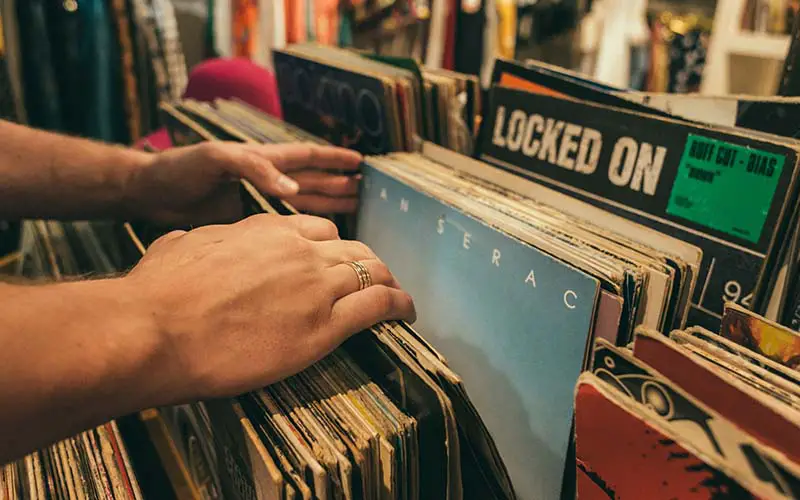 Top Record Stores in Connecticut
1. Redscroll Records – Wallingford, CT
Redscroll Records is one of the best record stores in Connecticut. They carry thousands of vinyl records, CDs, tapes, books, magazines, and other things associated with the music industry.
The shop has a diverse library of music, offering vinyl in a wide range of genres. Compared to many Connecticut record stores, the prices here are pretty affordable.
Plus, the shop will buy or trade if you have something in your own collection you want to offload.
Address: 69 S Turnpike Rd, Wallingford, CT 
Read: 13 Best Connecticut Antique Shops
2. Vinyl Street Cafe – Fairfield, CT
Vinyl Street Cafe is another popular record store in Connecticut. This record shop has a nice selection of both new and old vinyl records.
The staff at Vinyl Street Cafe is very friendly and knowledgeable, so they'll help you find the record or album you're looking for. You're able to shop online as well.
Just be aware that the store is closed on Monday and Tuesday. But you can go pick up a record any other day of the week. This record store is found in Fairfield, CT.
Address: 1895c Post Rd, Fairfield, CT
Read: Top Comic Book Stores in CT
3. Tumbleweeds Record & Boutique – Niantic, Connecticut
Tumbleweeds Record & Boutique is a great place to buy records in CT. The store offers a selection of vinyl records, CDs, cassettes, and vintage merchandise, like t-shirts.
This record store has a ton of used records, so the prices are solid. It's worth stopping by the store if you live in East Lyme.
Address: 325 Main St, Niantic, CT
Read: Best Shopping Malls in CT
4. Uncle Joe's Records – Cromwell, CT
Uncle Joe's Records is a fantastic vinyl record store in Cromwell, Connecticut. They have an extensive selection of records to choose from, and the collection rotates weekly.
Customers are able to find albums and soundtracks in classic rock, hard rock, alternative, hip-hop, R&B, blues, pop, country, electronic, folk, and Indie.
Regardless of what type of music you're passionate about, the store has what you're looking for.
Address: 6 Kirby Rd, Cromwell, CT
Read: Best Shopping Outlets in Connecticut
5. The Archive – Bridgeport, Connecticut
The Archive is one of Connecticut's record stores located in Bridgeport. This spot offers a number of vintage collectibles, including vinyl records, VHS, DVDs, Blu Ray, movies, collectible toys, magazines, and posters.
The store is clean and the staff here is very knowledgeable. They can usually help you track down what you need.
Address: 118 Congress St, Bridgeport, CT
Read: Best Flea Markets in Connecticut
6. Gerosa Records – Brookfield, CT
Gerosa Records is an excellent Connecticut record store found in Brookfield. They sell music lovers a variety of items like vinyl LPs, 45's, CDs, concert DVDs, books, and posters, along with memorabilia.
The records are available in basically every genre, including rock & roll, punk rock, progressive rock, reggae, metal, soul, R&B, hip-hop, country, jazz, folk, blues, and classical. There's a sizable soundtrack section too.
Record collectors can find music from both new and old artists at Gerosa Records. Plus, they buy posters, memorabilia, CDs, cassettes, and 8 tracks.
Address: 246 Federal Rd C16, Brookfield, CT
Read: Best Furniture Stores in Connecticut
7. Disc & Dat – Bethel, Connecticut
Disc & Dat is another highly-rated record store in CT found in the Danbury area. Located in Bethel, this is one of the top stores in CT for buying vinyl.
This music retailer offers a collection of used CD's, vinyl, cassettes, and 8 tracks. Whether you want classic or current music, new or vintage, you'll be able to find it at Disc & Dat.
Address: 107 Greenwood Ave, Bethel, CT
Read: Best Farmers Markets in CT
8. Merle's Record Rack – Orange, Connecticut
Merle's Record Rack is a popular place to buy vinyl in Orange. This CT record store has been in business since 1962, so you know that they are reputable.
This hidden gem offers plenty of original records, along with lots of collectibles and memorabilia.
You can also purchase supplies for your turntables, like new needles and belts. They will service your record player in-house as well.
Address: 307 Racebrook Rd, Orange, CT
Read: Best Garden Centers in CT
9. Mystic Disc – Mystic, Connecticut
Mystic Disc is one of the Connecticut record stores located in Mystic. This record store opened in 1983 and sells a range of vinyl, both new and used.
You can find many rare records, cassettes, and CDs here. The store is very organized and it has a great atmosphere. The prices are really good too.
Address: 10 Steamboat Wharf, Mystic, CT, USA
Read: 11 Best Karaoke Bars in Connecticut
10. Records – The Good Kind – Vernon, Connecticut
Records – The Good Kind is another good spot to buy records in Connecticut. Located in Vernon, this shop offers excellent deals on vinyl.
All the merchandise here is in good condition and the prices are reasonable. The store does buybacks and trade-ins as well if you have old vinyl records that have been collecting dust.
Address: 435 Hartford Turnpike, Vernon, CT
Other Excellent Music Stores that Have Vinyl Records
Aside from the shops already mentioned, there are plenty of other cool music stores across the state. Here are some other CT record stores to check out:
Exile On Main Street in Branford
Telegraph in New London
Johnny's in Darien
Revolution Records in Torrington
Record Store CT – Final Thoughts
Those are CT's best record stores. If you're a collector looking to buy a vinyl record, all of these music shops are great options.