10 Reasons to Move to Connecticut (Plus, 5 Reasons Not to)
Thinking about moving to Connecticut? If you're planning on moving to Connecticut, there's a lot you're going to need to know. That's why I put together a comprehensive list of the best and worst things about the state of Connecticut.
I've lived in Connecticut for most of my life, so I'll give you an honest look at what life is like in the Constitution State. This includes everything from taxes and school systems to weather and things to do. So, let's dive in.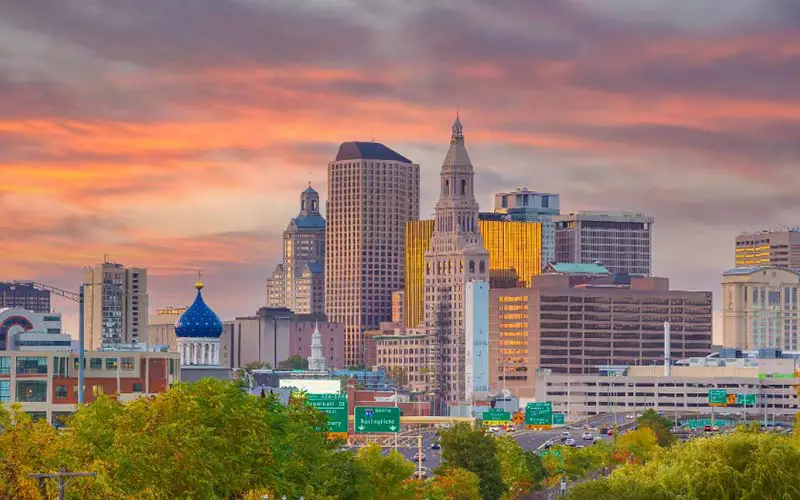 10 Reasons Why You Should Move to Connecticut
Let's start with some of the top reasons why you should want to move to Connecticut. Here are the top 10 reasons why people move to CT from other states.
1. Connecticut has Great School Systems
Connecticut is home to some of the best schools in the county. Universities like Yale, Uconn, and Sacred Heart are fantastic places to send your kids to college.
Not only that, but the public school system in CT is also very good (although, some towns are better than others). This is one of the primary reasons why people move to Connecticut.
2. The State has Four Distinct Seasons
Connecticut is famous for its beautiful fall foliage. In the Fall, the leaves change colors into a range of gorgeous yellows, reds, and oranges. The summers in Connecticut are very comfortable as well, with temperatures hovering in the mid-80s.
Not everyone loves the winter, but it's hard to deny how amazing the snow looks in December, January, and February. Connecticut is one of the few states that can say that it has 4 equally distinct seasons every year.
3. You're able to Get Away From Big Cities
Connecticut has some small cities, but the state is largely known as a suburban paradise. It's the perfect place to live if you want to get away from big cities while still having some neighbors.
If you want to be completely left alone, there are plenty of rural areas as well, specifically in Litchfield and Windham Counties. You'll find plenty of quiet communities on this CT town map.
4. Connecticut has Some Excellent Shopping Malls
When moving to the state, you'll quickly notice that Connecticut is a great place to go shopping. Whether you're looking for designer brands or casualwear, many big stores have a physical presence in CT. You can find plenty of deals at both outlet stores and shopping malls in Connecticut.
5. Plenty of Outdoor Activities & State Parks
There are a ton of fun things to do in Connecticut, especially for outdoor sports and activities. The state is known for having excellent trails for hiking, biking, and skiing. Plus, there are plenty of opportunities for kayaking, rock climbing, and horseback riding in the various state parks.
6. It's the Pizza Capital of the United States
New Haven Connecticut is widely regarded as the pizza capital of the United States. Places like Frank Pepe Pizzeria Napoletana, Sally's Apizza, and Modern Apizza are famous for their coal-fired thin-crust pizzas. If you want to learn more about Connecticut pizza, I wrote a more in-depth article here.
7. There are Awesome Seafood Restaurants
Since it's located on the Atlantic coastline, Connecticut has delicious seafood. The state is specifically known for its lobster rolls, which are served hot and topped with butter. If you enjoy seafood, you'll love living in Connecticut.
8. The Healthcare System is among the Best in the Country
Although expensive, Connecticut has one of the best healthcare systems in the country. Most Connecticut residents can access world-class healthcare very easily, which is why the state has a higher-than-average life expectancy.
9. Close Proximity to New York City & Boston
The state of Connecticut doesn't have many major cities but it is located within driving distance of places like New York City, Boston, and Providence. These are perfect day trips since you can travel to the city in the morning and be back home in the evening. Connecticut does have some relatively lively cities like New Haven and Stamford as well.
10. Connecticut has Terrific Breweries & Wineries
Connecticut has some amazing breweries and wineries. If you like tasting different craft beers and aged wines, you'll fit right in here. There are dozens of fantastic vineyards and distilleries scattered throughout the state.
5 Reasons Why Moving to CT May be a Bad Idea
Now that we've covered some of the main reasons why people move to Connecticut, let's take some time to talk about the disadvantages. Here are some of the reasons why people decide not to move to Connecticut or decide to move out of the state.
1. The Taxes in Connecticut are Extremely High
Taxes are the primary driver for people moving out of Connecticut. Although the taxes in Connecticut are lower than in NYC, the tax burden for the state as a whole is much greater. Connecticut's effective tax rate is among the worst in the country.
The state has high-income taxes, real estate taxes, and vehicle taxes making for a significant burden on middle-class families.
2. Winters are Very Cold and Snowy
While the winters are beautiful, they start to get old if you live in Connecticut long enough. We get an average of 3 feet of snow per year in Connecticut and it always seems to knock out the power lines for a few days. This coupled with the cold weather gets to be too much for most people.
3. People Living in Connecticut Tend to be Older
Connecticut's population is one of the oldest in the United States. So, if you're a bit younger this may be a reason not to move here. There are still plenty of things to do in Connecticut for younger people, however, the nightlife scene is severely lacking. There are only about 5 nightclubs in Connecticut.
4. The Traffic is Horrible
Connecticut is very small in size, so it has one of the highest population densities of any state in the country. For this reason, the main highways (I-95, I-91, and I-84) always seem to be congested. If you hate traffic, this may be a reason to move to another state.
I will say, however, that the traffic in Connecticut isn't as bad as in NYC. If you're coming from New York, this might actually be one of the reasons to live in Connecticut.
5. Many Companies are Starting to Leave
Although Connecticut is home to many high-paying jobs, many of the companies that are headquartered here are starting to leave. These jobs are moving out of state as a result of the high taxes. So before planning a move to Connecticut, it's important that you have some job security.
Moving to Connecticut – Final Thoughts
Those are a few of the reasons to move to Connecticut, along with a few reasons why you might want to delay your move. After coving the advantages and disadvantages of moving to the state of Connecticut, I hope you have a better idea of what it's like living in this great state.
If you're still not sure whether or not moving here is a good idea, I highly recommend that you check out the article I wrote weighing the pros and cons of living in Connecticut. That article goes a bit more in-depth.