Public Pools in CT – Top Places to Go Swimming in Connecticut
During the summer, you can find a number of excellent public swimming pools across Connecticut. But which ones are the best? I decided to find out.
We've rounded up all of the most popular public swimming pools in the state. Here's our list of the top public pools in Connecticut.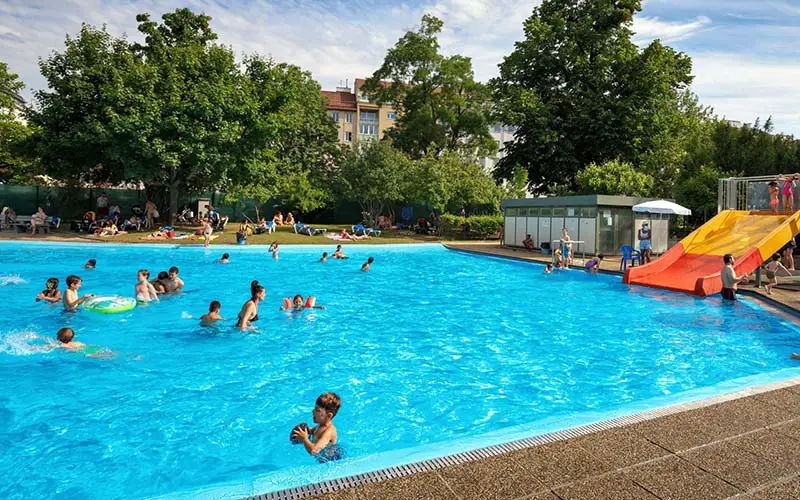 Best Public Pools in Connecticut
1. Veteran's Memorial Park – South Windsor
Veteran's Memorial Park is one of the most popular public swimming pools in CT. It's a massive complex with several different pool areas ranging from pools with diving boards and swim lanes to shallow kids' areas.
The pool is open 7 days a week in the summer, so you're able to purchase your season pass or a day pass. You can visit the pool in South Windsor right of Route 5.
Address: 575 Pleasant Valley Rd, South Windsor, CT
2. Fernridge Park and Pool – West Hartford
Fernridge Park and Pool is a great public swimming pool in Connecticut found in West Hartford. This is an excellent pool for families with small children.
There are two pools and a large splash pad at the park. Plus, there are tons of other outdoor activities to enjoy outside of the water.
Address: 567 Fern St, West Hartford, CT
3. Orange Town Pool – Orange
Orange Town Pool is actually a public indoor pool. Although it's an indoor pool, this is a very affordable place to go swimming.
The admission price for kids is $3 if you're a resident, and $4 if you're not a resident. This community pool is very clean and has attentive lifeguards. There are swimming lanes and diving boards here too as well.
Address: 525 Orange Center Rd, Orange, CT 
4. Wolfe Park – Monroe
Wolfe Park has a nice public pool. Located in southeastern Connecticut, this pool is clean and doesn't get too busy.
You can purchase day passes or get a seasonal membership if you live in the area. There's also a playground at the park, so your kids have something to do once they get bored swimming.
Address: 285 Cutler's Farm Rd, Monroe, CT
5. Goslee Swimming Pool – Windsor
Goslee Swimming Pool can be found in Windsor, Connecticut. This place has a good lifeguard staff and is very family-friendly.
The pool is a ton of fun for kids of all ages, but there's a playground and splash pad as well.
Address: Stroh Park, 1 Mills Rd, Windsor, CT
6. Pesci Pool – Windsor Locks
Pesci Pool is a Connecticut public swimming pool found in Windsor Locks. This outdoor pool offers both swimming lessons and open swim sessions.
Admission is only $1 for the day, plus they offer cheap family passes. Just be aware that they do close from 5 to 6 pm on weekends.
Address: Windsor Locks, CT 
7. Treadwell Memorial Park – Newtown
Treadwell Memorial Park is a great pool to visit if you live in Newtown. The park has both an 8-lane lap pool and a kiddie pool, so there's something for everyone.
The park also has some tennis courts, baseball fields, playgrounds, soccer fields, and pavilions.
Address: 53 Philo Curtis Rd, Sandy Hook, CT
8. Bloomfield Municipal Pool – Bloomfield
Bloomfield Municipal Pool is one of the public pools in Bloomfield, Connecticut. The swimming pools here are very well-maintained and not too busy.
This is one of the few public pool complexes in Connecticut that has a slide. There's also a lap pool and a wading pool for smaller kids.
Address: 390 Park Ave, Bloomfield, CT
9. Waddell Pool – Manchester
Waddell Pool is a little-known spot to go swimming in Manchester. This Connecticut public swimming pool has a slide, lifeguards, and a fun atmosphere for families.
It's not the largest public pool in the state, but it's a nice place to go swimming if you live in the nearby community.
Address: 163 Broad St, Manchester, CT
10. Memorial Park Pool – Simsbury
Memorial Park Pool is home to one of the top pools in Simsbury. This public swimming area has two pools, one for adults and one for younger kids. Both a well-maintained.
The price to go swimming here is less than $5 a day, so it's relatively cheap. There are also fields beyond the pools where your kids can play.
Address: 52 Plank Hill Rd, Simsbury, CT
11. Pope Park Recreational Center – Hartford
The Pope Park Recreational Center is a fantastic place to go swimming if you live in the city of Hartford. This place has both an indoor and outdoor pool, so you can visit either depending on the weather.
There are other activities hosted here as well, like soccer, basketball, and Zumba.
Address: 30 Pope Park Dr, Hartford, CT
12. Madison Racquet & Swim Club – Madison
The Madison Racquet & Swim Club is actually a private outdoor pool, but with the exclusivity comes added amenities.
This place offers swim lessons, swim teams, aquatic classes, open swim sessions, and pool party rentals. If you're tired of crowded public swimming pools, this is a good option.
Address: 36 Scotland Rd, Madison, CT
13. Four Seasons Racquet Club – Wilton, CT
The Four Seasons Racquet Club is very similar to the Madison Racquet & Swim Club. The main difference is that it's mainly for open swimming.
The club keeps its heated outdoor pool open from late spring through the end of summer. It's an excellent place to go swimming during cold streaks since the water is always warm.
You can find this pool in the town of Wilton, Connecticut.
Location: 589 Danbury Rd, Wilton, CT 
Other Public Swimming Pools in Connecticut
Those aren't the only places to go swimming. There are a few other places that offer public swimming in Connecticut, like lakes. There are plenty of top-notch swimming lakes in CT. There are also a few water parks in Connecticut.
Public Pools CT – Final Thoughts
Those are the best public pools in CT. It's tough to say which public swimming pool in CT is the best. I recommend going to the public pool closest to you.