9 Best Places to Get a Piercing in CT
There are plenty of places to get a piercing in Connecticut. But if you're looking to get one, you're going to want to visit a reputable piercing shop. So, I put together a list of all the best piercing shops in CT.
This article will cover everything you need to know, including how much a piercing costs in Connecticut, where to go to get one, and what body parts you can get pierced. I'll also cover some of the rules associated with getting a piercing in CT.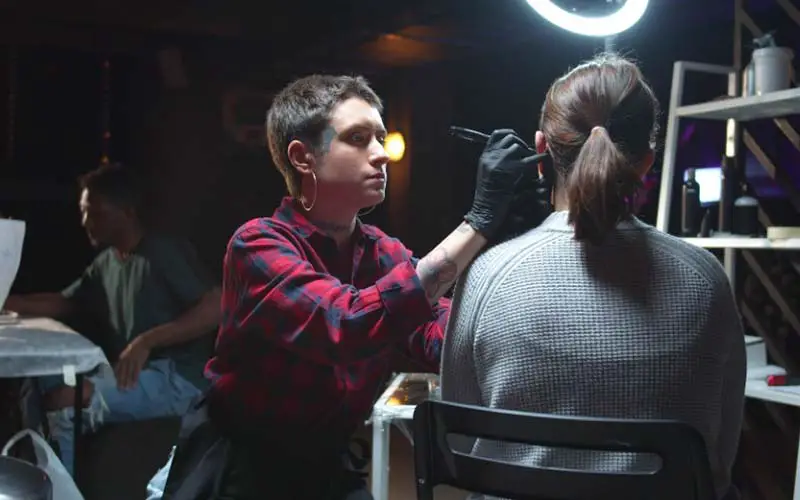 Best Places to Get Piercings in Connecticut
1. Black Diamond Body Piercing – West Hartford, CT
Black Diamond Body Piercing is one of the best piercing shops in Connecticut. Unlike many places, this shop is solely dedicated to piercings. They pride themselves on providing an excellent customer experience in a clean and professional environment.
You can get a variety of piercings here including, ear lobe, cartilage, facial, oral, and body piercings. The cost is dependent on what you get pierced, but prices range from $35 to $70. The piercing shop offers services by appointment only, and they carry a wide selection of high-quality body jewelry.
Address: 149 Park Rd, West Hartford, CT
2. MoonFlower Boutique – Manchester, CT
MoonFlower Boutique is another popular place to get piercings in CT. Located in Manchester, this shop offers a range of piercing services, like nose, septum, tongue, ear lobe, lip, navel, nipple, and surface piercings, among others. Prices start at $35.
The staff here is calm and professional, plus the piercers are first aid, CPR, and bloodborne pathogen certified, so safety is a priority. Just know that appointments are required here, and they're closed on Sunday and Monday.
Address: 310 Main St, Manchester, CT
3. Stay True Body Piercing & Fine Jewelry – Newington, CT
Stay True Body Piercing & Fine Jewelry is located in Newington. This is a highly-rated piercing shop that offers an expansive collection of white, yellow, and rose gold jewelry pieces, along with implant-grade titanium jewelry.
The piercing studio has top-notch customer service and does piercings for clients of all ages. Stay True Body Piercing is open Tuesday through Saturday from 12 pm to 8 pm. Make sure you set an appointment ahead of time.
Address: 1068 Main St, Newington, CT
4. Keys on Kites Tattoo & Gallery – New Haven, CT
Keys on Kites Tattoo & Gallery is a great place to get piercings in Connecticut. Although they're known for designing custom tattoos, the piercer here is highly experienced.
The staff is professional, knowledgeable, and quick, which has contributed to their rave reviews online. Comfort and safety are the priority here with all piercings being performed in a private, sterile environment.
Address: 869 Whalley Ave, New Haven, CT
5. Danbury Tattoo & Piercing – Danbury, CT
Danbury Tattoo & Piercing is Connecticut's top piercing shop in the Danbury area. Whether it's your first body piercing or 10th, the talented piercings artists here will help walk you through the process.
They offer essentially every style of body piercing except dermal implants, including septum, nose, daith, tragus, conch, navel, eyebrow, gauge, lip, rook, tongue, and exotic piercings. They do kid's piercings too, but they must be accompanied by a legal guardian.
Address: 68 Mill Plain Rd, Danbury, CT 
6. Luna Piercing and Fine Jewelry – Vernon, CT
Luna Piercing and Fine Jewelry is one of CT's newer piercing shops. They're located in Vernon and use modern piercing techniques with disposable setups to ensure cleanliness. All the piercers have extensive training as well.
Luna Piercing also sells some of the best jewelry in the industry, made from high-quality materials. You can even order new jewelry from them online after you get your piercing done. You can make an appointment with them online every day except Tuesday.
Address: 26 Union St Suite 6, Vernon, CT 
7. Tribu – Stamford, CT
Tribu is one of the few body piercing shops in Connecticut with multiple locations. You can find their piercing studios in Norwalk, Stamford, and Danbury (all located in shopping malls).
They do body piercings and ear piercings while offering a great selection of jewelry. You can have basically any body part pierced here. Prices range from $40-$65 for most services, but surface bar piercings cost more at $110.
Address: 7 Backus Ave, Danbury, CT
8. Turnpike Tattoo & Body Piercing – Meriden, CT
Turnpike Tattoo & Body Piercing is one more piercing shop in Connecticut that also does tattoos. They don't currently have a website, but you can find them in Meriden.
The shop offers a wide variety of piercings and high-grade body jewelry. Turnpike Tattoo is also able to do piercings for minors, so you may want to consider coming here if you're under 18.
Address: 1919 N Broad St, Meriden, CT
9. Exodus Tattoo & Pierce – East Windsor, CT
Exodus Tattoo & Pierce is the final piercing shop in CT on this list. Found in East Windsor, they can pierce a variety of body parts, including the belly button, tongue, eyebrow, and ear.
Aside from micro dermal piercings, you can get whatever type of piercing you want. The parlor is also a really good place to get a tattoo in CT. The people here are really underrated.
Address: 44 S Main St #2, East Windsor, CT, United States
Piercing Shops CT – Final Thoughts
Whether you're getting an ear piercing or a body piercing, these are the top places to get it done in Connecticut. All of the shops on this list provide a great experience and do excellent work.