Petting Zoos in CT – 10 Best Animal Farms in Connecticut
Spending the day at the petting zoo and feeding animals is a great activity for kids. It gives your kids the opportunity to come face-to-face with horses, goats, birds, otters, and other animals.
There are a ton of excellent petting zoos in Connecticut, so we narrowed down the list to the top 10. So without further ado, these are the best animal farms and petting zoos in CT.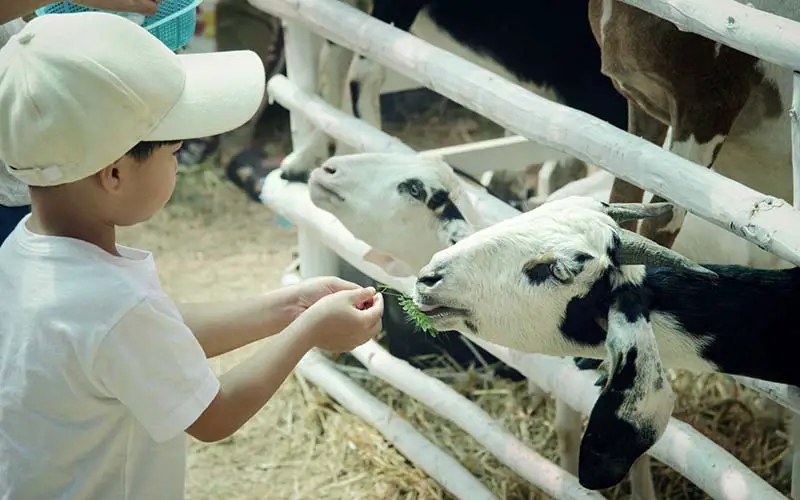 Top Animal Farms and Petting Zoos in Connecticut
1. Silverman's Farm – Easton, CT
Silverman's Farm is a popular petting zoo in Connecticut located in Easton. The farm allows you to view, pet, and feed a variety of animals, like llamas, alpacas, sheep, goats, fallow deer, buffalo, emus, and long-horn cattle.
Plus, while you're here, you can also pick a variety of fruits, including apples, blueberries, peaches, and raspberries.
The farm is typically open 7 days a week and it's a ton of fun for the whole family. You're also able to host birthday parties and school group tours as well.
Location: 451 Sport Hill Rd, Easton, CT
2. Flamig Farm – West Simsbury, Connecticut
Flamig Farm is one of Connecticut's animal farms found in West Simsbury. This CT petting zoo is open from April until Mid November every year and cost $7.50 a person (family passes are available as well).
A few of the animals that live on the farm include dogs, cats, chickens, pigs, geese, goats, rabbits, turkeys, ponies, emus, donkeys, alpacas, horses, miniature horses, pigs, llamas, ducks, peacocks, cows, sheep, guinea fowl, and pigeons.
Since there is no time limit at the petting zoo, your kids will have plenty of opportunities to have memorable interactions with the animals.
Location: 7 Shingle Mill Rd, West Simsbury, CT
3. Action Wildlife Foundation – Goshen, CT
Action Wildlife Foundation is a great animal farm in CT. This wildlife sanctuary is home to over 350 exotic animals from several different continents.
Many of them are large game animals that you can't find anywhere else in Connecticut. Plus, as you navigate the zoo in your car, you and your kids are able to feed many of the animals.
The Action Wildlife Foundation has a museum and a number of games that your kids will enjoy as well. Admission to this zoo is $25 per person.
Location: 435 Torrington Rd, Goshen, CT
Read: Top 10 Connecticut Zoos
4. Bradley Mountain Farm – Southington, CT
Bradley Mountain Farm is another amazing petting zoo in CT. Located in Southington, this place is focused all around goats.
The farm offers a variety of goat-themed activities, like goat snuggles, goat cuddle therapy, goat yoga, and goat walks.
This is one of the Connecticut animal farms that only has 1 type of animal, but it's still plenty of fun for the whole family.
Location: 537 Shuttle Meadow Rd, Southington, CT
5. March Farm – Bethlehem, Connecticut
March Farm is a popular farm found in Bethlem, Connecticut. They have a range of barnyard animals like goats and sheep to watch and enjoy.
In addition to the animals, the Connecticut petting zoo also has a cool corn maze and a playground that your kids will love. March Farm hosts events and birthday parties too.
When you're done exploring for the day, you can eat some of the farm's famous apple cider donuts or apple pies from the farm store. But you're also able to pick your own apples, pumpkins, blueberries, cherries, and peaches.
Location: 160 Munger Ln, Bethlehem, CT
6. Cheshire Hollow Farm – Cheshire, Connecticut
Cheshire Hollow Farm is a highly-rated animal farm in Connecticut. It's a one-hundred-acre farm that hosts birthday parties, field trips, and guided tours.
The tours cost $10 per person and last for about an hour. They include holding, petting, and feeding several varieties of farm animals, like bunnies, pygmy goats, and chickens (they sell these animals as well).
This is one of the petting zoos located in central Connecticut. You can visit Cheshire Hollow Farm in Cheshire CT, but make sure you book an appointment in advance.
Location: 1559 Peck Ln, Cheshire, CT
Read: Best Places for Horseback Riding in CT
7. Highwire Deer & Animal Farm – Woodbury, CT
Highwire Deer & Animal Farm is a small petting zoo out in Woodbury. The farm is home to a variety of animals, including camels, zebras, kangaroos, mini cows, mini horses, mini donkeys, alpacas, deer, birds, tortoises, pigs, goats, and coati.
In addition to the resident animals, the zoo holds events where they bring in other animals too.
Highwire Deer & Animal Farm is super affordable at only $12 a person, making it one of the cheapest zoos in CT. This is a great Connecticut animal farm to visit if you live in the southwestern part of the state.
Location: 68 Park Rd, Woodbury, CT
8. Riverview Farms – Glastonbury, Connecticut
Riverview Farms is one of the CT animal farms that often flies under the radar. The farm has animals like goats, pigs, alpacas, sheep, baby chicks, and rabbits.
Like many of the other animal farms in the state, Riverview Farms also can host an event, like a birthday party. In the fall, activities here include hay rides, face painting, and tours.
Location: 91 Wassuc Rd, South Glastonbury, CT
9. SeaQuest Connecticut – Trumbull, CT
SeaQuest is one of CT's most popular aquariums, but they also have exhibits where you can touch the animals.
You can hand-feed stingrays, lizards, and birds while learning about their different ecosystems. A few other hands-on animal encounters here include wallabies, otters, sloths, rabbits, and snakes.
SeaQuest is a fun place to see different types of animals from both the ocean and land. Tickets only cost $20, but you can also purchase an annual pass for $40.
Location: 5065 Main St Suite 1106, Trumbull, CT
10. Roaring Acres Alpacas – Suffield, Connecticut
Roaring Acres Alpacas is one more CT animal farm. The farm has alpacas, sheep, mini horses, goats, mini donkeys, pigs, ducks, chickens, and geese.
This is one of the most unique animal farms in CT since it focuses mainly on Alpacas, but the other animals are super friendly too. It's great for small children.
If you live in northern Connecticut, this will be the closest farm to you.
Location: 685 Hale St, Suffield, CT
Other Petting Zoos with Animals for Kids
Aside from the places already mentioned, there are a few other lesser-known CT animal farms. Here are some other Connecticut petting zoos to check out:
Aussakita Acres Farm in Manchester
Auerfarm in Bloomfield
Ray of Light Farm in East Haddam
Marra's Menagerie Farm Sanctuary in Griswald
Animal Farms & Petting Zoo CT – Final Thoughts
Those are the best CT petting zoos. There are so many great animal farms in Connecticut that you'll have a ton of fun regardless of which one you choose. Every one of these farms has plenty of furry friends.