Best Places to Play Paintball in CT
While recently looking for a place to play paintball in CT, I realized that a lot of the places I used to go went out of business. So, I decided to find all of the paintball arenas that are currently open in Connecticut.
After some searching, I found 5 established paintball places that are alive and well. These are the best places to play paintball in CT.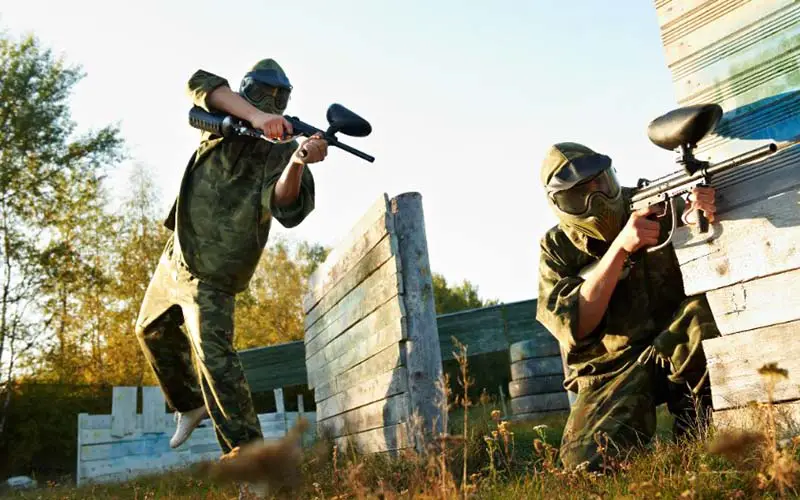 Top Places to Play Connecticut Paintball
1. Matt's Outback Paintball – Coventry, CT
Matt's Outback Paintball is one of the best places to play paintball in Connecticut. This family-run business has a fully-featured and regulated public paintball field. It's a player-run facility that's perfect for all ages.
Matt's Outback Paintball offers a range of rental packages. The cheapest one starts at $40, and includes a Tippmann 98 custom paintball gun with a hopper, a mask and safety equipment, 2 pods, a belt, and 500 paintballs. Refills cost $50 for 2,000 paintballs.
If you have your own gear, a one-day pass costs $15 a person, but you must use their field paint during games. You can find Matt's Outback Paintball in Coventry off the Boston Turnpike.
Location: 677 Riley Mountain Rd, Coventry, CT
2. Extreme Paintball – Waterbury
Extreme Paintball is another one of CT's top paintball spots. They have all outdoor fields and offer both open play and private game packages. You're able to bring your own equipment (with some restrictions) or rent equipment from the shop.
A standard rental package at Extreme Paintball costs $34.99 and includes a paintball gun, a mask, an ammo pack, 100 paintballs, unlimited compressed air, and unlimited playtime. Paint refills costs $25 for $1,000 paintballs.
If you plan on doing open play, I recommend that you still call ahead of time. They are occasionally sold out and may not have any equipment left to rent. As a side note, there also used to be another paintball place in East Windsor by the same name, but they are no longer open.
Location: 476 Boyden St, Waterbury, CT
3. Yankee Paintball – Oxford
Yankee Paintball is another top Connecticut paintball place. Admission here costs $25 per player and includes all-day play and unlimited compressed air refills. You can also rent a full kit (semi-automatic paintball gun, air tank, full face goggle system) for only $10.
You're required to use their paintballs since they are field paint only. They cost $20 for 500, $35 for 1,000, or $60 for $2,000.
Yankee Paintball is open from 10 am to 4 pm on Saturdays and Sundays. You can also play during the week, but you must make a reservation ahead of time. This is the closest paintball field if you live in southern CT. They also offer airsoft services.
Location: 648 Quaker Farms Rd, Oxford, CT
4. Final Shot Paintball – Voluntown
Final Shot Paintball is one of the premier paintball destinations in CT. They specialize in group events, like bachelor parties and birthdays, but they do have open play events on their public fields as well.
The starting price for open play is $55, which includes 500 paintballs, a tippman semi-automatic paintgun, free air refills, a mask system, and 6 hours of play. Paint costs $65 for a refill of 2,000 paintballs. If you're throwing a birthday party, it only costs $350 for a group of 10 kids.
They have playing fields for all levels of players. Some of the game types include capture the flag, team elimination, and king of the hill. Final Shot Paintball has very experience referies too. You can find them in Voluntown, near Foxwoods and Mohegan Sun.
Location: 96 Ekonk Hill Rd, Voluntown, CT
5. Hogan's Alley Paintball and Airsoft – Meriden
Hogan's Alley Paintball and Airsoft was one of CT's best paintball arenas, however, it doesn't seem like their field is currently open. They used to sell open-play tickets at a discount if you order a basic rental, but now they just sell and service equipment.
With that being said, Hogan's Alley sells some of the best paintball equipment in Connecticut. They hydro-test all of their paintball tanks and do visual inspections, so you can count on their 30-day price protection guarantee. Plus, you can test drive your setup before you make a purchase. Both new and used items are available.
Location: 998 N Colony Rd, Meriden, CT 
Best Paintball Field in Connecticut – Final Thoughts
These are the best paintball places in Connecticut. Paintballing is always a ton of fun, whether you're throwing a birthday party or just playing with your friends. I'm confident you'll enjoy these great paintball fields in Connecticut.
If you have younger kids and aren't comfortable with them playing paintball, there are plenty of places to play laser tag in CT.