Outdoor Dining in CT – Top 11 Outdoor Restaurants in Connecticut
Dining out is great, but there's something special about going to a restaurant and eating outdoors. Luckily, Connecticut has plenty of restaurants with amazing outdoor patios.
Whether you're looking for a waterfront backdrop, a scenic rooftop view, or just a low-key table with some fresh air, you'll be able to find it in Connecticut. Here's our list of the best places to enjoy outdoor dining in CT.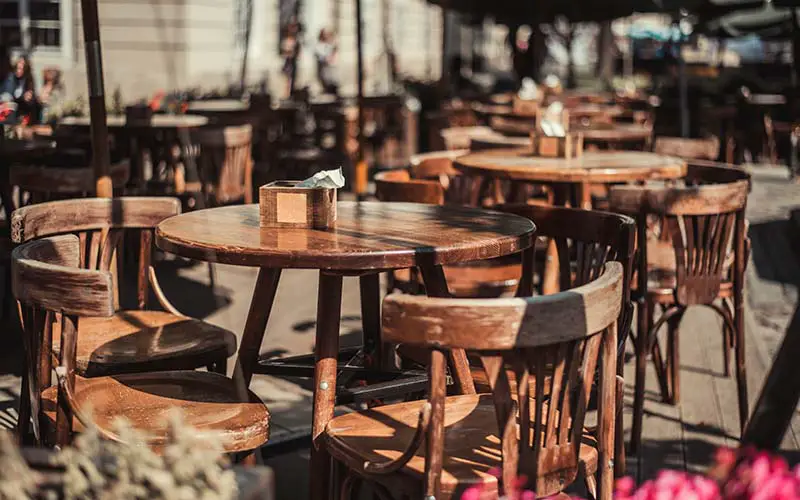 Best Restaurants for Outdoor Dining in Connecticut
1. River: A Waterfront Restaurant and Bar – Wethersfield, CT
River: A Waterfront Restaurant and Bar is one of the top restaurants that offer outdoor dining in Connecticut.
Found in Wethersfield this restaurant has a large riverfront deck with scenic views of the Connecticut River down below.
The menu here features dishes like USDA prime steaks, pork chops, lobster ravioli, pasta, sandwiches, and seafood linguini. So, rest assured, there are plenty of choices.
Address: 100 Great Meadow Rd, Wethersfield, CT
2. S&P Oyster Restaurant and Bar – Mystic, Connecticut
S&P Oyster Restaurant and Bar is one of the most popular eateries in Mystic. This place has outdoor seating right on the waterfront overlooking the Mystic River.
It's a local seafood spot that sources all of its fish from regional vendors, so you know that the food is high quality. In fact, the restaurant serves some of Connecticut's best seafood.
The menu here is extensive featuring dishes like oysters, mussels, lobster, crab cakes, shrimp, yellowfin tuna, New England clam chowder, and salmon. Plus, S&P has a separate gluten-free and vegan menu.
Address: 1 Holmes St, Mystic, CT
3. Viron Rondo Osteria – Cheshire, CT
Viron Rondo Osteria is another great restaurant that has an outdoor patio for dining. Located in Chestire, this restaurant offers some of the best Italian food in Connecticut.
The menu features many classic Italian dishes, like garlic bread, rigatoni bolognese, chicken piccatta, and salmon. You also have the option of ordering a range of wood-fired paninis and Italian sandwiches.
This is a great place to eat lunch and dinner when the weather is nice outside, but they also have indoor seating as well.
Address: 1721 Highland Ave, Cheshire, CT
4. The Place Restaurant – Guilford, Connecticut
The Place Restaurant in Guilford is one of the most unique outdoor restaurants in the state. This seasonal cafe serves seafood, which is cooked over a giant fire pit.
Diners must sit on tree stumps instead of chairs, but that adds to the outdoor dining experience.
The menu features lobsters, savory clams, sweet corn, salmon, ribeye steak, chicken, and shrimp to name a few dishes. The Place Restaurant is BYOB-friendly as well.
Address: 901 Boston Post Rd, Guilford, CT 
5. Artisan Restaurant – Southport & West Hartford, CT
The Artisan Restaurant has two locations in Connecticut, both of which are in the luxurious Delmar Hotel.
This upscale restaurant serves New England-inspired American cuisine that focuses on fresh foods that are grown in their onsite garden or brought in from local farms. The menu features everything from seafood to steak.
You can book a reservation at the Artisan Restaurant in West Hartford or Southport, Connecticut. Both outdoor and indoor dining are available.
Address: 1 Memorial Rd, West Hartford, CT
6. Dockside Brewery – Milford, Connecticut
Dockside Brewery is an excellent spot to enjoy patio dining in Milford, CT. This outdoor biergarten serves everything from house-brewed beer to cocktails, along with some delicious food.
You'll have an amazing view of the Housatonic River as you enjoy your food and drinks if you decide to dine here.
Some of my favorite menu items include the steak fajita bowl, build-your-own pizza, and seared Ahi tuna tacos.
Address: 40 Bridgeport Ave, Milford, CT
Read: 17 Best Breweries in Connecticut
7. Dog Watch Cafe – Stonington, CT
Dog Watch Cafe is a great place to dine outdoors near Mystic. It's the perfect spot to enjoy harbor views while eating great food.
Some of the featured items on the menu include calamari, grilled oysters, chicken wings, roasted cod, pizza, and salmon sandwiches.
The restaurant has a laid-back backyard atmosphere, along with lawn games and live music as well.
Address: 194 Water St, Stonington, CT 
8. Abbott's Lobster In the Rough – Noank, CT
Abbott's Lobster In the Rough is another great place to eat outdoors. This restaurant is known for having some of the best lobster rolls in Connecticut, which are made with up to a pound of lobster meat.
The outdoor tables overlook the water, giving you a nice view of the boats coming into the marina.
When dining here, I love walking out on the pier to watch the ocean while eating. Just be aware that this restaurant is seasonal, so they do close down in the winter.
Address: 117 Pearl St, Noank, CT
9. The White Horse Country Pub & Restaurant – New Preston, CT
The White Horse is another restaurant with plenty of outdoor seating. The restaurant features 4 patios, 3 dining rooms, 2 fireplaces, and a waterfall.
Some of the featured dishes here include entrees like burgers, steak, chicken pot pie, and slow-roasted salmon.
This is a great place to go out dining if you live in Litchfield County. There's so much outdoor seating available.
Address: 258 New Milford Turnpike, New Preston, CT 
10. Harbor Lights – Norwalk, Connecticut
Harbor Lights is a fantastic place to experience outdoor dining if you live in Norwalk. The restaurant has both indoor and outdoor seating that overlooks the harbor.
The menu mainly features Mediterranean-inspired seafood dishes, like salmon, seafood risotto, clams, shrimp, and crab cakes, which are sourced from local vendors.
With the dining room offering fantastic sunset views over the water, Harbor Lights is one of my favorite restaurants for outdoor dining.
Address: 82 Seaview Ave, Norwalk, CT
11. L'escale Restaurant – Greenwich, Connecticut
L'escale restaurant is one more restaurant that lets you eat outdoors in Connecticut. Located in Greenwich, this place serves mouthwatering French cuisine for breakfast, lunch, brunch, and dinner.
The dinner menu offers appetizers and entrees like caviar, prime steak, salmon, beef sliders, Maine lobster, and crispy duck breast.
L'escale Restaurant is a fine-dining restaurant, but it has a relaxed atmosphere, especially if you go for the outdoor waterfront seating.
Address: 500 Steamboat Rd, Greenwich, CT
Outdoor Dining CT – Final Thoughts
Those are CT's best outdoor dining restaurants. If you want to eat somewhere with outdoor seating by the waterfront, I recommend reading this article about the best waterfront restaurants in Connecticut.
If you prefer rooftop dining over outdoor dining, then check out this article about the best rooftop restaurants in CT.