Nail Salons in CT – 12 Best Connecticut Nail Spas
Getting your nails done is always a satisfying and relaxing experience. But with so many nail salons to choose from, it's tough to know which ones are the best.
That's why we tried all of the most popular nail salons in Connecticut to see which ones consistently performed the best manicures and pedicures. So without further ado, these are the top nail salons in CT.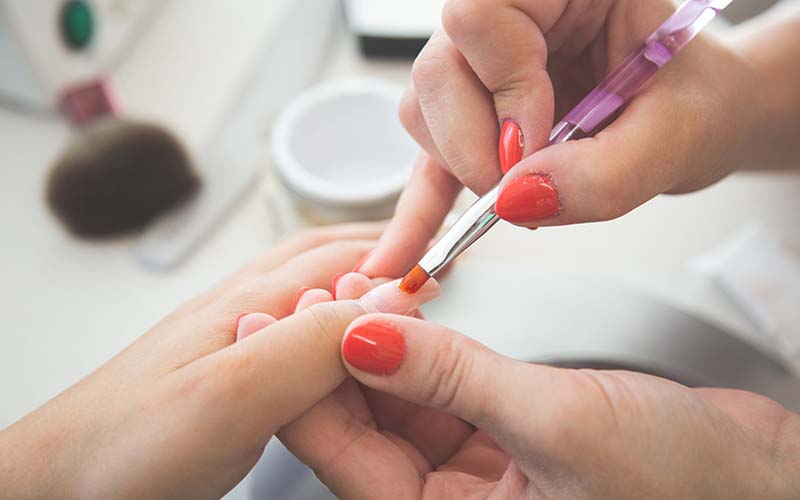 Top Nail Salons in Connecticut
1. Z Luxury Nails – West Hartford
Z Luxury Nails is a popular nail salon in Connecticut located in West Hartford. They offer the latest polish colors without the use of harmful chemics. Plus, they're up-to-date on all of the most recent nail art trends.
The nail treatments here will make your natural nails longer, healthier, and stronger. Plus, the salon has a few vegan-friendly nail polish options.
Address: 361 Park Rd, West Hartford, CT
2. Saybrook Point Resort – Old Saybrook
Saybrook Point Resort is a great place to get manicure and pedicure treatments in Connecticut. But you don't have to stay at the hotel to take advantage of their salon.
Some of their services include nail shaping, gentle cuticle grooming, hand or foot soaking, exfoliating scrubs, nourishing masque, hand or foot massages, and polish application. 
This is one of the best overall day spas in CT, as they also offer treatments like facials, massages, and waxing.
Address: 2 Bridge St, Old Saybrook, CT 
3. Nail Pro – South Windsor
Nail Pro is a highly-rated nail salon in northern Connecticut. They offer a wide range of treatments, including manicures, pedicures, acrylics, eyelash extensions, facials, and waxing.
The spa pedicure package here is only $20, so it's super affordable. You can find this Connecticut nail salon in South Windsor.
Address: 285 Oakland Rd, South Windsor, CT
4. New Seven Nails & Spa – Norwalk
New Seven Nails & Spa is an excellent place to get your nails done in southern Connecticut. Located in Norwalk, this place has friendly and experienced staff.
The atmosphere here is very relaxed and the prices are good. It's usually pretty busy, but they work relatively fast.
Address: 99 New Canaan Ave, Norwalk, CT
5. Bliss Nail Salon – New Britain
Bliss Nail Salon is a large nail spa found in New Britain. The nail technicians here are always catching up with the hottest trends in the beauty care industry, so you can be certain you're getting the best service.
They can do anything from a simple manicure and pedicure to full-out nail art. Plus, they do nail enhancements like acrylic nails and liquid gel.
This CT nail salon also offers more affordable service for kids, so you don't have to pay an arm and a leg.
Address: 990 W Main St, New Britain, CT 
6. Watertown Nail Salon & Boutique – Watertown
Watertown Nail Salon & Boutique is a fantastic place to do your nails if you live in the Waterbury area.
The salon a wide range of services including classic manicures, spa manicures, collagen manicures, gel manicures, and French gel manicures.
Watertown Nail Salon offers just as many pedicure options as well, including options for men and children.
Address: 619 Straits Turnpike, Watertown, CT
7. 99 Nails & Spa – Waterbury
Across town from Watertown Nail Salon & Boutique, you'll find 99 Nails & Spa. This salon offers world-class manicures, pedicures, and spa treatments using the best natural products on the market.
Aside from that, they also offer nail repairs, nail enhancements, and waxing services. Plus, the shop is open 7 days a week.
Address: 2457 E Main St #2A, Waterbury, CT
8. Quartz Nails Salon – Hamden
Quartz Nails Salon is a superb place to receive nail care in Hamden. Not only does this place do nail designs, but you can also get acrylic refills for your nails, a gel manicure, or dipping powder.
This is one of the salons where it's important to book an appointment in advance.
Address: 1700 Dixwell Ave, Hamden, CT 
9. CT Nails Care – Bristol
CT Nails Care is a good place to do your nails in Bristol, Connecticut. The nail technicians here are highly skilled at rejuvenating your nails, hands, and feet.
You can get a variety of different manicure and pedicure treatments like trimming, filing, cuticle cuts, foot scrubs, and callus treatments. Your nails will thank you after visiting CT Nails Care.
Address: 815 Pine St # 5, Bristol, CT
10. MJ Nails – North Haven
MJ Nails in one of the salons found in the New Haven area. The spa offers an array of nail services, including regular nail polish, gel nail polish, dipping powder, and acrylic refills.
Whether you want a manicure, a pedicure, or both, you can treat your nails at MJ Nails. If you live in New Haven, check out this article about the other nail salons in New Haven.
Address: 2 Broadway, North Haven, CT
11. Tiara Nail & Spa – Meriden
Tiara Nail & Spa is another one of the CT nail salons found in the central part of the state. They offer basic nail care services, eyelash extensions, and waxing services.
Some of the nail services include manicures, pedicures, nail enhancements, UV gel full sets, and French manicures. You can visit Tiara Nail & Spa in Meriden.
Address: 516 W Main St, Meriden, CT
12. Absolutely Nail & Spa – Vernon
Absolutely Nail & Spa is one more nail salon in CT. This full-service beauty salon does various nail care services like manicures, spa pedicures, nail enhancement, dipping powder, eyelash extensions, facials, and semi-permanent makeup. 
The beauty experts here use the highest quality products in each service to ensure you get the best results. Absolutely Nail & Spa is located in Vernon in the Stop & Shop plaza.
Address: 295 Hartford Turnpike, Vernon, CT
Other Salons for Manicures and Pedicures in Connecticut
Those aren't the only places to get nail treatments in the state. Here are a few other Connecticut nail salons you may want to check out:
Emily's Nails & Spa in Bridgeport
Lisa Nail Salon in Gaylordsville
Fifth Ave Nails in Avon
Healthy Nails in East Windsor
Nail Salons CT – Final Thoughts
Those are the best places to get your nails done in Connecticut. Whether you want a mani, a pedi, or more advanced designs, all of these salons are great options. The technicians that work at these spas are very experienced, so you're in good hands.
Many of these nail salons accept walk-ins, but it's always best to book a nail appointment in advance since they prioritize existing clients.