10 Best Places to Get Milkshakes in CT
Whether you're trying to cool down or simply want to splurge on something sweet, it's never a bad time to grab a milkshake. And fortunately, Connecticut has plenty of ice cream shops and restaurants that serve these delicious drinks.
Over the past few months, I've ordered a milkshake at all of the top milkshake shops in Connecticut to see which ones are the best. Here's what I found.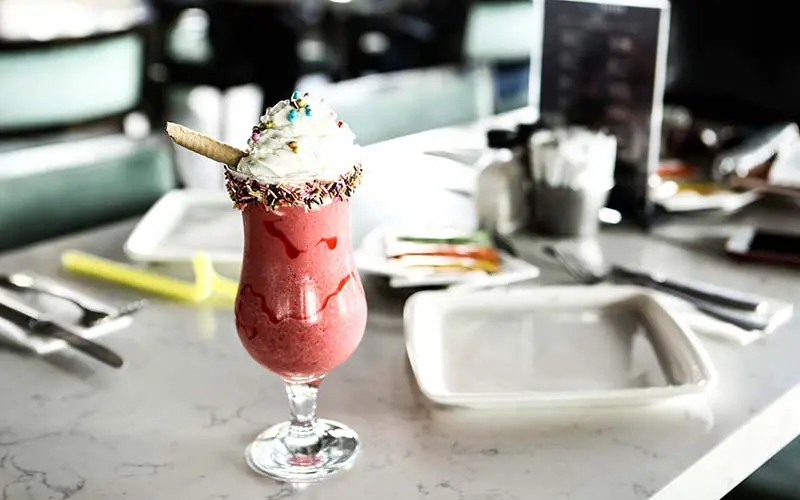 Top Milkshakes in Connecticut
1. Shady Glen Restaurant and Ice Cream Parlor – Manchester
Shady Glen Restaurant and Ice Cream Parlor is one of the best places to grab a milkshake in CT. This vintage diner serves milk shakes, alongside comfort foods like ice cream, classic cheeseburgers, onion rings, and french fries.
The shakes here are always tasty and affordably priced. You can find Shady Glen in Manchester, not too far from I-84.
Address: 840 Middle Turnpike E, Manchester, CT
2. Rich Farm Ice Cream Shop – Multiple Locations.
Rich Farm Ice Cream Shop is another great spot to get milkshakes in Connecticut. The shop has locations throughout Connecticut in Bristol, Oxford, and Brookfield.
This place is known for its super-premium ice cream, which is made daily on the farm with high-quality ingredients. The menu features over 100 flavors of ice cream, which all can be put into a milkshake.
Shakes can be regular or malted, plus you can choose up to 2 flavors of hard or soft serve ice cream.  
Address: 409 Hill Street, Bristol, CT
3. Gumdrops & Lollipops Candy & Ice Cream – Niantic
Gumdrops & Lollipops Candy & Ice Cream is a fantastic spot to grab a Connecticut milkshake in the New London area.
Located in Niantic, this seaside ice cream shop offers everything from homemade ice cream to chocolates, along with delicious milkshakes.
There's truly something for everyone at this restaurant. Just know that The shop is seasonal as they close in the winter.
Address: 334 Main St, Niantic, CT 
4. UConn Dairy Bar – Storrs
UConn Dairy Bar is one of the top places to grab a milkshake in Tolland County. This Connecticut milkshake spot is located directly on the University of Connecticut campus, offering a range of different frozen treats.
I particularly like their frosted animal cracker milkshake, which includes cake batter ice cream, vanilla syrup, marshmallow drizzle, graham cracker crumbs, sprinkles, and animal crackers on top.
Aside from milkshakes, UConn Dairy Bar is also one of the best places to get ice cream in Connecticut.
Address: 17 Manter Rd #4263, Storrs, CT
5. The Scoop Ice Cream Cafe – Ellington
The Scoop Ice Cream Cafe is an excellent place to get milkshakes and other desserts in Ellington. They have a wide array of flavors along with a couple of vegan and dairy-free options.
Aside from the milkshakes, The Scoop also makes really good smoothies, pastries, and ice cream cakes.
Address: 18 Church St, Ellington, CT
6. Elm Street Diner – Stamford
Elm Street Diner is one of the best places to grab breakfast in Stamford, but the restaurant is also known for its famous milkshakes. The milkshakes are huge and topped with a large serving of whipped cream.
Some of the milkshake flavors here include vanilla, chocolate, strawberry, peanut butter cup, cereal bowl, hazelnut coffee, cinnamon toast crunch, red velvet, PB&J, and Funfetti.
Elm Street Diner is an excellent spot to grab milkshakes in CT if you live in the southern part of the state. People will drive hours to grab a milk shake here and the food is great too.
Address: 463 Elm St, Stamford, CT
7. Grassroots Ice Cream – Granby
Grassroots Ice Cream is a great place to order a shake in the northern part of Connecticut. Located in Granby, this shop has plenty of unique flavors.
The menu features milkshake flavors like banana, peanut butter brownie, cookie dough, butter pecan, mint Oreo, pistachio, salted caramel, and strawberry. Plus, you can get a range of toppings like rainbow or chocolate sprinkles, hot fudge, whipped cream, almonds, or cookie crumble.
Grassroots Ice Cream also lets you order your food online so you don't have to wait in line at the restaurant.
Address: 4 Park Pl, Granby, CT
8. Salem Valley Farms Ice Cream – Salem
Salem Valley Farms Ice Cream has been making artisan-style ice cream and milkshakes for over 30 years.
The menu features over 80 flavors, including vanilla, chocolate, strawberry, almond delight, brownie, double chocolate chip, cotton candy, vanilla fudge swirl, and mint chocolate chip.
You can order your milkshake as a regular, extra thick, malted, or extra thick malted. All milkshakes here are available in either a large or small size.
Address: 20 Darling Rd, Salem, CT
9. Sugar Factory – Ledyard
Sugar Factory is one of the most popular candy shops in the world. It's also one of Connecticut's milkshake spots located in the state's casinos.
The restaurant serves a wide range of treats including old-fashioned milkshakes, sundaes, cakes, cookies, and hot chocolate.
The milkshakes come in flavors like vanilla, chocolate, strawberry, chocolate cookie jar, Butterfinger, caramel sugar, Snickers, Nutella, and S'mores.
Address: 350 Trolley Line Blvd, Ledyard, CT
10. Bell City Diner – Bristol, CT
Bell City Diner is one more spot to get a delicious milkshake in Connecticut. This little-known restaurant has some of the best-tasting milkshakes in the entire state.
Some of the flavors available on the drink menu include birthday cake, cinnamon bun, butter pecan, banana, mint, Oreo cookie, and mocha cappuccino.
This is a great place to grab dessert if you live near Bristol, CT.
Address: 782 Pine St, Bristol, CT
Best Milkshake in Connecticut – Final Thoughts
Those are a few of CT's most popular milkshake restaurants. If you're looking for milkshakes in CT, all of the places live up to the hype.
But if you're looking for other drinks like smoothies or coffee, I recommend checking out these articles.