12 Best Mexican Restaurants in CT [2023 Update]
There's no shortage of places to get Mexican food in Connecticut. The state has so many great Mexican restaurants that it can be overwhelming to decide where to eat.
That's why I recently decided to try all the top Mexican restaurants in CT to see which ones are the best. After extensive testing, I'm sure these are the best places to eat Mexican food in CT.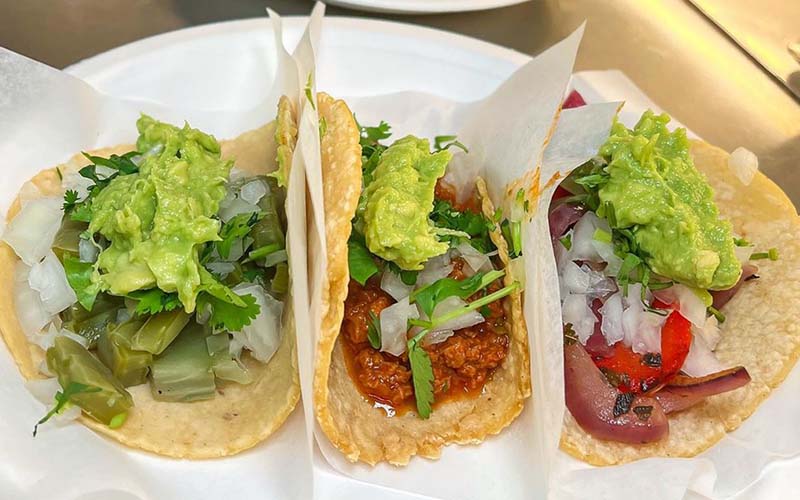 Top Places to Eat Mexican Food in CT
1. Acapulcos Mexican Family Restaurant & Cantina – Enfield
Acapulcos Mexican Family Restaurant & Cantina is one of the best Mexican restaurants in Connecticut. They serve authentic homestyle Mexican food, which is made fresh by the chefs daily.
The menu features dishes like quesadillas, chimichangas, enchiladas, burritos, tacos, fajitas, and combination plates of steak, pork, chicken, and seafood. Not only does this restaurant have great food, but the atmosphere and customer service are top-notch as well.
Location: 61 Palomba Dr, Enfield, CT
2. Plaza Azteca Mexican Restaurant – Newington
Plaza Azteca Mexican Restaurant is a popular Mexican restaurant in CT with locations in Newington and Manchester. The restaurant is always packed with customers every time I visit, but the service here is usually fast.
The restaurant's menu offers Mexican dishes like sizzling fajitas, nachos, chicken wings, seafood, and steak dishes, along with a wide variety of tacos and burritos. Plaza Azteca serves amazing cocktails as well. I highly recommend their famous margaritas.
Location: 3260 Berlin Turnpike, Newington, CT
3. Sayulita Restaurant – South Glastonbury
Sayulita Restaurant serves some of the best Mexican cuisine in the state. They serve tasty dishes like Korean short rib tacos, lobster enchiladas, skirt steak fajitas, and chicken chili tamales.
The only downside to this place is that they are always packed. Sayulita doesn't offer reservations, but they do have both indoor and outdoor dining available.
Location: 865 Main St, South Glastonbury, CT
4. Geronimo Tequila Bar and Southwest Grill – New Haven
Geronimo Tequila Bar and Southwest Grill is a great place to order Mexican food in New Haven. They serve a variety of southwestern dishes like tacos and quesadillas alongside their award-winning chili.
Geronimo also has a weekend brunch menu that features delicious dishes like huevos rancheros, breakfast burritos, steak & eggs, and house-mead chorizo (pork sausage). You can find this spot near Yale University.
Location: 271 Crown St, New Haven, CT 
5. Margaritas Mexican Restaurant – Multiple Locations
Margaritas Mexican Restaurant is a highly-rated Mexican eatery that offers great food in very generous portion sizes. They have multiple locations in Connecticut, including East Hartford and Mystic.
You can order dishes like tacos, enchiladas, guacamole and chips, chicken fajitas, loaded skilled nachos, fried pickles, and carne asada. If you don't eat meat, Margaritas Mexican Restaurant has some vegetarian options available as well.
Location: 350 Roberts St, East Hartford, CT
6. Agave Grill – Hartford
Agave Grill is one of Connecticut's top Mexcian restaurants found in Hartford. Located near Bushnell Park, this spot serves Mexican classics like burritos, tacos, tortas, taquitos, empanadas, skewers, chimichangas, and quesidillas.
This is a really good brunch spot on Saturday as well (the restaurant is closed on Sunday). If you're too busy for a sit-down meal, Agave Grill offers both takeout and delivery in addition to dining in.
Location: 100 Allyn St #1418, Hartford, CT
7. Los Mariachis – Wallingford
Los Mariachis is a highly-rated place to grab traditional Mexican food in CT. The menu here features dishes like hard and soft-sell tacos, enchiladas, flautas, burritos, tortas, and specialty margaritas.
This Connecticut Mexican restaurant operates food trucks as well. The main restaurant is located in Wallingford, but you can find their food trucks around the state.
Location: 105 N Colony St, Wallingford, CT
8. Rincon Taqueria – Norwalk
Rincon Taqueria is one of CT's top Mexican restaurants in Fairfield County. The portion sizes at Rincon Taqueria are large, but the prices are very reasonable. Plus, the chefs here prepare all of the food with fresh ingredients.
The menu offers dishes like empanadas, tacos, burritos, tamales, and quesadillas served with a variety of different sides, appetizers, and sauces. For dessert, I highly recommend you try their churros.
Location: 493 Connecticut Ave, Norwalk, CT
9. Puerto Vallarta – Multiple Locations
Puerto Vallarta is a Mexican restaurant in Connecticut with locations in Fairfield, Avon, Danbury, Middletown, Newington, Southington, and Orange. The food here is cooked from scratch, using the freshest ingredients and family recipes that have been handed down for generations.
This is one of the restaurants that serve virtually every classic Mexican dish on the menu. If you don't want to dine in, they allow you to order for delivery or takeout online.
Location: 826 Queen St, Southington, CT 
10. Camacho Garage – New Haven
Camacho Garage is one of the places that serves great Mexican food in New Haven, CT. The menu focuses on Mexican dishes like tacos, ceviches, tostadas, salads, and guacamole, all made with fresh, local ingredients.
Both the service and food here are top-notch, making for an unforgettable culinary experience. When dining here, you have the option of grabbing a table or sitting at the bar.
Location: 36 Fountain St, New Haven, CT
11. Mexicali Cantina Grill – South Windsor
Mexicali Cantina Grill is another one of the Connecticut Mexican restaurants located in the northern part of the state. This casual chain is known for its classic Mexican dishes and drinks, served at an affordable price.
The menu features foods like burritos, burrito bowls, enchiladas, street-style tacos, enchiladas, fajitas, and combo plates. They serve burgers and sandwiches as well. The staff at Mexicali Cantina Grill is always super friendly.
Location: 935 Sullivan Ave, South Windsor, CT
12. Fiesta Mexicana – Vernon
Fiesta Mexicana is a fantastic place to grab authentic Mexican cuisine in Vernon. The food at this restaurant is consistently good and the atmosphere is family-friendly.
Some of the dishes you can order here include quesadillas, tacos, burritos, chimichangas, enchiladas, and soups, along with a variety of beef, pork, and chicken dishes. They have a number of vegetarian and gluten-free items available on the menu as well.
Location: 520 Hartford Turnpike, Vernon, CT
Mexican Restaurants in Connecticut – Final Thoughts
That's my list of the best Mexican restaurants CT. All of these spots offer terrific food and great service, so I can't say one restaurant is necessarily better than another. I recommend visiting the one closest to you.