10 Best Places to Play Laser Tag in CT
Whether you're hosting a birthday party or just looking for something fun to do, it's never a bad time to play some laser tag. It's a fun activity for kids of all age groups, plus there are a ton of highly-rated laser tag places in Connecticut.
I recently put together this list of laser tag arenas in the state so you can find the one closest to you. In this article, I'll also cover some of the attractions and prices of each one. These are the best places to play laser tag in CT.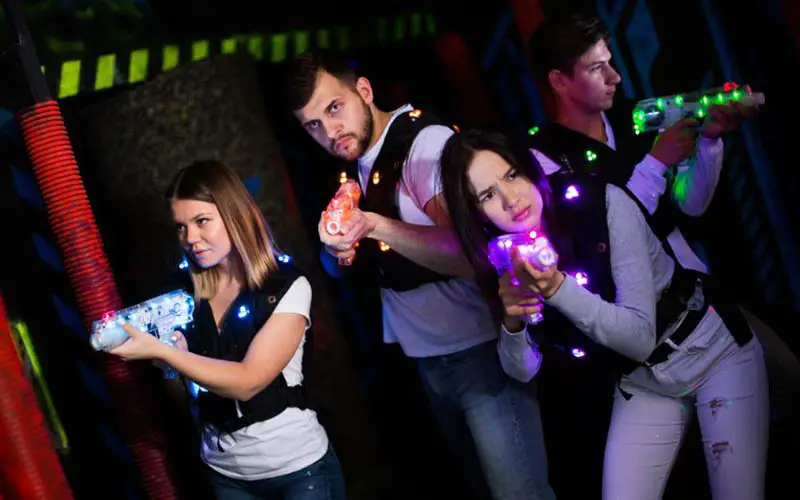 Top Places to Play Laser Tag in CT
1. Laser Planet Plus – Waterbury
Laser Planet Plus is a great place to play laser tag in Connecticut. They have the largest laser tag arena in the country, with 3 levels. Plus, they have other attractions, like bumper cars VR rides, and arcade games.
A game of laser tag here starts at $10, so Laser Planet Plus is super affordable. They host birthday parties as well. You can find them in Waterbury just off of I-84.
Address: 2457 East Main Street Building #4, Waterbury, CT
2. Xtreme Play Extreme Adventure Park – Danbury
Xtreme Play is one of the best places to play laser tag in CT. Their state-of-art laser tag blasters are some of the most advanced laser tag equipment available on the market.
Aside from laser tag, Xtreme Play Extreme Adventure Park also offers a number of other attractions for kids of all ages, including an arcade, indoor playground, high ropes, mini bowling, VR arena, rock climbing, and obstacle course. Xtreme Play is located in Danbury and costs $7 per session.
Address: 38 Mill Plain Rd, Danbury, CT
3. Spare Time – Bristol, Windsor Locks & Vernon
Spare Time is New England's largest family-owned bowling alley, but they also have some awesome laser tag arenas and extensive arcades. There's a ton to do here for the whole family.
Spare Time has three separate locations throughout Hartford County, in Vernon, Windsor Locks, and Bristol. All of the locations are very highly rated. It's also super affordable, at only $8 per game of laser tag (or $12 for 2 games).
Address 1: 350 Talcottville Rd, Vernon, CT
Address 2: 129 Ella Grasso Turnpike, Windsor Locks, CT
Address 3: 177 Farmington Ave, Bristol, CT
4. Nomads Adventure Quest – South Windsor
Address: 100 Bidwell Rd, South Windsor, CT
5. Sonny's Place – Somers
Sonny's Place is another popular place to play laser tag in Connecticut. They offer a number of laser tag games, including solo free-for-all, team free-for-all, and a team base recharge game. Sessions last for 45 minutes and cost $15.
This huge amusement center also has other attractions, like batting cages, go-karts, rock climbing walls, outdoor mini golf, and a zipline. There's a ton of fun to be had here for the entire family.
Address: 349 Main Street, CT-190, Somers, CT
6. Star-Force Lazer Tag at Sports Center of Connecticut – Shelton
The Sports Center of Connecticut is one more CT laser tag place. They have a lazer tag arena that accommodates up to 28 players. Plus, you game stats are tallied in real-time so you know which team is winning.
At the end of each game, you get shown your hit percentage along with other stats so you can improve your performance next time. You can play Star-Force Lazer Tag at the Sports Center of Connecticut in Shelton.
Address: 784 River Rd, Shelton, CT
7. Urban Air Trampoline and Adventure Park – Orange
Urban Air Trampoline and Adventure Park is another popular place to play Connecticut laser tag. The glow-in-the-dark course has dim lighting and a ton of obstacles. Tickets cost $8.50 for a game of laser-tag.
The park has other attractionst too, like go-karts, a ninja warrior course, and a trampoline park. There's a second Urban Air location in Manchester, CT.
Address: 260 Bull Hill Ln, Orange, CT 
8. The Cave – Bethel
The Cave is an indoor glow-in-the-dark amusement park that offers some excellent laser tag fun. They have a two-floor arena that uses special effects like fog, targets, blacklights, and adrenaline-pumping music to create a wild atmosphere.
Their laser tag equipment is state-of-the-art, plus there are over 30 different game modes available. The area can accolade two teams of twelve, so 24 players can join at one time. A 10-minute game of laser tag here costs $10.
Address: 13 Stony Hill Rd, Bethel, CT
9. BLAST – Waterford
BLAST is an indoor sports arena in Waterford that offers a number of fun games like laser tag, bazooka ball, and a ninja warrior obstacle course.
There are plenty of laser tag games available. Some of the more popular ones include infection, team battle, capture the flag, and king of the hill. They offer food service as well. BLAST is the ultimate place for parties.
Address: 6 Fargo Rd, Waterford, CT
10. Jumpz Trampoline Sports – Danbury
Jumpz Trampoline Sports is the final place on our list that offers a laser tag experience. The next-generation lasers here don't have vests or wires, which allows for precision targeting and a more immersive experience.
Up to 25 players can play at one time and there are over 30 different games. A 30-minute laser tag session here costs $20, while a 60-minute session costs $30. Some of the other activities at Jumpz include trampoline games like dodgeball, arcade and video games, and foam pits.
Address: 21 Prindle Ln, Danbury, CT
Best Laser Tag Arena in Connecticut – Final Thoughts
These are the best places to play laser tag in CT. All of these spots are great for parties, but just make sure they have the hours you want available before making a reservation.