Karaoke in CT – 11 Best Karaoke Bars in Connecticut
Looking to get up on stage and sing a little? Well, you're in luck because there are some fantastic karaoke bars in Connecticut.
After visiting endless dive bars and karaoke nights, we've finally found the best karaoke Connecticut has to offer. These are the best places to sing karaoke in CT.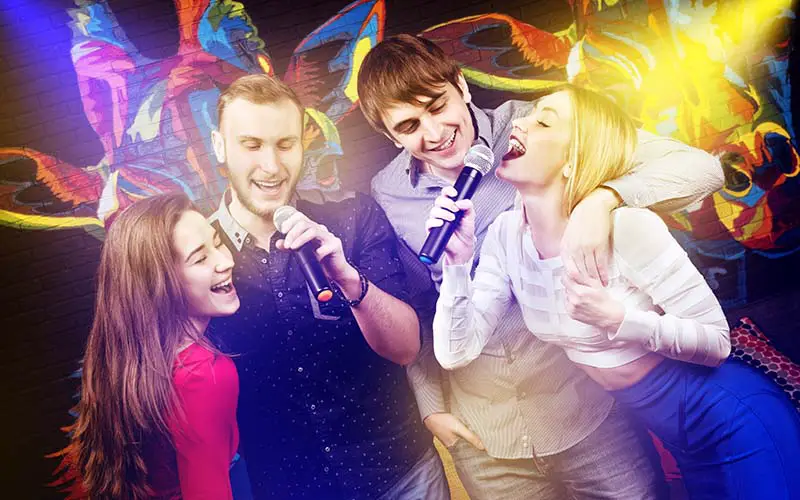 Top Places for Karaoke in Connecticut
1. Blvd Karaoke – Bridgeport, CT
Blvd Karaoke is one of the best places to sing or listen to karaoke in Connecticut. This trendy karaoke bar has 5 private rooms available for reservation, along with a main bar room.
This is a great place to visit on Friday nights, as they host a happy hour with discounted cocktails, shots, and beers. In addition to drinks, you can also order food like wings and sandwiches.
Just be aware that there is a dress code at the bar.
Location: 1103 Main St, Bridgeport, CT
Read: 10 Best Wine Bars in Connecticut
2. The Groggy Frogg – Southington, CT
The Groggy Frogg is a popular bar in Southington, Connecticut. This spot hosts a karaoke night every Sunday, Monday, Thursday, and Friday. Plus, they play live music on Saturday nights.
If you live in the Southington area, this bar is always a ton of fun. I always enjoy their trivia nights on Wednesdays as well (trivia is followed by karaoke).
Location: 129 Center St, Southington, CT
3. La Boca – Middletown, Connecticut
La Boca is another popular CT karaoke spot. They host karaoke every Sunday from 9:30 pm to 12:30 am, with discounted drinks.
They also have an open mic on Friday nights if you have a band or comedy routine you want to put on display. This is also one of the best restaurants in Middletown if you like Mexican food.
Location: 337 Main St, Middletown, CT
4. Zen Bar – Plainville, CT
Zen Bar is a fantastic place to sing karaoke in Connecticut. Located in Plainville, this bar hosts karaoke 6 nights a week so it's always a fun time.
This spot also has good drinks, food, and a pool table, so you'll have something to do if you blow out your voice while singing.
Location: 317 Farmington Ave, Plainville, CT
Read: 17 Best Breweries in Connecticut
5. J.C. Hook's Cafe – Waterbury, Connecticut
J.C. Hook's Cafe is a good place to do karaoke if you live in Waterbury. This hidden gem offers jukebox karaoke, along with cheap drinks, pool, and darts.
The atmosphere here is always great, and the staff is super friendly.
Location: 451 Meriden Rd, Waterbury, CT
6. The Pub – South Windsor, CT
The Pub is a great Connecticut karaoke bar. This bar always has some form of live entertainment, including local bands, acoustic sets, open mic nights, karaoke, and DJ dance nights. 
I highly recommend checking out this bar if you live in northern Connecticut.
Location: 59 John Fitch Blvd, South Windsor, CT
7. TCB Bar & Billiards – North Haven, Connecticut
TCB Bar & Billiards is an excellent karaoke bar in North Haven. This place hosts karaoke Tuesdays and karaoke Fridays every week.
In addition to singing your favorite songs, TCB also has multiple pool tables and professional dart boards. The bar is always a ton of fun.
Location: 348 Sackett Point Rd, North Haven, CT
Read: Top 10 Bars in New Haven, CT
8. Cadillac Ranch Restaurant – Southington, CT
Cadillac Ranch Restaurant is another one of Connecticut's karaoke spots located in the central part of the state. Found in Southington, this spot is known for its live music and karaoke nights.
It's also a great place for line dancing if that's your thing.
Location: 45 Jude Ln, Southington, CT
9. Widow Brown's Cafe – Danbury, Connecticut
Widow Brown's Cafe is a lively bar & restaurant that hosts live music nights, trivia nights, and karaoke nights. The bar has a friendly atmosphere and it's usually pretty busy.
If you live in the Danbury area, this is one of the best spots to sing karaoke.
Location: 128 Federal Rd, Danbury, CT 
Read: 18 Best Wineries in CT
10. Hungry Tiger Cafe & Restaurant – Manchester, CT
Hungry Tiger Cafe & Restaurant is a cool place to do karaoke in Manchester, CT. The bar hosts karaoke on Sundays, along with a variety of other events during the week.
They also have live bands playing on nights without karaoke, so you can get your fix of live music.
Location: 120 Charter Oak St, Manchester, CT
11. Legends Sports Bar – Bristol, Connecticut
Legends Sports Bar is one of CT's karaoke bars found in Bristol. The sound system here is top-notch, and so is the crowd.
If you love draft beer, sports, and karaoke, Legends Sports Bar is the place to be. Also, check out this article if you're looking for more sports bars in Connecticut.
Location: 192 Pine St, Bristol, CT 
Karaoke CT – Final Thoughts
Those are the best Connecticut karaokes. Whether you want to make karaoke a weekly event or just want to throw a karaoke party for a special occasion, all of these places are great.
Each one of these bars has something for everyone, so your entire group is bound to have fun. But if you want to visit a more traditional bar or club, check out these articles about the best bars and nightclubs in Connecticut.