Is Connecticut a Good Place to Live? (Pros & Cons in 2023)
If you're wondering whether Connecticut is a good place to live, you're in luck. As someone who's lived in Connecticut for most of my life, I recently put together a list of all of the pros and cons of living in the state.
This article will cover everything you need to know about living in Connecticut including the cost of living, taxes, weather, things to do, the job market, and the school systems. So, let's dive in.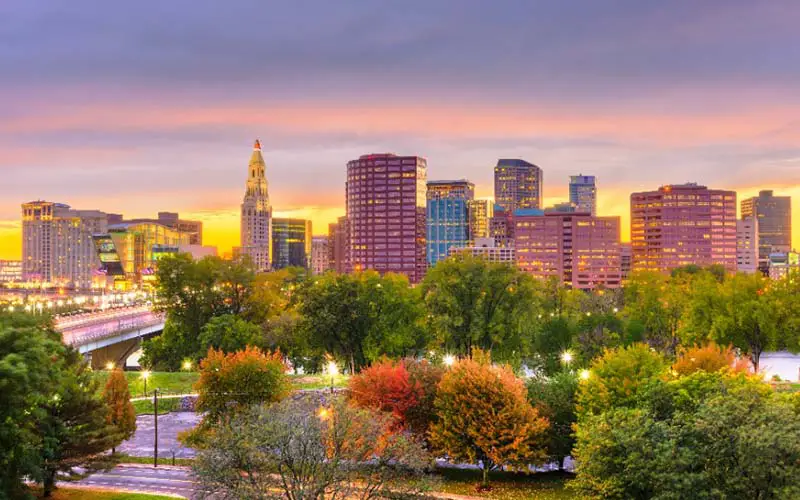 Pros & Cons of Living in Connecticut
Let's start with a quick list of the pros and cons of living in Connecticut, then we'll dive into each one more thoroughly.
Reasons To Move to Connecticut
Great school systems.
Connecticut is the pizza capital of the country.
It's close to NYC but much cheaper.
Connecticut has four distinct seasons and beautiful fall foliage.
The state has great suburbs.
There is a diverse range of outdoor activities available.
Connecticut has a ton of history.
Plenty of natural beauty and undeveloped land.
High-paying jobs are available.
Reasons Not to Move to Connecticut
Connecticut has one of the highest tax burdens in the country.
High cost of living.
The winters are cold.
The traffic is horrible.
Connecticut's nightlife is subpar.
The population is older.
Many companies are starting to leave.
Cost of Living in Connecticut
As a whole, the cost of living in Connecticut is about 10% higher than the national average. However, there is a large discrepancy between the cost of living in different cities. For example, Stamford is well above the national average, while Waterbury is in line with it. So, it is possible to live affordably in Connecticut.
There are a couple of reasons why Connecticut has such a high cost of living. For one, housing is expensive. The median home price in CT is currently between $300,000 and $325,000, which is about 10% above the national average.
Utilities are expensive as well since you have to run your air conditioner in the summer and your heater in the winter. On top of that, Connecticut's healthcare costs are some of the highest in the country.
Tax Rates in Connecticut
Now let's take a look at taxes. Unfortunately, Connecticut has one of the highest tax burdens in the United States. The income tax rate is between 3% to 6.99%, but the effective tax rate is closer to 15% when you factor in real estate taxes, vehicle taxes, and sales taxes.
If you prefer to rent an apartment and don't own a home, your overall tax rate may be a bit lower. But for the average family, there's no way around the high tax burden.
Job Opportunities in Connecticut
If you're looking to move to Connecticut, you'll be happy to know that there are plenty of high-paying jobs in the area. In fact, Fairfield County is among the richest places to live in the United States.
However, it may prove difficult to secure one of those jobs. Connecticut has one of the highest unemployment rates in the county, plus one of the largest wealth gaps of any state.
The income differential is largely due to the fact that many people that live in southern Connecticut work in New York City, and therefore have higher wages.
So, my recommendation is to ensure that you have a job secured before moving to CT. If you move to Connecticut before getting a job, you may have a hard time finding work. This is partly due to the fact many companies are leaving Connecticut due to over-taxation.
Weather in Connecticut
Since Connecticut is located in New England, it's one of the states that has 4 distinctive seasons. You have warm summers with temperatures in the 80s, and cold winters with temperatures in the high teens. The spring and fall seasons are very mild here, with temperatures hovering in the mid-60s.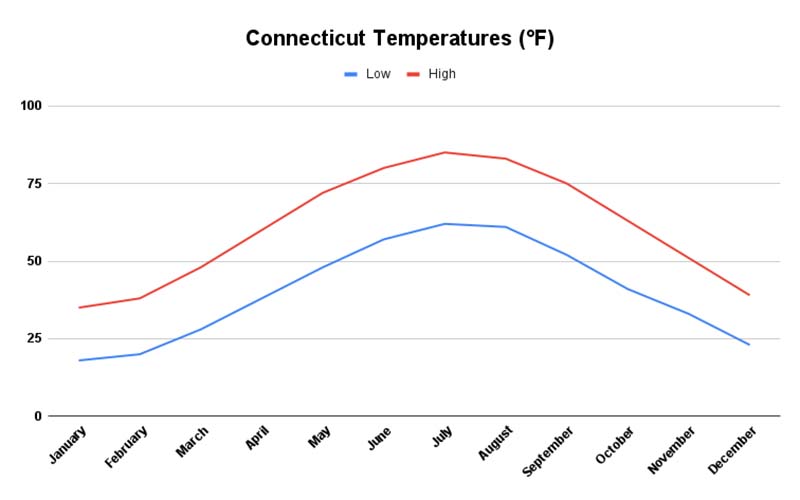 Connecticut is also known for its beautiful fall foliage when the leaves start to fall off the trees. CT is one of the best places to be in September and October.
Things to do in Connecticut
There are plenty of things to do in Connecticut, especially outdoor activities. Some of those activities include skiing, kayaking, biking, hiking, sailing, going to the beach, rock climbing, and visiting amusement parks.
The nightlife in Connecticut isn't the best, but there are still a handful of good bars and clubs in CT. The state's wineries and breweries are top-notch as well.
Connecticut is also considered the pizza capital of the United States. Many of the best pizza restaurants in the county are found in New Haven.
There are no major professional sports teams in Connecticut, but the state does host plenty of concerts. The two casinos, Foxwoods and Mohegan Sun, are a ton of fun as well.
On top of all that, Connecticut is also located within driving distance of major cities like NYC and Boston, giving you easy access to other attractions.
Education & School Systems in Connecticut
Connecticut is an excellent place to get an education. The state is home to a number of top universities like Yale, Uconn, Sacred Heart, and Quinnipiac.
But aside from higher education, Connecticut's K-12 schools rank among the top 5 in the country. Some towns have better school systems than others, but overall the education system in Connecticut is pretty robust. That's something you'll certainly want to consider if you have kids.
Healthcare in Connecticut
One of the benefits of living in Connecticut is the proximity to top-notch healthcare. With that being said, the state has one of the most expensive healthcare systems in the United States.
Most Connecticut residents can access world-class healthcare very easily, but you'll pay dearly for it if you don't have good insurance. Although the state's healthcare system does need a facelift, I still regard it as a net positive if you're thinking about moving to Connecticut. This is validated by the state's higher-than-average life expectancy.
Options for Living in CT – Suburbs, Rural, or City
When most people think of Connecticut, they think of suburbs. However, the state has a wide range of communities and living spaces. You can decide to live in a city, the suburbs, or in a rural town.
Connecticut has a number of cities including Hartford, New Haven, Stamford, Bridgeport, and Waterbury. Although a large portion of the state's population lives in these cities, they are not necessarily the best places to move to. Crime rates are much higher in the cities compared to other parts of the state.
Some of the best places to live in Connecticut are the highly-developed suburbs. Towns like Greenwich, Fairfield, Glastonbury, and Simsbury are suburban paradises. These towns have low crime rates, excellent public education, and high average incomes.
The rural parts of Connecticut are great as well. There are numerous small towns in Litchfield and Windham County that offer wooded lands isolated from neighbors.
If you're looking to get away from the hustle and bustle of city life, I highly recommend these parts of the state. You can find plenty of quiet towns on this map of CT.
How is life in Connecticut compared to nearby states?
If you know your moving to New England and haven't picked which state is best, highly recommend you check out the articles I recently published comparing Connecticut to the other New England states. You can find the links to those below:
Connecticut is similar in many ways to the other New England states. However, the areas where Connecticut stands out are the education system, the proximity to the tri-state area, and the number of things to do.
Connecticut does fall short when you're comparing the cost of living and the tax situation, but that can be made up for if you're able to get a high-paying job. Also, if you rent, you're able to negate some of the high property taxes in Connecticut.
Is Connecticut a Good Place to Live? – Final Thoughts
So, is Connecticut a good place to live? Overall, I would argue Connecticut is a good place to live if you have kids because of the state's great school systems and excellent healthcare.
You just want to be selective of what part of Connecticut you live in since many of the big cities have low wages and high instances of crime. As a whole, Connecticut is very safe if you avoid the bigger cities.
If you don't have kids and you're looking to live in a place with a low cost of living and a lively nightlife scene, Connecticut may not be the best option. Since the population is a bit older, you'll likely be better off somewhere else.