12 Best Indoor Pools in CT
While outdoor pools close during the winter, indoor pools stay open year-round. Many of them offer swimming lessons, aquatics classes, and even open swim sessions.
We've put together a list of the best indoor pools Connecticut has to offer. So without further ado, these are the best indoor pools in CT.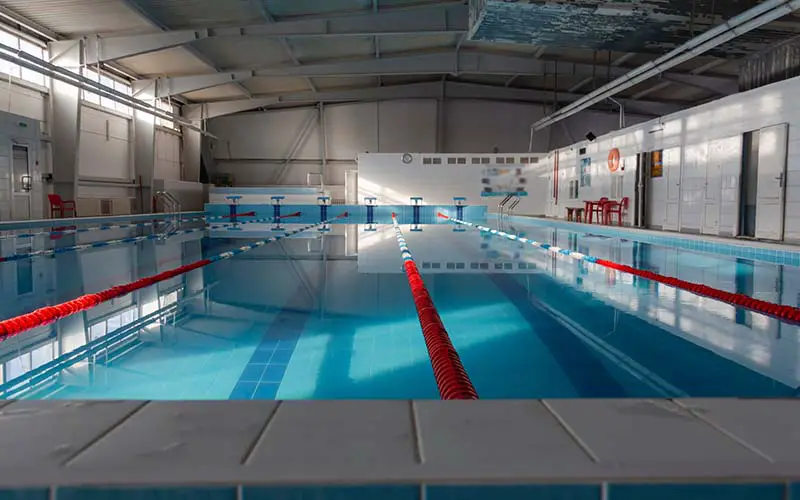 Top Indoor Pools in Connecticut
1. Cheshire Community Pool
The Cheshire Community Pool is one of the top indoor pools in Connecticut. The pool is large and clean, plus it has swim lanes and open swimming areas.
This is one of the pools in the state that's great for both kids and adults. You can take swim lessons here, do exercise programs, or even throw a birthday party.
Location: 520 S Main St, Cheshire, CT
2. YMCA – Multiple Locations
The YMCA is a great place to find an indoor swimming pool. You need a gym membership to use the pool, but once you have one you can visit whenever you want.
Many YMCAs have a lap pool along with a play area for families. The kid's area is almost like an indoor water park!
There are over a dozen YMCA locations across Connecticut, so it should be easy to find the one closest to you. Plus, your membership allows you to visit every YMCA in the county.
Location: 11 Pinney St, Ellington, CT
3. Healthtrax Fitness & Wellness – Multiple Locations
Healthtrax Fitness & Wellness is another gym that has an indoor swimming pool in CT. Many Heathtrax locations offer a swimming pool, lap pool, and a whirlpool (however, not all locations have the same setup).
You can also take aqua classes and swimming lessons at the pool. There are a handful of Healthrax locations throughout the state, so chances are good that there's one near you.
This is a superb fitness center to bring your family if you love to swim.
Location: 3 Weymouth Rd, Enfield, CT
4. Cornerstone Aquatics Center – West Hartford
The Cornerstone Aquatics Center is located in West Hartford's Buena Vista area recreation complex. This is a very popular indoor pool in Connecticut.
You can get day passes for adult lap swim sessions 7 days a week here. Day passes for families are only available on the weekends.
There are multiple pools are the Cornerstone Aquatics Center, so you'll have plenty of room to swim.
Location: 55 Buena Vista Rd, West Hartford, CT
5. Shelton Recreation Center – Shelton
If you live in Shelton, you'll want to check out the Shelton Recreation Center. This Connecticut swimming pool is well-maintained and doesn't get too crowded.
There are always plenty of lifeguards on duty as well, so your kids are safe swimming here.
Location: 41 Church St Ste 2, Shelton, CT
6. Dennis Malone Aquatics Center – Bristol
The Dennis Malone Aquatics Center is a fantastic place to swim in Bristol. This indoor facility is open year-round and features a diving board, 6 swim lanes, and reaches a depth of up to 12 feet.
The pool also provides several swimming activities like open swimming, swim lessons, water exercise classes, and competitive swim teams. 
This is one of the warmer indoor pools in Connecticut since the water is kept around 82 to 84 degrees.
Location: 325 Mix St, Bristol, CT 
7. Mandell JCC Hollander Aquatics Center – West Hartford
Mandell JCC Hollander Aquatics Center is another popular place to go swimming in West Hartford. There are multiple pools here including a 25-yard lap pool, a training pool, and a large whirlpool.
The pools are all super clean and attended to by lifeguards. The price for membership isn't the cheapest, but you get access to an amazing pool complex.
Location: 335 Bloomfield Ave, West Hartford, CT
8. LA Fitness Indoor Pool – Multiple Locations
LA Fitness is known for its workout equipment, but also for its swimming pools. The gym has a junior Olympic size indoor pool, where they host aquatic classes and open swim sessions.
Among the amenities offered at LA Fitness, many locations even have a spa with a sauna and whirlpool.
Location: 3563 Berlin Turnpike, Newington, CT
9. Big Sky Fitness – Farmington
Big Sky Fitness is one more gym with an indoor pool. This chain has several locations in Connecticut, but only the Farmington one has pools.
Members can use the re-vamped indoor pool or the large outdoor pool, depending on the weather and the season.
Location: 94 Brickyard Rd, Farmington, CT
10. The Riverwalk Athletic Club at the Heritage Hotel – Southbury
The Riverwalk Athletic Club is located at the Heritage Hotel in Southbury, Connecticut. The fitness club has both indoor and outdoor pools, a hot tub, a steam room, and a sauna.
The pools at the resort are heated and use salt water, so you don't have to worry about getting chlorine in your eyes.
You can become a member of the fitness center here and get access to the amenities without staying at the hotel.
Location: 522 Heritage Rd, Southbury, CT
11. East Hartford Middle School Indoor Pool – East Hartford
The East Hartford Middle School Indoor Pool is one of the many pools in the state located in a public school. The staff recommends booking an open swim reservation in advance since space is limited.
This CT swimming pool is only open to East Hartford residents, however, many other towns also offer the same opportunity to their residents as well.
Location: 777 Burnside Ave, East Hartford, CT
12. Plainfield Town Hall Pool – Plainfield, CT
Plainfield Town Hall Pool is one more indoor pool in CT. It's a small pool that offers a variety of swim lessons and exercise classes.
This heated indoor pool also offers open-swim times with walk-in availability. You can find the pool in the basement of the Town Hall in Plainville.
Location: 8 Community Ave, Plainfield, CT
Indoor Swimming Pools CT – Final Thoughts
Those are the best indoor swimming pools in Connecticut. All of these pools are open year-round regardless of the weather outside.
If you're just visiting Connecticut for a few days, I recommend checking out this article about the best hotels in Connecticut with indoor pools.
Or if you're visiting during the summer, there are also a number of excellent public pools in CT. There are many more options for outdoor pools than indoor pools in CT.