8 Best Places to Get Ice Cream in New Haven, CT
Whether you want soft-serve ice cream, gelato, Italian ice, or a traditional ice cream sundae, there's no shortage of ice cream shops in New Haven. But with so many options in the city, it can be difficult to decide where to go.
That's why I tested all the most popular ice cream places in the area to see which ones are the best. After gaining a few pounds running this test, I'm here to report that these are the best places to get ice cream in New Haven, CT.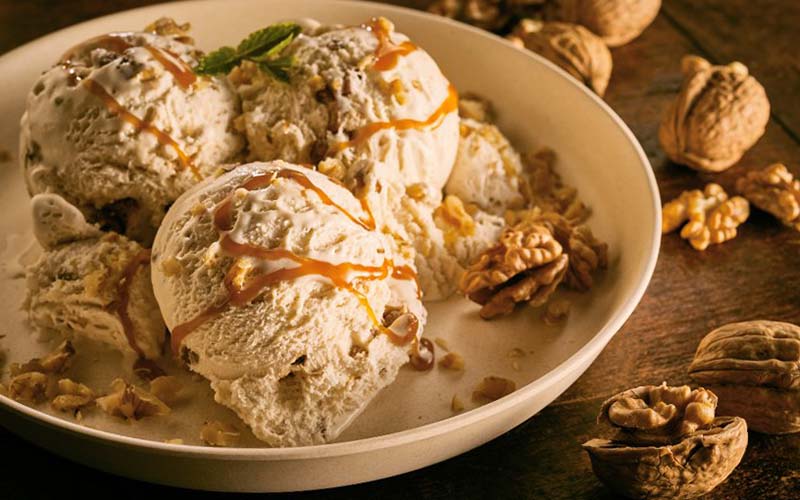 Top New Haven Ice Cream Shops
1. Arethusa Farm Dairy
Arethusa Farm Dairy is one of the top places to get New Haven ice cream. The ice cream here has earned the title "super premium" since it clocks in at an amazing 16% butter fat. The dairy team at Arethusa creates its flavors in-house, the old-fashion way.
The portion sizes at Arethusa Farm are huge, so you never leave here hungry. One scoop is the equivalent of two scoops at most other ice cream shops. You can order your ice cream in a cup, a cake cone, or a freshly made waffle cone. They're all delicious.
Address: 1020 Chapel St, New Haven, CT
2. Libby's Italian Pastry Shop (Gelato & Italian Ice)
Libby's Italian Pastry Shop technically only sells gelato and Italian Ice, but it's basically ice cream. They have fantastic ice cream cakes (made with gelato), Italian ice treats, cannolis, and a ton of other sugary pastries (both warm and cold).
If you want a side of cookies with your ice cream, Libby's Italian Pastry Shop has you covered in that department too. You can find this family-owned pastry shop in New Haven's Little Italy area.
Address: 139 Wooster St, New Haven, CT
3. Milkcraft New Haven, CT
Milkcraft is another great spot to get ice cream in New Haven. They serve up all-natural ice cream in a number of flavors. The shop even freezes every scoop with food-grade Liquid Nitrogen before serving it in order to give each customer the best possible flavor.
There are plenty of great ice cream flavors on the menu, including bubblecone, smores campfire, milk & cereal, and sea salt caramel. My favorite is their classic chocolate, vanilla, and strawberry. Once you pick your flavor, you have the option of getting your ice cream in a cup, or in one of their made-to-order caramelized waffle cones.
Address: 280 Crown St Suite 100, New Haven, CT
4. Bill's Carousel Ice Cream
Bill's Carousel Ice Cream is a casual New Haven ice cream shop found on Whalley Avenue. This late-night ice cream shop is open until midnight on most days, so it's the perfect spot to grab a midnight snack.
You can order both soft serve ice cream and hard ice cream at Bill's. However, I prefer the sundaes, which come in a wide range of flavors, like peanut butter, hot fudge, and wild black cherry. The menu at Bill's Carousel Ice Cream also features other frozen desserts, including milkshakes, floats, Italian ice, slushies, smoothies, and frozen yogurt.
Address: 1185 Whalley Ave, New Haven, CT
5. Ashley's Ice Cream
Ashley's Ice Cream is one of the most popular New Haven ice cream shops. It's located right next to the Yale University Campus, so it's not uncommon to see students here. The shop has plenty of unique ice-cream and frozen yogurt flavors, like raspberry sorbet, coffee with oreo, chocolate swiss almond, and espresso bean.
This ice cream shop only uses fresh and natural ingredients, so you don't have to worry about artificial flavors. Plus, the whipped cream is whipped fresh in the store daily. Ashley's also has ice cream for dogs, so it's safe to bring your family pet here for some dessert.
Address: 280 York St, New Haven, CT
6. Insomnia Cookies
Insomnia Cookies is another great place to get ice cream in New Haven, Connecticut. If you're not familiar, this is the go-to spot for late-night desserts in the city. It's super convenient because they offer both pickup and delivery.
You can order a number of different frozen treats, like ice cream sandwiches, ice cream on a brownie, and classic ice cream in a cup. Insomnia Cookies has all the top flavors, but I always order their mint chocolate chip.
Address: 240-242 College St, New Haven, CT
7. Ben & Jerry's
Ben & Jerry's opened an ice cream shop in New Haven, right in the center of town. This iconic ice cream chain is known for its long list of unique flavors, so you're bound to find something good. One of my favorite things to order is the chocolate chip cookie dough.
Ben & Jerry's also makes ice cream cakes, which is a great option if you're throwing a birthday party for your kids. And if you have dietary restrictions, it's good to know that Ben & Jerry's is kosher-certified and doesn't use any genetically modified ingredients. Plus they have vegan and dairy-free ice cream options available too.
Address: 159 Temple St, New Haven, CT
8. B & B Flower Farm
The final ice cream shop on our list is actually located near New Haven, in the neighboring town of West Haven. I felt the need to include it because although there are plenty of ice cream shops in New Haven, there are some good ones right outside the city. B & B Flower Farm is one of them.
This ice cream shop is located on an actual farm and serves fresh ice cream, shakes, and frozen yogurt. B & B Flower Farm has a ton of flavors, including coconut almond, chocolate chip, banana, and cotton candy. Both the food and service here are great, which has contributed to their excellent reviews online.
Address: 668 Jones Hill Rd, West Haven, CT 
Best Ice Cream in New Haven Connecticut – Final Thoughts
These are New Haven's top ice cream parlors. Whether you're looking to cool off in the summer, or just want a delicious treat in the winter, you can't go wrong with any of these places. We're fortunate in Connecticut to have some of the best ice-cream in the country.
If you're on the hunt for the best ice cream in the state, check out this article about the best ice cream shops in Connecticut.