Best Hotels in Waterbury, CT [2023 Update]
If you're looking to book a hotel in Waterbury Connecticut, you came to the right place. While looking for a hotel in the area, I recently did a ton of research to see which properties are the best.
This article will give you a clear overview of all of the best hotels in Waterbury CT, including their prices, amenities, and location. So, let's dive in.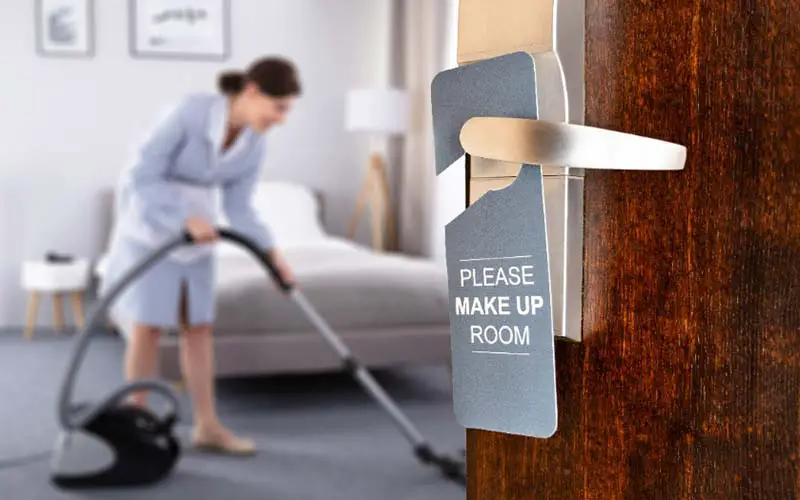 Top Hotels in Waterbury, Connecticut
1. Courtyard by Marriott Waterbury Downtown
Courtyard by Marriott is one of the top hotels in Waterbury, Connecticut. The rooms are relatively spacious and are equipped with a kitchenette, refrigerators, comfortable beds, and free Wi-Fi. Plus, the hotel is 11 floors high, so you can get a decent skyline view.
Some of the hotel's amenities include an on-site restaurant & bar, laundry services, a convenience store, a meeting space, and a fitness center. The prices at this hotel are very reasonable as well.
Address: 63 Grand St, Waterbury, CT
2. Quality Inn
The Quality Inn is another great Waterbury hotel. The property is located right off of I-84, giving you easy access to the highway if you're traveling through the state.
The hotel is very basic but has some solid amenities for guests like free breakfast, free coffee, free parking, free Wi-Fi, an in-room fridge, and a business center. The staff is very friendly as well.
Address: 95 Scott Rd, Waterbury, CT 
3. Hampton Inn Waterbury
The Hampton Inn is one more highly-rated hotel in Waterbury, CT. Out of all the hotels in the city, the Hampton Inn arguably has the best amenities.
Some of the featured hotel amenities include an indoor pool, a fitness center, a business center, room service, free breakfast, free parking, and connecting rooms. The Hampton Inn in Waterbury is also one of the many pet-friendly hotels in CT. You can find the hotel located right off the highway.
Address: 777 Chase Pkwy, Waterbury, CT 
4. Big Apple Motel
The Big Apple Motel is one of the few motels in Waterbury. It's located in the center of the city, not too far from the Mattatuck Museum.
The rooms here were recently remodeled but they aren't quite on par with the other Waterbury hotels. However, out of the 4 hotels in Waterbury, the Big Apple Motel consistently has the lowest prices. If you book a stay here, you'll also get access to free Wi-Fi and complimentary parking.
Address: 428 W Main St, Waterbury, CT
Hotels Near Waterbury, Connecticut
There aren't many hotels in Waterbury, so you may need to look for accommodations just outside the city. Here are a few other quality hotels located one town over from Waterbury.
5. Holiday Inn Express Southington, an IHG Hotel
The Holiday Inn Express in Southington is a popular hotel found close to Waterbury. It's located just 15 minutes from the Waterbury town line via I-84, so you don't have to travel very far to get into the city.
The 3-floor hotel has a number of amenities, including an outdoor pool, a fitness center, free breakfast, free Wi-Fi, and complimentary self-parking. This is a great place to stay if you want to stay halfway between Hartford and Waterbury.
Address: 120 Laning St #32, Southington, CT
6. Comfort Inn Naugatuck – Waterbury
The Comfort Inn is another one of the Connecticut hotels found close to Waterbury. This property is in Naugatuck, which is only a 10-minute drive from the heart of the city.
This is a smoke-free hotel that offers free Wi-Fi, free breakfast, a fitness center, a business center, and laundry facilities. This is an excellent option if you're looking for lodging between Waterbury and New Haven.
Address: 716 New Haven Rd, Naugatuck, CT
7. Homewood Suites by Hilton Southington, CT
The Homewood Suites by Hilton is the highest-rated hotel on this list. It's located near the aforementioned Holiday Inn in Southington, so it's only 15-minutes from Waterbury.
The hotel offers a variety of affordable rooms and suites, along with amenities like free breakfast, free parking, an indoor pool, a fitness center, connecting rooms, pet-friendly rooms, and great service. The hotel is super clean and it's certainly one of the top family-friendly hotels in Connecticut.
Address: 1096 West St, Southington, CT
8. Wolcott Inn & Suites
The Wolcott Inn & Suites (also called the AmeriVu Inn and Suites) is located about 10 minutes from the edge of Waterbury. This small motel offers amenities like an in-room microwave, an in-room refrigerator, TVs, free Wi-Fi, and RV parking.
Oddly enough, the Wolcott Inn is also one of the hotels in Connecticut that have jacuzzi suites. There are smoking rooms available at the hotel as well.
Address: 1273 Wolcott Rd, Wolcott, CT, United States
Waterbury Hotels – Final Thoughts
Those are all of the best hotels in and near Waterbury, Connecticut. Although Waterbury is Connecticut's 5th largest city, it isn't a big tourist draw, so you're accommodation options are pretty limited.
For that reason, it's important that you make your booking in advance. It's not uncommon for all of the rooms to be reserved as you get closer to the check-in date of your stay.
You may also want to check out some of the reviews posted about the hotel online to make sure the hotel's service hasn't fallen off recently.