Hostels in CT – 5 Best Connecticut Hostels
Staying at a hostel is an excellent way to save money while traveling. So if you're visiting Connecticut on a budget, a hostel isn't a bad option.
However, there are only a handful of hostels in the state. That's why we made a complete list of all the best hostels in CT. By the end of this article, you'll know exactly where to stay.
Update: There aren't many hostels in Connecticut as most have closed down in recent years. If you're looking for something similar to a hostel experience, I recommend checking out one of the many bed and breakfasts in CT.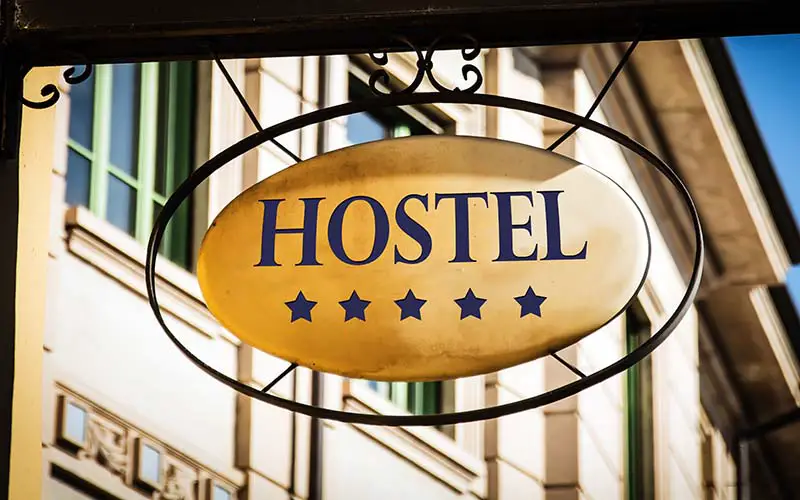 Top Hostels in Connecticut
1. West Lane Inn – Ridgefield, Connecticut
West Lane Inn is a popular hostel-like hotel in Ridgefield, Connecticut. This place has 17 rooms, each with its own private bathroom.
Some of the amenities here include an in-room kitchenette and fireplaces, complimentary breakfast, free Wi-Fi, and a scenic New England view.
This accommodation will give you an unforgettable overnight stay with memories that will last you a lifetime.
Location: 22 West Ln, Ridgefield, CT
2. The Innkeeper's Place Bed & Breakfast – Stafford, CT
The Innkeeper's Place Bed & Breakfast is another great place to stay in Connecticut. This spot is full of American history as it was built in 1778, making it one of the oldest hotels in Connecticut.
There are a few different room types and suites, so you'll have some options when making a reservation at the inn.
In addition to lodging, the B&B offers free Wi-Fi and cable TV, along with a solid breakfast menu.
Location: 111 Stafford St, Stafford, CT
3. Simsbury 1820 House – Simsbury, Connecticut
The Simsbury 1820 House is an excellent bed-and-breakfast-style hotel found in Simsbury, CT. It's a country inn that features 32 uniquely designed guest rooms with colonial architecture, beautiful gardens, and rustic wood floors.
The inn offers guests a free continental breakfast, Wi-Fi, daily newspapers, and access to the pool and health club at their sister property.
There are many different rooms available, including a few pet-friendly rooms.
Location: 731 Hopmeadow St, Simsbury, CT
4. Bearded Woods Bunk and Dine – Sharon, CT
Update: This CT hostel is now closed, although shuttles remain available.
Bearded Woods Bunk and Dine is probably the most well-known hostel in CT for backpackers and hikers. This is one of the few hostels built specifically for hikers coming up the Appalachian Trail.
The hosts here are super friendly and offer everything a hiker could possibly need. Some of the amenities include food, a bunkroom, a common area, showers, laundry, and pickup/dropoff shuttles.
For the price, you can't beat this hostel.
5. Mark Twain Hostel – Hartford, Connecticut
Update: This Connecticut hostel is now closed.
Mark Twain Hostel is another hostel in Connecticut. It's located in a residential area in Hartford, so the hostel isn't ideal for backpackers.
It's more suited for visitors looking for an affordable place to stay for a few nights. The hostel is very basic, with firm bunk beds and bathrooms.
You can choose between the dorms or booking a private room for your stay. Overall, this hostel is safe, quiet, clean, and affordable. Nothing fancy.
Location: 131 Tremont St Hartford, CT 
Hostel CT – Final Thoughts
Those are the top Connecticut hostels. If you want more options, you can always go on Airbnb and get a single room.
But if you want some more unique accommodation types, I recommend checking out some of the historic boutique hotels in Connecticut.
Also, if you're backpacking through the state, make sure you download this topographic map of Connecticut.