Hair Salons in CT – 12 Best Beauty Salons in Connecticut
Over the years, I've had the pleasure of exploring countless hair salons across Connecticut. The state offers an array of hidden gems that cater to a diverse set of tastes and preferences.
Whether you're looking to keep up with the latest fashion-forward styles or get personalized care from your local stylist, you'll be able to find exactly what you're looking for.
In this article, I'll walk you through my handpicked selection of Connecticut's finest hair spas. So without further ado, these are the best hair salons in CT.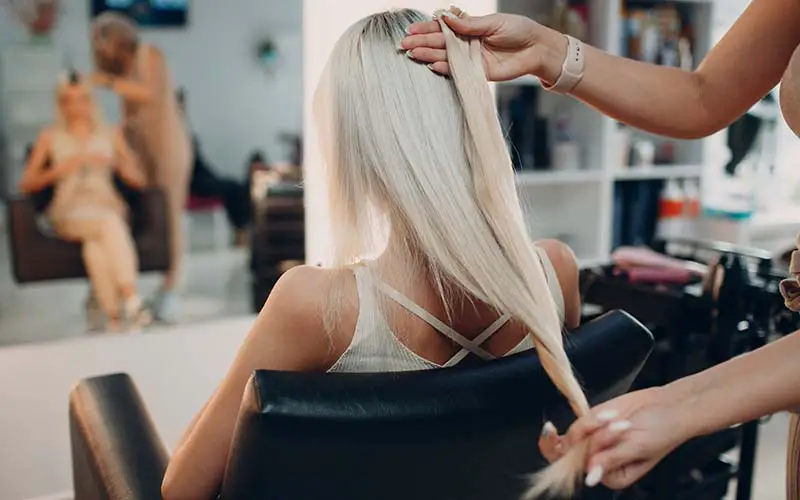 Top Hair Salons in Connecticut
1. Envy Hair Salon & Spa – Berlin
Envy Hair Salon & Spa is one of the best hair salons in Connecticut. Located in the town of Berlin, the stylists here are experts in a wide range of hair treatments.
Some of the services they provide include hair cutting and styling, hair coloring, highlighting, ombre, balayage, extensions, and eyelash treatments.
The prices at Envy Hair Salon are very reasonable too, with a basic haircut, wash, and blowout costing under $50.
Address: 220 Berlin Turnpike, Berlin, CT 
2. Luscious and Co. Beauty – Shelton & New Canaan
Luscious and Co. Beauty has locations in Shelton and New Cannain, Connecticut. They have a reputation for top-notch beauty service.
This CT hair salon offers a variety of award-winning hair treatments like styling, extensions, coloring, steam therapy, straitening, and lash & brow treatments.
It's best to book an appointment in advance since this place is busy. Just be aware that they are closed on Monday and Tuesday.
Address: 107 Main St, New Canaan, CT
3. Jessica's Color Room Salon – Middletown
Jessica's Color Room Salon is a popular beauty salon in Middletown. This salon has been delivering excellent beauty services for nearly 20 years.
They specialize in bridal, prom, and graduation services, but they also have a large base of normal clients.
The hairstylists and makeup artists here ensure that you have an enjoyable experience from start to finish, offering elegant updos, long, flowy styles, curls, and hair extensions. 
Address: 558 Newfield St # 7, Middletown, CT
4. ASH Hair Salon & Blow Dry Bar – Fairfield
ASH Hair Salon & Blow Dry Bar is a very popular hair salon in Fairfield, CT. This spot is known as a luxury boutique hair salon with an original approach to style. 
The salon has an extremely professional hair team that carries out in-depth consultations before your hair appointment.
These consultations are free of charge so I highly recommend you take advantage of them.
Address: 2480 Black Rock Turnpike, Fairfield, CT
5. Jules Salon – Watertown
Jules Salon is a fantastic hair salon in Connecticut. Found in Watertown, this salon provides a range of hair treatments, including haircuts, curling, straitening, styling, highlights, roots, and bleach.
This hair salon also offers some premium treatments like keratin express, Qiqi treatments, deep conditioning treatments, and botox hair treatments.
Address: 750 Straits Turnpike, Watertown, CT
6. Asymmetry Salon and Barber – Vernon
Asymmetry Salon and Barber is another popular hair salon in CT. They offer hair-cutting and styling services for both men and women.
The stylists here are very creative and can do any hair-do your heart desires. Plus, the prices are very affordable and the salon always has friendly service.
You're able to visit Asymmetry Salon and Barber in Vernon, Connecticut.
Address: 378 Kelly Rd # 6, Vernon, CT
7. Salon Nathaniel – Meriden & Wallingford
Salon Nathaniel is another good spot to get your hair styled in central Connecticut. The salon has two locations, one in Meriden and one in Wallingford.
The stylists here offer innovative hair styling, like color, extensions, keratin treatments, and waxing to name a few. They use the latest techniques and products to get you the best results.
The salon does everything from coloring and extensions to complete makeovers and men's haircuts. You'll love the atmosphere at Salon Nathaniel.
Address: 1247 E Main St, Meriden, CT 
8. Jo Bruno Hair – New Haven
Jo Bruno Hair is one of the top salons in the New Haven area. This Connecticut hair salon offers hair cuts for both kids and adults, including men and women.
The hair stylists can do full-service cuts, bang trims, glazes, root coloring, highlights, ombres, and blowouts. Their prices are pretty competitive too.
Just make sure that you book your hair appointment in advance so that they can accommodate your preferred time and date better.
Address: 1 Whitney Ave, New Haven, CT
9. Mane Loft Salon – West Hartford
Mane Loft Salon is a great hair salon in West Hartford. This salon is a collective of independent stylists, so you'll find a ton of skilled artists.
The salon offers a variety of services, but it's a great place to just cut your hair cut or colored. Extensions are also a popular service here.
Address: 977R Farmington Ave, West Hartford, CT
10. Skull & Combs Co – New Haven & South Norwalk
Skull & Combs Co is another one of Connecticut's hair salons found in New Haven. This salon and barbershop has a number of talented hair artists.
Whether it's a haircut, highlights, coloring, or a balayage, the barbers and stylists here are more than capable of achieving the exact look you're going for.
The salon has a second location in South Norwalk as well.
Address: 832 State St, New Haven, CT
11. Epic Salon – South Windsor Epic Salon
Epic Salon is a superb salon in northern Connecticut. Located in South Windsor, this salon offers a number of luxury hair treatments.
Some of the services offered at the salon include coloring, balayage, sombre, and keratin treatments. If you live in the area and are looking for a new stylist, Epic Salon is certainly worth a try.
Address: 1678 Ellington Rd, South Windsor, CT
12. Waves Hair Studio – Plainfield
Waves Hair Studio is a highly-reviewed salon in Plainfield, Connecticut. The stylists here are very talented and super friendly.
You can get a wide array of treatments for your hair, nails, lashes, and skin here. The atmosphere is always welcoming so you'll feel right at home.
Address: 716 Norwich Rd, Plainfield, CT
Other Excellent Haircut Places & Beauty Salons in CT
Aside from the salons already listed, there are plenty of other worthy hair salons in Connecticut. Here are some other great hair salons in CT to check out:
A Cut Above in Waterford
Gavali Salon in Fairfield
Gallery Salon in Farmington
Rebel Hair Salon in New Haven
Cappola-Brokaw Art of Hair in Cheshire
Hair Salons CT – Final Thoughts
Those are CT's top hair salons. Each salon has an excellent team of stylists, so you'll be in good hands regardless of where you ultimately end up going.
If you're looking to pamper yourself, also check out these articles about the best nail salons and best spas in Connecticut.