Best German Restaurants in CT [2023 Update]
Connecticut doesn't really have a lot of German restaurants. However, there are a few places that offer excellent wurst, schnitzel, spaetzle, and other German cuisines in the state if you know where to look.
I recently tried all of the most popular German restaurants in CT to see which ones are actually worth the trip. So without further ado, here's a look at the top 5 places that offer German food in Connecticut.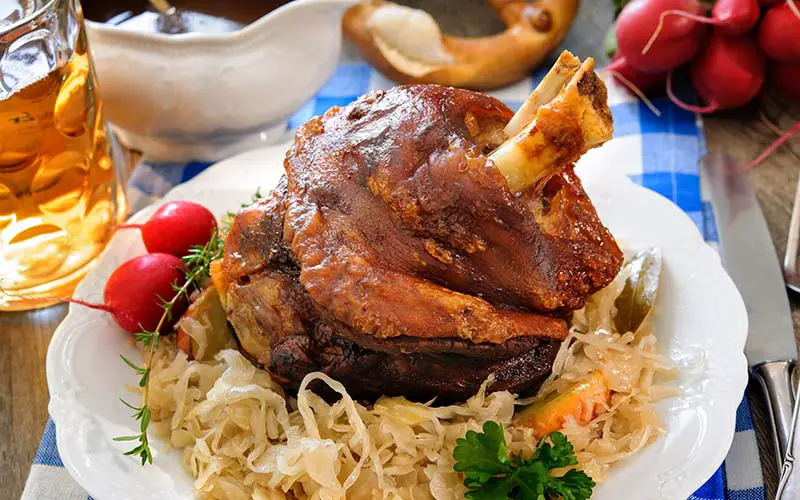 Top German Restaurants in Connecticut
1. East Side Restaurant – New Britain
East Side Restaurant is one of the best German restaurants in Connecticut. The food at this high-energy eatery is so good, it will make you feel like you're actually in Germany.
The menu features traditional German fare like Bavarian cheese balls, giant pretzels, wurst samplers, jager schnitzel, German potato pancakes, and roast turkey.
This place feels has a ton of history and has been open for over 80 years. It feels like this restaurant is celebrating Oktoberfest year-round.
Location: 131 Dwight St, New Britain, CT
2. Jealous Monk – Mystic
Jealous Monk is another great place to eat German food in Connecticut. Located in Mystic, this beer garden serves a variety of international brews and German delicacies.
Some of the dishes on the menu include chicken schnitzel, Bavarian bratwurst, burgers, chicken wings, meatloaf, and seafood. The desserts are really good too.
The restaurant has both indoor and outdoor seating. Plus, they also have a rotating selection of 32 craft beers on tap. If you like German beer, you'll love this German restaurant.
Location: 27 Coogan Blvd, Mystic, CT
3. The Hopkins Inn & Restaurant – Warren
The Hopkins Inn is located in the foothills of the Berkshires out in Warren, CT. The hotel has a really good restaurant that serves plenty of German dishes.
You can order foods like bundnerteller, rahmschinitzel, weinerschnitzel, smoked salmon, veal, and a range of other dishes. The menu here is quite extensive.
The restaurant is open for breakfast, lunch, and dinner, so you can eat a meal here at any time during the day. Just be aware that they are closed on Mondays.
Location: 22 Hopkins Rd, Warren, CT
4. Silvia's Thompsonville Cafe – Enfield
Silvia's Thompsonville Cafe is a popular German restaurant in Connecticut, located in the northern part of the state. The meals here come in large portion sizes and with excellent customer service.
A few of the dishes available on the menu include German Vienna schnitzel, veal parmesan, Caesar salad, filet mignon, BBQ ribs, and lamb stroganoff. There is just so much to choose from when dining here.
In addition to German food, this restaurant also serves a wide range of European dishes, including foods from France and Italy.
Location: 28 Pleasant St, Enfield, CT
5. Halfway (Wurst Haus) – West Hartford, CT
Wurst House is one more German restaurant in CT. Update: The restaurant recently rebranded to Halfway, so the menu may change a bit. I'll update this section when more information is available.
Some of the items on the menu include classic bratwurst, frankfurter, short rib goulash, and Kassler rippchen. The food here always tastes fresh and it's reasonably priced.
You're able to reserve a table in their dining room, but the restaurant also allows you to order takeout. However, delivery is not an option at this German restaurant.
Location: 37 LaSalle Rd, West Hartford, CT
German Restaurant CT – Final Thoughts
Those are the best German restaurants in CT. Whichever restaurant you decide to visit to grab German cuisine or beers, I'm confident you'll love the food and the atmosphere.
If you're into traditional European food, you may also want to check out these Polish and Portuguese restaurants in Connecticut.