11 Best Places to Eat Frozen Yogurt in CT
Frozen yogurt is one of the tastiest desserts you can eat. But which restaurants serve the best frozen yogurt in Connecticut? I decided to find out.
After visiting all of the most popular frozen yogurt spots in the state and ordering some dairy from all of them, I finally have the answer. These are the best places to eat frozen yogurt in CT.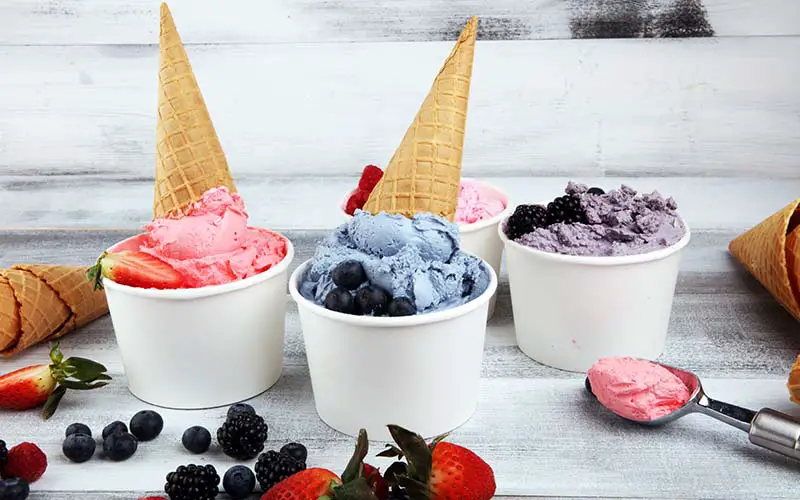 Top Restaurants to Get Frozen Yogurt in Connecticut
1. Peachwave – Multiple Locations in CT
Peachwave has some of the best frozen yogurt Connecticut has to offer. With locations in Norwalk, Oxford, Shelton, Danbury, Brookfield, and Bethel, you can find this restaurant all around the southern part of the state.
At Peachwave it's self-serve, so you're able to create your own frozen yogurt masterpiece. There are several dozen different flavors and toppings that you can add to your bowl.
In addition to frozen yogurt, the shop also allows you to make smoothies, shakes, floats, and gelato.
Address: 71 Oxford Rd, Oxford, CT
2. Brain Freezers Frozen Dessert Cafe – Hebron, CT
Brain Freezers Frozen Dessert Cafe is another self-serve frozen yogurt cafe in Connecticut. This place has 12 flavors of premium frozen yogurt, soft serve custard, and Italian ice, along with 16 flavors of Hershey's ice cream.
The yogurt here is the perfect consistency and you can top your frozen treat with a selection of over 50 toppings.
Brain Freezers also has both indoor and outdoor dining, so you can get some fresh air as you enjoy your frozen yogurts.
Address: 65 Main St, Hebron, CT
3. Zack's Frozen Yogurt – Stratford, Connecticut
Zack's Frozen Yogurt has been serving yogurt in CT for over 26 years. Located in Stratford, this shop has plenty of flavors and toppings to choose from.
Regardless of what flavors you prefer, you'll be able to find it here. Plus, the customer service at Zack's is always excellent.
Address: 60 Access Rd, Stratford, CT
Read: Best Places to Order Smoothies in Connecticut
4. Sweet Frog – Multiple Locations in Connecticut
Sweet Frog is another Connecticut yogurt shop with multiple locations throughout the state. You can find this frozen yogurt shop in Manchester, Glastonbury, and Plainville.
The store has hundreds of original flavors of froyo to choose from including no-sugar-added, low-fat, nonfat, dairy-free, and soft serve.
Address: 1500 Pleasant Valley Rd, Manchester, CT
5. Kiwi Spoon – Wallingford, Rocky Hill & Southington, CT
Kiwi Spoon is a healthy frozen yogurt shop with restaurants in Rocky Hill, Southington, and Wallingford. The yogurt here has live and active probiotic cultures which can help promote a healthy digestive and immune system.
In addition to froyo, Kiwo Spoon also serves great acai bowls with Greek yogurt. If you want a drink, I highly recommend the smoothies or bubble tea.
Address: 397 Cromwell Ave Suite 5, Rocky Hill, CT
6. Ashley's Ice Cream – Multiple Locations, Connecticut
Ashley's Ice Cream is one of the most popular ice cream shops in Connecticut, but it also serves some frozen yogurt.
Some of the restaurant's low-fat yogurt flavors include chocolate, peanut butter, coconut, lemon, black raspberry chip, cake batter, pumpkin, and peppermint stick.
You can visit Ashley's in Hamden, Madison, New Haven, Branford, Guilford, and Norwalk, Connecticut.
Address: 280 York St, New Haven, CT
7. Froyo World – North Haven & Waterford, CT
Froyo World is another popular frozen yogurt chain in Connecticut. They have locations in both North Haven and Waterford.
You can choose from either sweet or tart flavors. Plus, there are a number of sugar-free and non-fat yogurt options on the menu.
Address: 300 Universal Dr N, North Haven, CT
Read: Top 10 Places to Get Milkshakes in CT
8. Tasty Waves Frozen Yogurt & Bagel Cafe – New Milford
Tasty Waves Frozen Yogurt & Bagel Cafe is a fantastic place to order frozen treats in New Milford. This family-owned cafe offers 12 different self-serve frozen yogurts, gelatos, and vegan sorbets.
This spot also makes custom milkshakes, smoothies, and small-batch artisan ice cream, which is made in-house. With over 60 toppings to choose from, you'll never run out of frozen choices.
Address: 7 Main St Suite C, New Milford, CT
9. Berry Twist Frozen Yogurt – Enfield, Connecticut
Berry Twist Frozen Yogurt is a smaller frozen yogurt shop. Found in Enfield, this place lets you indulge your sweet tooth in delicious frozen treats.
There are a fair number of flavors and toppings to choose from. Plus, you can create your own frozen yogurt dessert.
Address: 585 Enfield St, Enfield, CT
10. Funland Frozen Yogurt – Stamford, CT
Funland Frozen Yogurt is a CT frozen yogurt shop found in the Stamford Town Center Mall. They have a good amount of toppings and yogurt varieties available.
You can find Funland Frozen Yogurt in the mall's food court.
Address: 100 Greyrock Pl, Stamford, CT 
11. Swirl Frozen Yogurt – New Canaan, Connecticut
Swirl Frozen Yogurt is one more Connecticut frozen yogurt shop. Located in New Canaan, this place is clean and always has great customer service.
Every spoonful of yogurt here tastes fresh and there's plenty of variety when it comes to flavors and toppings.
Location: 111 Cherry St, New Canaan, CT
Other Frozen Yogurt Shops in Connecticut
Aside from the shops already mentioned, here are a few other places to get frozen yogurt in Connecticut:
Froyo Shoppe in Simsbury
B & B Flower Farm in West Haven
Bill's Carousel Ice Cream in New Haven
Yogurt Lane in Waterbury
Smoothie King
Smoothville Smoothies in Enfield
Cowlick's Creamery in Waterford
Salem Valley Farms Ice Cream in Salem
Mystic Drawbridge Ice Cream in Mystic
Frozen Yogurt CT – Final Thoughts
Those are Connecticut's top frozen yogurt restaurants. Regardless of which one you choose to visit, I'm confident that you'll enjoy your frozen treats.