Family Hotels in CT – Best Kid-Friendly Resorts in Connecticut [2023]
If you're traveling with kids in Connecticut, it pays to find a hotel that has some family-friendly amenities. A resort with an indoor pool or a nearby amusement park can go a long way in keeping your kids entertained.
That's why I was very particular about putting together this list of family-friendly hotels. Every property on this list has plenty of activities for the whole family to enjoy. So without further ado, these are the best family hotels in CT.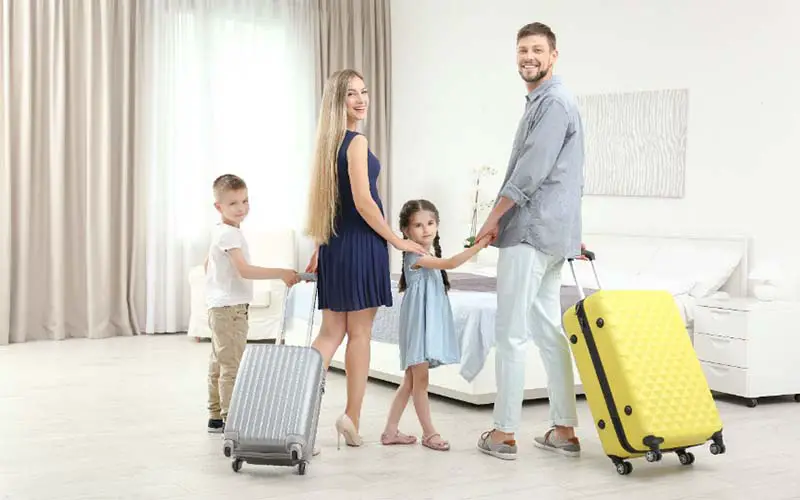 Top Family-friendly Hotels in CT
1. Fairfield Inn & Suites by Marriott – Enfield
The Fairfield Inn & Suites by Marriott is a popular family-friendly hotel in Connecticut. This resort is located right on the Connecticut-Massachusetts border, giving you easy access to fun destinations like Six Flags New England, the Basketball Hall of Fame, and The Big E (the Big E is a huge fair in the fall).
The hotel is very affordable and offers amenities like a free breakfast buffet, free parking, free Wi-Fi, an outdoor pool, and a fitness center. There are also laundry services available if your kids get their clothes dirty.
Location: 1 Bright Meadow Blvd, Enfield, CT 
2. DoubleTree by Hilton Hotel – Bristol
The DoubleTree Hotel in Bristol is another one of the kid-friendly hotels in CT. It's only a few minutes from the Lake Compounce amusement park, which is home to some of the most fun activities for families in the state.
This DoubleTree also has plenty of great amenities like free Wi-Fi, free parking, an on-site restaurant, and an indoor pool. The hotel has connecting rooms as well, which is perfect if you have a larger family.
Location: 42 Century Dr, Bristol, CT
3. Hampton Inn – Shelton
The Hampton Inn is a fantastic kid-friendly hotel in CT, this time found in Shelton. The hotel is just a 15-minute drive from Connecticut's Beardsley Zoo, which is the top zoo in CT. Urban Air Trampoline and Adventure Park is also nearby, which can provide some afternoon family fun.
On top of that, the resort has a massive indoor pool with a huge waterslide, making it one of the most popular family hotels in the winter. If you're looking for affordable and comfortable accommodations in southern Connecticut, you should definitely check out this hotel.
Location: 695 Bridgeport Ave, Shelton, CT
4. Madison Beach Hotel, Curio Collection by Hilton
Madison Beach Hotel is one of the best family hotels in Connecticut during the summer. This boutique property is one of the few beachfront hotels in CT, making it a popular destination for families that want to enjoy the beautiful views of Long Island Sound.
The hotel has a number of great amenities and features including a friendly staff, a spa, a fitness center, room service, and onsite dining. Plus, there are often open-air concerts and film festivals hosted on the beach.
Location: 94 W Wharf Rd, Madison, CT
5. Mystic Marriott Hotel & Spa – Mystic
The Mystic Marriott Hotel & Spa is one of the top hotels for families in the southeastern part of the state. This resort is near some awesome family attractions like the Mystic Seaport Museum and the Mystic Aquarium. 
At the resort, your kids will be able to go swimming in the indoor pool while the adults relax at the hotel spa. This is also one of the hotels with an on-site restaurant and room service, so you don't have to go very far to get food.
Location: 625 N Rd, Groton, CT
6. Hyatt Regency – Greenwich
The Hyatt Regency in Greenwich is another great family hotel in CT. It's only a short drive from New York City, plus there are a couple of parks with playgrounds in the general area. Playland Amusement Park is also only 15 minutes away.
The hotel has solid amenities for guests to enjoy like an indoor pool, a hot tub, a fitness center, free Wi-Fi, and a business center. If you're traveling with pets you'll be happy to know that this is one of the many pet-friendly hotels in Connecticut.
Location: 1800 E Putnam Ave, Old Greenwich, CT
7. Holiday Inn Express & Suites Bradley Airport – Windsor Locks
The Holiday Inn Express is one of the family-friendly hotels in CT located near the airport. This is a great place to stay with kids if you have an upcoming flight since it's only a 15-minute drive of far Six Flags and 30 minutes from Ski Sundown.
For amenities, the hotel has an indoor pool, free parking, free continental breakfast, and a fitness center, along with a 24-hour airport shuttle.
Location: 600 Spring St, Windsor Locks, CT
8. Interlaken Inn – Lakeville
The Interlaken Inn is an excellent kid-friendly hotel in Connecticut, especially during the warmer months. This year-round country resort sits between two lakes in the northern corner of the state, offering upscale lodging and fun recreational activities.
There are plenty of things to do at the resort, including swimming, kayaking, tennis, basketball, and a movie theater. Plus, there's a game room with ping pong, a pool table, and air hockey. They have a heated outdoor pool as well, so you can still go swimming once it starts to get colder.
Location: 74 Interlaken Rd, Lakeville, CT
9. Cave Hill Resort – Moodus
Cave Hill Resort is another country-style family hotel in Connecticut. This outdoor resort is located in Moodus and offers activities like boating, swimming, golf, volleyball, basketball, a children's playground, bonfire roasts, and wagon rides.
This is more of an outdoor cottage accommodation than a traditional hotel, but it's a great opportunity to take your kids on a quasi-camping trip. It's a great experience for the entire family.
Location: 138 Leesville Rd, Moodus, CT
10. Grand Pequot Tower at Foxwoods – Ledyard
While not a traditional family resort, Foxwoods Resort Casino actually has a number of activities for the whole family. For example, the gaming lounge features a ton of arcade games, along with pinball, bowling, and go-karts (Just be aware that the arcade is closed on Mondays and Tuesdays.)
The hotel also has a great indoor pool and plenty of shopping at the Tanger Outlets. If you're looking for some entertainment during the day, Mystic Aquarium is only 20 minutes from the hotel.
Location: 39 Norwich-Westerly Rd, Ledyard, CT
11. Mohegan Sun – Uncasville
Mohegan Sun is another one of the unconventional Connecticut family hotels. The Cyber Quest Arcade at Mohegan Sun is a professionally supervised arcade designed for kids 6 weeks to 12 years old. It's the perfect spot to leave your children when you're at the casino.
This isn't one of the hotels that's going to yield the most family time, but it's a good option if you were already planning on visiting the casino. If you're kids get restless, you can always do something else during the day and check out the resort at night.
Location: 1 Mohegan Sun Blvd, Montville, CT
Other Kid Friendly & Family Friendly Hotels in Connecticut
Aside from the hotels already mentioned, there are a few other great hotels for families in Connecticut. You may want to visit one of these other hotels if you plan on staying in another part of the state. Here are several more solid family hotel options:
Bellissimo Grande Hotel in North Stonington
Inn at Middletown
Courtyard by Marriott in Danbury
Hilton Garden Inn in Wallingford
Best Hotels for Families in CT – Final Thoughts
Whatever hotel you book a room at during your stay, I'm confident you'll enjoy your family vacation in Connecticut. Just make sure to book your room in advance since prices tend to go up as your check-in date approaches.