Donuts in CT – 12 Best Doughnut Shops in Connecticut [2023]
Aside from Dunkin, there are plenty of excellent donut shops in CT. That's why I recently decided to try all of the top donut places in the state to see which ones are the best.
After a week of testing, I'm confident that I've found the answer. Whether you prefer Boston cream or glazed, these are the best spots to eat donuts in CT.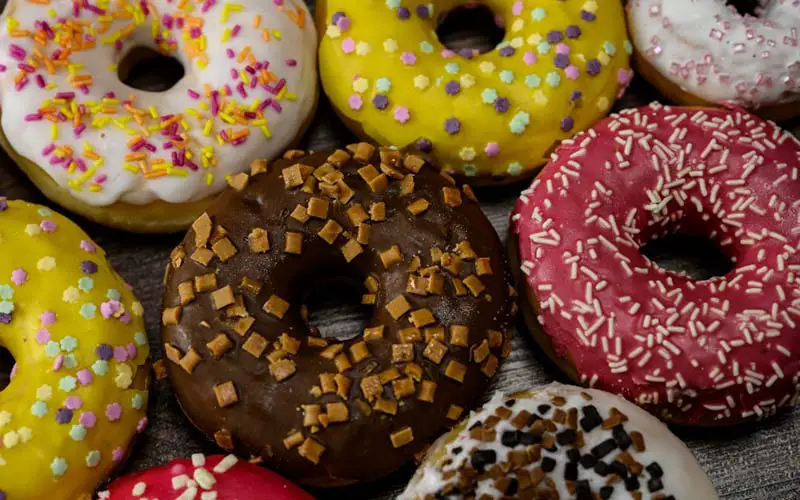 Top Connecticut Donut Shops
1. Flanders Donut & Bake Shop – East Lyme
Flanders Donut & Bake Shop makes some of the best doughnuts in Connecticut. This award-winning bakery is family-owned and uses quality ingredients to create light and fluffy donuts.
They serve a wide variety of donuts like yeast-raised donuts, old-fashioned cake donuts, and filled donuts. Everything in the bakery is made daily, including the muffins and pastries.
Address: 327 Flanders Rd, East Lyme, CT
2. Whitney Donut And Sandwich Shop – Hamden
Whitney Donut And Sandwich Shop is a popular place to get donuts in Hamden. The shop has been open for over 40 years producing a range of mouth-water donuts.
With nearly 30 flavors available to order, here's a sample of some of the doughnuts you can get. You can order glazed, powdered, jelly-jilled, chocolate frosted, coconut, apple cider, and cream-filled, to name a few.
Address: 2574 Whitney Ave, Hamden, CT
3. Donut Crazy – Multiple Locations
Donut Crazy has locations in West Hartford, New Haven, Shelton, Stratford, Branford, and Westport. This Connecticut donut shop makes 45 varieties of donuts each day including their famous cannoli donut.
I really enjoy the powdered jelly and Boston cream donuts at Donut Crazy, but the breakfast sandwiches and coffee are really good as well.
Address: 993 Farmington Ave, West Hartford, CT
4. Neils Donuts – Wallingford & Middletown
Neils Donuts is a popular restaurant that serves New York-style donuts, along with other pastries like danishes, muffins, and bagels.
The donut menu is extensive with nearly 50 choices available. Some of the more notable donut options include glazed rainbow sprinkled, Reese's peanut butter crumb, cinnamon cruller, maple bacon, and double chocolate. They even have a few vegan donuts on the menu.
Address: 83 N Turnpike Rd, Wallingford, CT
5. Deviant Craft Coffee & Donuts – Mystic
Deviant Craft Coffee & Donuts is a great spot to eat doughnuts in CT if you live in the Mystic area. They make small-batch gourmet donuts by hand, along with really good craft coffees.
The menu is divided into several doughnut categories including brioche, cake, cronut, cruller, vegan, and gluten-sensitive. They have some really unique flavors like marshmallow, snickerdoodle, and hot cocoa. I would argue that these are some of the best-tasting donuts in the state.
Address: 27 Coogan Blvd Building 6, Mystic, CT
6. Dottie's Diner – Woodbury
Dottie's Diner is another fantastic spot to grab donuts in Connecticut. The housemade donuts here are delicious, and the pancakes, French toast, and egg sandwiches are just as good.
But not only is the food good, but the service here is also phenomenal as well. You can find this diner in Woodbury, halfway between Danbury and Waterbury.
Address: 787 Main St S, Woodbury, CT 
7. Donut Delight – Multiple Locations
Donut Delight is another one of the CT donut shops with multiple locations throughout the state. You can find their restaurants in Stamford and Norwalk, many of which have a 24-hour drive-through.
Both the donuts and donut holes here are great, plus they're very affordable. Donut Delight is an excellent place to grab breakfast every morning if you live in southern Connecticut.
Address: 417 Elm St, Stamford, CT
8. Dixie Donuts – Norwich
Dixie Donuts is a highly-rated spot to pick up doughnuts in Norwich, Connecticut. But the bakery has very good breakfast pastries and coffee too.
They have a good selection of doughnuts, but I recommend you get there early before they start selling out of flavors. I absolutely love their chocolate cake doughnuts.
Address: 275 W Town St, Norwich, CT
9. Clinton Beach Donut – Clinton
Clinton Beach Donut is another one of the Connecticut donut shops that make their food fresh daily by hand. They have all of the classic doughnut flavors available, along with a couple of unique ones including some gluten-free options.
The breakfast sandwiches, pastries, iced coffee, and omelets here are worth a try as well. You can dine in or order online for both takeout and delivery.
Address: 344 E Main St, Clinton, CT
10. Young Buns Doughnuts – Mystic
Young Buns Doughnuts is a little-known donut shop in Mystic, Connecticut. This family-owned bakery makes every doughnut they sell from scratch daily with high-quality ingredients.
The doughnuts here taste so good because the bakers use homemade yeast, icings, doughs, fillings, and toppings. Young Buns Doughnuts offers about a dozen different flavors including blueberry cake, cinnamon sugar, chocolate glazed, and rainbow sprinkle, on top of seasonal flavors.
Address: 46 W Main St, Mystic, CT
11. Tastease – Hartford
Tastease is a highly-reviewed bakery in Hartford. This Connecticut doughnut shop offers a range of delicious mini donuts at a fair price. The donuts here are smaller than normal, which is nice because it prevents you from overeating.
The business doesn't currently have a website, but you can find them right off of I-84 on New Park Avenue. Just be aware that they are closed on Sunday.
Address: 70 New Park Ave, Hartford, CT
12. Coffee An' Donut Shop – Westport
Coffee An' Donut Shop is one more place to find top-notch donuts in Connecticut. From the donuts to the breakfast sandwiches, all of the food here is delicious and comes highly recommended.
You can order half a dozen donuts here for $10 or a full dozen for $15, which is very affordable. The staff at the restaurants is also super friendly.
Address: 343 Main St, Westport, CT
Best Donuts CT – Final Thoughts
Those are the best places to order donuts in CT. Although some of these donut shops are more expensive than Dunkin Donuts, they certainly taste better. I recommend you check each of them out if you live nearby.
If you're local for other places that make donuts, I recommend checking out one of the Connecticut bakeries closest to you.