Best Dog Parks in CT (by Town)
If you're looking for somewhere special to bring your dog, you'll be happy to know that there are dozens of excellent dog parks in Connecticut. However, not all dog parks are created equal.
Connecticut dog parks come in many different shapes and sizes. Some are off-leash dog parks while others are indoor dog parks. In this article, I'll let you know which dog parks in CT are the best, and what to expect from each one.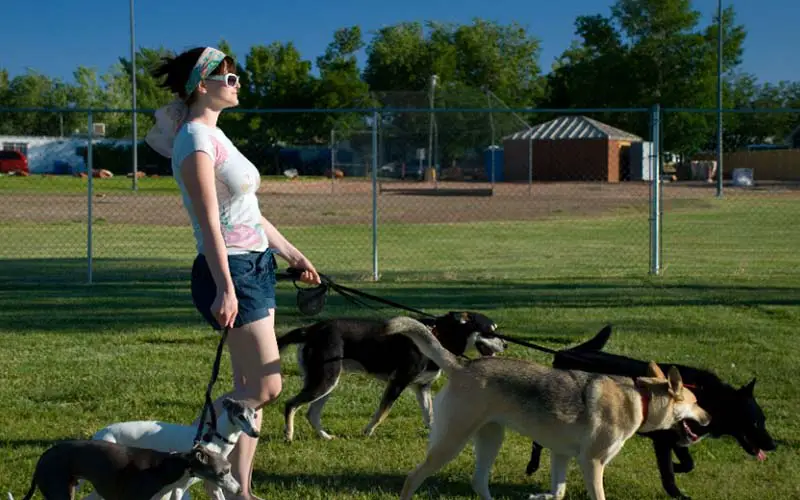 Top Dog Parks in Connecticut
1. South Windsor Bark Park – South Windsor, CT
The South Windsor Bark Park is a great dog park for dog owners in Connecticut. It's divided into two sections, one for big dogs and one for smaller dogs. Plus, the park has fresh water, obstacles, cleanup stations, and benches for people.
The park is always busy, so there are lots of other dogs for your pooch to play with. This is a fenced dog park, so you can take your dogs off their leash. However, you must put them back on their leash if you go walk the nearby trails.
Address: 150 Nevers Rd, South Windsor, CT
2. Southbury Dog Park – Southbury, CT
Not only is Southbury Dog Park a top dog park in CT, but it's also recognized as one of the best dog parks in the United States. This 14-acre, off-leash dog park features a fenced-in small-dog area, large open fields, two trails, a swallow river, tables, benches, and a supply of dog cleanup bags.
Only the small-dog area is fenced, however, the rest of the park is contained by natural barriers so the dogs can't run away. The park is open to dogs over 4 months old 7 days a week.
Address: 236 Roxbury Rd, Southbury, CT
3. The Enfield Dog Park – Enfield, CT
The Enfield Dog Park is a fantastic spot to bring your dogs if you live in the northern part of the state. This Connecticut dog park has two sides, one for large dogs (over 35lbs) and one for small dogs (under 35lbs).
It's a spacious park with plenty of open spaces and some agility obstacles. Just be aware that it can get muddy after it rains. Also, know that your dog must be vaccinated and have a current town license.
Address: Ecology Dr, Enfield, CT
4. Shelton Dog Park – Shelton, CT
Shelton Dog Park is a popular dog park in southern CT. The park welcomes both large and small dogs, as there are separate areas for them. The park has plenty of rocks, trees, and grass areas for your dog to play around in.
There's also a dog-friendly walking trail located right outside of the fenced dog park. All the dog owners here are super friendly as well, making this the best place to bring your dog to the Shelton-Bridgeport area.
Address: Nells Rock Rd, Shelton, CT
5. Union Street Dog Park – New Haven, CT
Union Street Dog Park is a highly-rated park to bring your dog to in New Haven. The park has a sturdy fence, so you don't have to worry about your dog running off into the city.
Union Street Dog Park is located a few blocks from Wooster Square, but it's relatively quiet. This is one of the parks that separates into a big dog area and a small dog area. If you live in New Haven, this should be your go-to dog park in Connecticut.
Address: 59 Fair St, New Haven, CT
6. Rowayton Dog Park – Norwalk, CT
Rowayton Dog Park is an excellent place to take your dog for some exercise in Norwalk. This fully enclosed park has plenty of green glass for your dog to run around and meet other dogs.
There's water available, along with benches and shade, which comes in handy on hot days. Just make sure that your dog is under control at all times while they are inside the park.
Address: 36 McKinley St, Norwalk, CT
7. Paw Meadow Dog Park – Simsbury, CT
Paw Meadow Dog Park is a nice spot to take your dog to play in Simsbury. This CT dog park is well-maintained and has clean-up bags and water available on-site.
The dog run is decently sized, plus there are separate areas for big dogs and small dogs. It can be difficult to find the park, but it's located behind the playground on Iron Horse Boulevard.
Address: 22 Iron Horse Blvd, Simsbury, CT
8. Granby Dog Park – Granby, CT
Granby Dog Park is another one of Connecticut's dog parks in the northern Hartford area. This is one of the parks that only has one dog area, so big and small dogs can play together. For this reason, any dogs that show aggression must be immediately removed.
To enter the park, your dog must wear a collar with identification, be current with their shots and vaccinations, and have a valid pet license. Your dog must also be on a lease when entering and exiting the dog run.
Address: 4 N CT-8, Granby, CT 
9. Stamford Dog Park – Stamford, CT
Stamford Dog Park is one of the best places for Stamford residents to take their pups. This Connecticut dog park has a large open area giving your dog lots of room to run around and play.
It's separated into a large dog section and a small dog section, so you can be sure your pet isn't getting into too much trouble. The park also has picnic tables and chairs for dog owners to sit and relax as their pooches play.
Address: 53 Courtland Ave, Stamford, CT
10. Rocky Hill Dog Park – Rocky Hill, CT
Rocky Hill Dog Park is a large grassy dog run that has a big dog (25lbs or more) and a small dog section (less than 25lbs). The park is fenced, so your dogs can run free and play with other dogs.
The Rocky Hill Dog Park does have some rules, like no more than 2 dogs per person and a requirement that you fill up any holes your dog digs. This park is open all year from dawn to dusk, even during the winter.
Address: 376 Elm St, Rocky Hill, CT
11. Bark Park Dog Park – Ridgefield, CT
Bark Park Dog Park in Ridgefield is a popular spot for locals to bring their dogs to play. The park has many amenities like water fountains, benches, and built-in toys.
Like many of CT's dog parks, this is another one of the parks that has a separate large dog and small dog section. The park is open 24 hours a day and requires that your dog is under supervision at all times. Aggressive dogs will be asked to leave the park.
Address: 58 Prospect Ridge, Ridgefield, CT
12. Wethersfield Dog Park – Wethersfield, CT
Wethersfield Dog Park is one of the CT dog parks that facilitates the socialization of well-behaved dogs and their owners. At the park, your dog can safely run off its leash and play with other local dogs.
This dog park has a separate section for small and timid dogs, so you can slowly get your dog accustomed to being around other dogs. Just make sure your dog is more than 4 months old.
Address: 154 Prospect St, Wethersfield, CT
13. Jennings Dog Beach – Fairfield, CT
Jennings Dog Beach is a unique dog park since it's actually a beach. Dogs can roam the beach off-leash if they are under the control of their owner. However, your dog cannot go to the boardwalks, pavilions, and playgrounds.
You must also be extra vigilant in cleaning up after your dog since the beach is a high-traffic public area. These rules apply from October 1 to March 31, however, dogs and other pets are not allowed on the beach during the summer months.
If you want to learn more about the other dog-friendly beaches in Connecticut, I recommend checking out this article.
Address: 880 S Benson Rd, Fairfield, CT
14. Naugatuck Dog Park – Naugatuck, CT
Naugatuck Dog Park is a clean, fully-fenced dog park in the Waterbury area. This is another one of the parks that have separate small dog and big dog areas.
The dog park has plenty of benches and shaded areas, along with access to waste bags. There are also a few hiking trails around the park, but make sure you put your dog on a leash before taking it out of the park.
Address: Andrew Mountain Rd, Naugatuck, CT
15. East Windsor Dog Park
The East Windsor Dog Park is one more place where you can take your pet to have some fun. This community dog park is mostly grass, which is easier on the dogs than wood chips.
The park has lots of space, plus it's divided into a small dog area and a large dog area. Additionally, the dog park is clean, as they provide waste bags for your dog.
Address: 24 Reservoir Ave, Broad Brook, CT
Connecticut Dog Parks – Final Thoughts
These are the best dog parks CT. All of them have an off-leash area for your pup to run around in open space. I recommend bringing your dog to the park that's closest to your home.
If your dog is dirty after going to the dog park, you may want to bring him to one of the top dog groomers in CT.