Connecticut vs New York (Which State is Better to Live in?)
Many people who work in New York City often decide to move to Connecticut. This is no surprise considering Connecticut is much cheaper and way less crowded. But those aren't the only differences between the two states.
In this article, we'll compare the pros and cons of living in both New York and Connecticut, including the cost of living, tax rates, traffic, and entertainment. So, let's get started.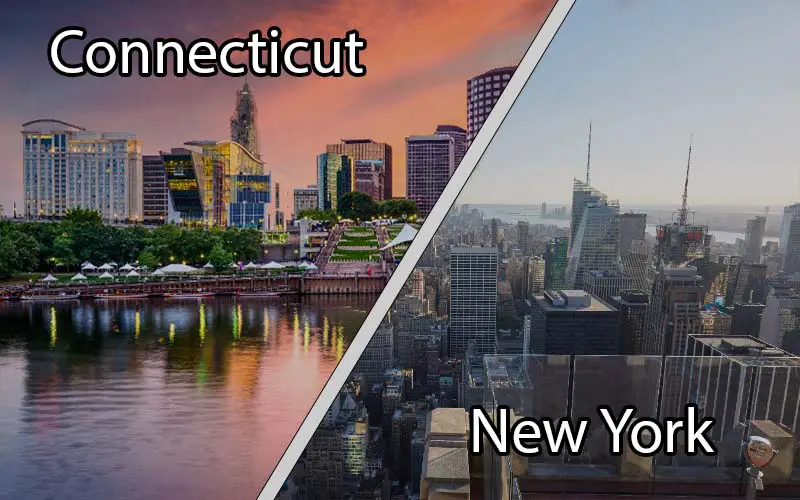 Cost of Living: Connecticut vs New York
While most people think that living in New York is more expensive than living in Connecticut, that's not always the case. If you live in New York City, yes, of course, it's more expensive. But if you live in upstate New York in a city like Syracuse or Albany, the cost of living is actually lower.
Everything from housing and groceries, to utilities and transportation, is actually cheaper in upstate New York than it is in CT. Depending on where you live, it can even be up to 30% cheaper.
On the contrary, if you're comparing the average cost of living in CT to NYC, you can expect to pay almost double in Manhattan.
Taxes: CT vs NY
Just like the cost of living, people often associate New York with one of the highest tax rates in the country. On the surface, this is true. New York has a state income tax rate of 4% to 10.9%, while Connecticut's tax rate is 3% to 6.99%. However, once you factor in real-state, sales, and car taxes they are roughly even.
If you rent a house or take public transportation, Connecticut is cheaper. But the property taxes in CT can add up. That's something you may want to consider before moving.
Traffic: NY vs CT
Although New York City traffic is some of the worst on the planet, Connecticut can also get pretty bad. If you've ever sat on I-95 for 2 hours without moving, you know what I mean.
NYC takes the cake when it comes to the most traffic, but CT isn't too far behind. On the other hand, upstate New York has much better traffic than either Connecticut or New York City.
Entertainment: New York vs Connecticut
New York City has some of the best entertainment in the world. Connecticut doesn't even come close on this front. Hartford, Stamford, and New Haven don't compare to Manhattan in any category.
However, CT and upstate NY have very similar attractions and things to do, like skiing and hiking. Both states also have access to beaches.
New York also has many more professional sports teams than Connecticut.
Other Similarities and Differences Between the Two States
One thing that is essentially the same between the two states is the weather. You get snow in the winter, the summer is hot, and the spring and fall seasons are very mild.
But something that is much different is the population (in NYC at least). The population of NYC alone dwarfs all of CT, and the state is much bigger as a whole. The culture is a bit faster-paced as well.
But if you look at upstate New York, the culture and the people that live in that area are very similar to Connecticut.
Which State is Better? – Final Thoughts
Connecticut vs New York, which state is better? It really depends on what you're looking for. The tax situation is very similar, and so are median home prices (at least in upstate NY).
So, if you like a fasted-paced lifestyle, then New York is better compared to Connecticut. However, if you want to get away from the city and have more access to nature, CT is probably the better option.
If you're moving out of New York and can't decide between Connecticut and New Jersey, you'll want to check out this article I wrote comparing CT vs NJ.
Related Articles