Comic Book Stores in CT – 11 Best Places for Comics in Connecticut
There are few things more nostalgic than flipping through old comic books. Whether you're a passionate collector, or simply someone who enjoys an occasional read, comic book stores are always a great time.
That's why I visited all of the top comic book shops in CT to see which ones are the best. So without further ado, these are the top places to buy comics in Connecticut.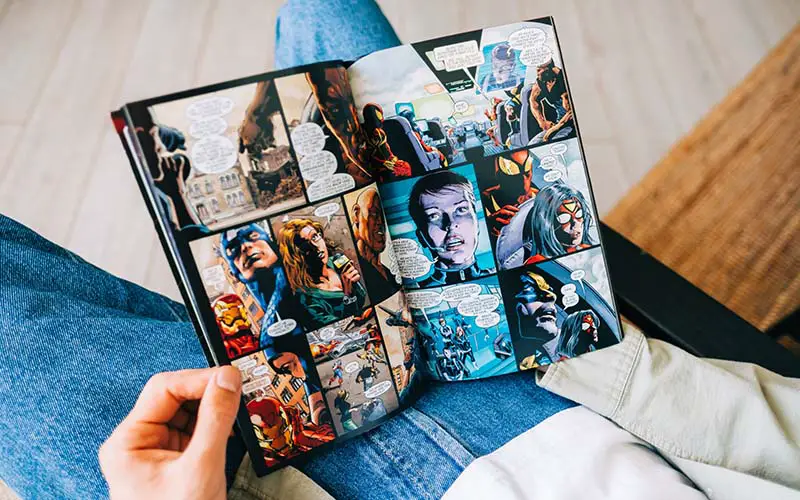 Top Best Comic Book Stores in Connecticut
1. Most Excellent Comics & Gaming – Enfield & Manchester
Most Excellent Comics & Gaming is one of the best places to find comics in CT. With locations in Enfield and Manchester, the store has everything you need to complete your nerd cave.
In addition to comic books, this comic shop also buys and sells popular cards, like Pokemon, Yu-Gi-Oh, and Magic the Gathering.
Address: 483 Enfield St, Enfield, CT
Read: 13 Best Connecticut Antique Shops
2. DJ's Cards and Comics – North Haven
DJ's Cards and Comics is among the top comic book shops in Connecticut. The store has been serving card and comic collectors in North Haven for over 30 years, so you know that they are reputable.
The shop specializes in sports cards and comics from Topps, Panini, Upper Deck, Marvel, DC, and Image. They also carry an inventory of collectible card games including Pokemon and Magic the Gathering.
In addition to classic comics and vintage cards, you can also find graphic novels and action figures here.
Address: 1 Lincoln St, North Haven, CT
Read: Best Arcades in Connecticut
3. Newbury Comics – Manchester & Danbury
Newbury Comics is another great place to buy comic books in CT. The store has two mall locations in both the Buckland Hills Mall in Manchester and the Danbury Fair Mall.
This comic store offers a range of products, like vinyl records, old movies, and comics, along with other pop culture goods. You'll find the store's collection of items quite extensive, regardless of what your favorite hobby is.
Address: 194 Buckland Hills Dr, Manchester, CT
Read: Best Shopping Outlets in CT 
4. Sarge's Comics & Games – New London
Sarge's Comics & Games is an extremely popular comic book store in CT. Located in New London, this shop is large and offers a wide range of merchandise.
You're able to pick through a selection of comic books, old books, toys, models, and games. The store has thousands of both new and old comics to choose from.
Plus, the customer service at Sarge's Comics & Games is always great.
Address: Sarge's Comics & Games – New London
Read: Best Flea Markets in Connecticut
5. Wonderland Comics – Putnam
Wonderland Comics is one of the top comic book stores in CT found in the northeastern part of the state. They have plenty of new releases, action figures, comic supplies, books, magazines, and graphic novels.
The comics available here are in good condition, plus the staff is usually very helpful. You can visit Wonderland Comics in Putnam, Connecticut.
Address: 160 Main Street, Putnam, CT
Read: Best Furniture Stores in Connecticut
6. Cave Comics Inc – Newington
Cave Comics Inc is another place to look for comics in CT. Located in Newington, this spot has been in business for over 30 years, offering a large selection of back issues of comic books.
The store has about 20,000 issues, including silver age comics and current titles. Plus, they have $1 bins and $5 10-packs of back-issue comics.
This Connecticut comic book store has a wide selection of issues available ranging from Marvel comics to DC comics, and everything in between.
Address: 57 Church Hill Rd, Newtown, CT
Read: Best Farmers Markets in CT
7. Legends of Superheros – Waterbury
Legends of Superheros is one of Connecticut's comic book stores found in the Waterbury area. The shop has back plenty of back issues and current stock to choose from.
This comic book shop also has a good amount of collectibles, including action figures and other memorabilia.
Address: 28 Main St, Oakville, CT
Read: Top Garden Centers in CT
8. Alternate Universe LLC – New Haven & Milford
Alternate Universe LLC is a CT comic book store with multiple locations. They have been in business for more than 25 years offering new and old comic books, graphic novels, and trade paperbacks.
You can visit the comic store in either New Haven or Milford, depending on where you live. Plus, the store sells a lot of related items as well.
Address: 398 Bridgeport Ave, Milford, CT
Read: 10 Best Comedy Clubs in CT
9. Matt's Sports Cards & Comics – Enfield
Matt's Sports Cards & Comics is another one of the comic bookstores in Connecticut located in Enfield. The store sells comic books of all varieties, but they have one of the largest selections of manga in Connecticut.
You can find sports memorabilia, trading cards, and other collectibles at Matt's as well. The comic store is super clean, and the staff is very knowledgeable.
Address: 348 Hazard Ave, Enfield, CT
10. A Hero's Legacy Comics & Collectibles – Manchester
A Hero's Legacy Comics & Collectibles is one more comic book store in Connecticut. They have a wide selection of back issues hardcovers, action figures, toys, and statures.
The inventory at this comic book store includes modern, silver, and golden age. It's well organized and the owner is always super friendly.
Address: 188 Middle Turnpike W, Manchester, CT
11. The Book Barn – East Lyme, CT
The Book Barn is one of the best comic book stores in Connecticut found in New London County. Although not their specialty, this bookstore has plenty of comics on its shelves.
Whether you're looking for classic comics or graphic novels, this is an excellent spot to stop by and see what's in stock.
Address: 41 W Main St, Niantic, CT
Other Shops that Sell Comic Books in Connecticut
Aside from the comic book stores in CT already mentioned, there are a number of other superb spots to find comics in the state. Here are a few other places to get comic books in Connecticut:
Two Guys Comics and Collectibles in Canton
Black Cat Collectibles in Torrington
Richie's Comic Cabana in Waterbury
Boom Tube Comics in Southington
Comic Book CT – Final Thoughts
Those are CT's best comic book stores. You'll find tons of hidden gems at each of these shops. Best of all, the people at these comic stores are super friendly and willing to help.