11 Best Coffee Shops in CT [2023 Update]
If you're looking for a place to grab a coffee in the morning aside from Starbucks and Dunkin' Donuts, you came to the right place. I recently tried all of the highest-rated coffee shops in Connecticut to see which ones are the best.
After drinking way too much caffeine this month, I finally have the answer. Without further ado, these are the top places to drink coffee in CT.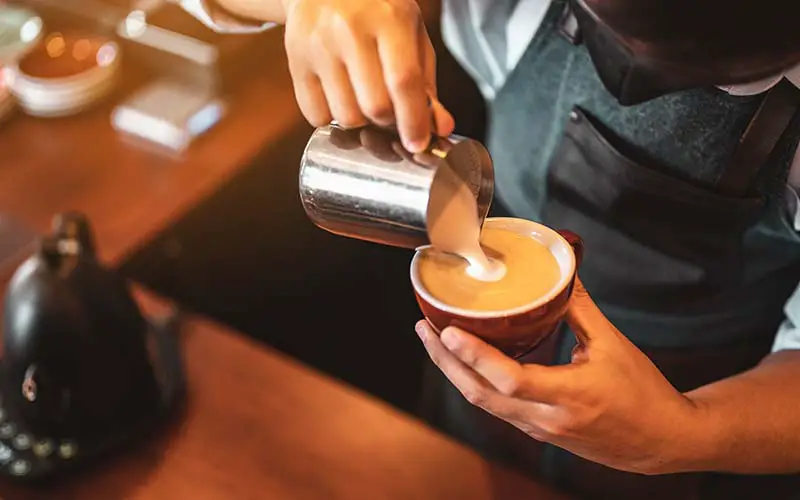 Top Places to Order Coffee in Connecticut
1. Silk City Coffee – Manchester
Silk City Coffee is among the top coffee shops in Connecticut. Found in Manchester, this place is a specialty coffee shop, roastery, and bakery all rolled into one restaurant.
The menu features everything from espresso and cappuccino to matcha lattes and iced coffee. There's a small food menu as well.
You can place your order online or in person. The in-person shop is open from 7 am to 6 pm every day (except Sundays). Plus, they have outdoor seating available.
Address: 763 Main St, Manchester, CT
2. Rebel Dog Coffee Co.  – Multiple Locations.
Rebel Dog Coffee Co is a great place to go and get authentic Connecticut coffee. They serve high-quality coffee at an affordable price.
There are a variety of coffee blends available at the shop, plus a selection of breakfast and lunch items. All of the food on the menu is made to order.
The coffee shop has locations in Plainville, East Hartford, and Farmington. And they're open from 6 am to 4 pm most days.
Address: 345 Colt Hwy, Farmington, CT
3. Lorca – Stamford
Lorca is another great place to drink coffee in CT. This popular cafe and bakery serves a range of caffeinated beverages, along with pastries, breakfast dishes, and sandwiches.
The menu features drinks like lattes, cappuccinos, mochas, macchiato, espresso, chais, Americanos, hot tea, and iced coffees.
Lorca has both indoor and outdoor seating, but you're able to order online for pickup. They are open 7 days a week, usually from 7 am to 6 pm.
Address: 125 Bedford St, Stamford, CT
4. Muddy Waters Cafe – New London
Muddy Waters Cafe is one of CT's coffee shops found in New London. They are known for serving locally roasted coffee, alongside tasty wraps, sandwiches, salads, and soups.
Some of the coffees on the menu include lattes, cappuccino, Americano, cafe mocha, ice-flavored lattes, and iced coffee.
This Connecticut coffee shop is a great place to stop by if you want a full breakfast and not just coffee. The shop is open from 7 am to 3 pm daily.
Address: 40 Bank St, New London, CT
5. Atticus Bookstore Cafe – New Haven
Atticus Bookstore Cafe is one of the most popular cafes in Connecticut. Located in New Haven on the Yale University campus, this place has been serving coffee since 1975.
The menu features a number of coffee options, like French toast lattes, mocha, iced tea, Americano, hot chai, and hot cocoa. The pastries served at the Atticus Bookstore Cafe are delicious as well.
This is by far one of the top coffee shops in New Haven. The cafe is open from 8 am to 7 pm daily.
Address: 1082 Chapel St, New Haven, CT
6. J.Rene Coffee Roasters – West Hartford
J.Rene Coffee Roasters is one of Connecticut's coffee shops that serves artisanal coffee and espresso. The coffee here is amazing and the baristas always have great recommendations.
They use several methods to brew their coffee, including Kalita Wave, Hario V60, Chemex, Siphon Pot, and French Press. Plus, J.Rene measures their coffee-water ratios, beans, grind, and water temperature to create the perfect cup of coffee.
The espresso bar in West Hartford is open from 7 am to 2 pm. But if you prefer to brew your own coffee, you're able to order a bag of ground or whole coffee beans for home.
Address: 320 Park Rd, West Hartford, CT
7. Perkatory Coffee Roasters – Multiple Locations
Perkatory Coffee Roasters is another one of the coffee shops in CT with multiple locations. The shop uses single-origin beans and exclusively crafted blends to elevate the quality and taste of each cup.
They offer fresh cups of coffee, lattes, cortados, and espresso. Aside from the drinks, Perkatory Coffee Roasters offers food as well, like bagels and donuts.
You can find their stores in Middletown, West Hartford, Southington, and Branford. The shop is open from 7 am to 5 pm most days.
Address: 725 Main St UNIT 23, Middletown, CT
8. Two Wrasslin' Cats Coffee House & Cafe – East Haddam
Two Wrasslin' Cats Coffee House & Cafe is a highly-rated coffee shop in Connecticut located out in East Haddam. It's the perfect place for cat lovers to grab a cup of joe.
The menu features espresso drinks like Americano, macchiato, cappuccino, latte, and freshly brewed coffee.
The shop is open from 9 am to 3 pm every day of the week except for Tuesday. This is a great place to get coffee in Connecticut if you live in Middlesex County.
Address: 374 Town St, East Haddam, CT
9. Story and Soil Coffee – Hartford
Story and Soil Coffee is a fantastic place to grab a cup of coffee in Hartford, Connecticut. This quiet little coffee shop serves amazing drinks that will blow your tastebuds off.
Whether you prefer a hot brew or a cold brew, Story and Soil Coffee has you covered. There's a wide variety of caffeinated drinks available, along with a small menu for food, featuring snacks like avocado toast.
The coffee here is made from locally roasted beans, so you're supporting the local community. The shop is open from 8 am to 3 pm most days.
Address: 387 Capitol Ave, Hartford, CT
10. Birdhouse Coffee – South Windsor
Birdhouse Coffee is a popular coffee shop in CT found in the northern part of the state. Their batches of coffee are roasted with a wide range of flavors, so there's is something for everyone.
Plus, Birdhouse Coffee also serves breakfast, lunch, and dinner at their restaurant. So if you're dining at the café, you can get a full meal with your fresh brew.
If you live in northern Connecticut, you need to check out this coffee shop. They are open every day from 7 am to 8 pm.
11. Grounded Coffee Company – Willimantic, CT
Grounded Coffee Company is one more excellent CT coffee shop. The shop is independent and locally owned, so the service is always top-notch.
The menu offers just about every drink you can think of, including espressos, mocha lattes, batch brews, vanilla lattes, and chai lattes. They serve some food as well.
The shop is open most days from 7 am to 3 pm. You can find Grounded Coffee in Willimantic, Connecticut.
Location: 869 Main St, Willimantic, CT
Other Excellent Coffee Shops in Connecticut
Aside from the coffee shops already mentioned, here are a few other spots that brew amazing CT coffee:
Ashlawn Farm Coffee in Old Saybrook
Giv Coffee in Canton
Shearwater Coffee Bar in Fairfield and Westport
Craftsman Cliff Roasters in Norwich
Batchy Brew in Torrington
Coffee CT – Final Thoughts
Those are some of the best coffee shops and cafes in CT. If you're looking for a new space to get your daily dose of caffeine, all of these community coffee shops should do the job.
If you prefer roasting your own coffee beans, many of these shops also offer their products wholesale as well.
You may also want to check out some of the milkshake and smoothie bars in Connecticut as well.