11 Best Places to Get Coffee in New Haven, CT
Drinking coffee is the first thing many of us do in the morning. So, it's vitally important that you start your day off with the best-tasting cup of coffee possible.
That's why I decided to try all of the local coffee shops in New Haven CT, to see which ones are the best. After a week of testing, I found these to be the best places to get coffee in New Haven.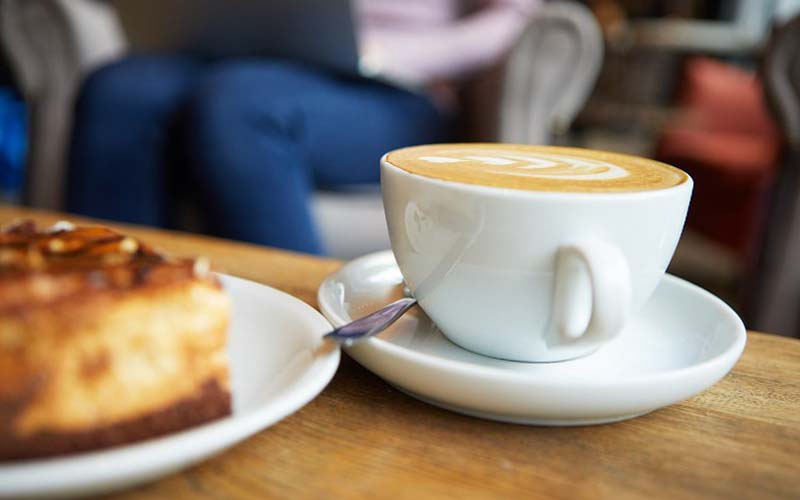 Best Coffee Shops in New Haven
1. East Rock Coffee
East Rock Coffee makes some of the best coffee in New Haven, CT. You can find this cafe tucked away off Orange St. They serve a variety of hot and cold drinks, including lattes, espresso, cappuccinos, tea, and lemonade. I really enjoy their iced chai latte.
In addition to caffeinated drinks, East Rock Coffee also sells cream cheese bagels, oatmeal, and egg sandwiches, making it the perfect place to grab breakfast. They are open from 6:30 am to 5 pm on most days, and have both indoor and outdoor seating on their patio.
Address: 49 Cottage St, New Haven, CT
2. Blue State Coffee
Blue State Coffee has several coffee shops in New Haven. They have 4 locations surrounding the Yale University campus, making it a popular destination among students. The menu features over 30 different drinks, along with a small food selection.
Blue State Coffee only uses ethically sourced beans and makes its coffee in small batches in order to ensure its quality and taste (they locally roast their coffee in South Windsor, CT). Plus, the food is baked from scratch using local ingredients and proprietary recipes. Vegan and gluten-free options are available as well.
Address: 276 York St, New Haven, CT
3. Atticus Bookstore Cafe
Atticus Bookstore Cafe is a well-known coffee shop in New Haven with two locations. The cafe can be found at the Yale British Art Museum and the in the East Rock neighborhood. The Yale location is the original, as it's been serving coffee since 1975.
The menu features plenty of coffee options, like French toast lattes, mocha, iced tea, Americano, hot chai, and hot cocoa. The pastries served at Atticus Bookstore Cafe are also really good as well.
Address: 1082 Chapel St, New Haven, CT
4. Koffee?
Koffee? offers some of New Haven's best coffee. They make almost everything on their menu from scratch in their kitchen using organic ingredients, so they can limit unhealthy transfats, artificial flavors, and preservatives.
This approach seems to be working for them since the coffee here tastes amazing. I highly recommend that you try their Ginger Snap, which is a spice chai latte with two shots of espresso. Koffee does take orders online, so you can pick up your cup of coffee without waiting behind a bunch of people in line.
Address: 104 Audubon St, New Haven, CT
5. Book Trader Cafe
The Book Trader Cafe is another excellent spot to get some New Haven coffee. This independent book store and cafe can be found in the center of the Yale campus serving a wide variety of coffees, teas, gourmet sandwiches, and pastries.
This coffee shop has plenty of seating for you to enjoy your coffee, both inside and outside. But aside from the food and drinks, the Book Trader Cafe offers some amazing deals on books. It's a great opportunity to catch up on some reading in a relaxing atmosphere.
Address: 1140 Chapel St #4843, New Haven, CT
6. The Coffee Pedaler
The Coffee Pedaler is one more top New Haven coffee shop. This bicycle-themed coffee shop serves high-quality artisanal coffee brewed with extreme attention to detail.
You can order a wide range of coffee types, including expresso, Americano, cortado, and macchiato. The restaurant also serves Japanese teas, yogurts, bagels, and pastries, among other foods.
Address: 605 East St, New Haven, CT
7. Fussy Coffee
Fussy Coffee serves one of the best coffees in New Haven but it's a bit difficult to locate if you don't know the area. You can find Fussy near the parking garage on Winchester Ave by spotting the patio out front.
The coffee shop offers all the classic types of coffee, along with a menu of small breakfast plates. Both the coffee and food here are really good and highly affordable. The shop is clean and the staff is super friendly. They also through occasional events.
Address: 290 Winchester Ave, New Haven, CT
8. Cedarhurst Cafe
Cedarhurst Cafe is a local coffee shop that serves fantastic coffee made with fresh ingredients. The shop mainly serves coffee, but also offers tea, smoothies, pastries, breakfast items, and lunch dishes.
I really like the food here, specifically the muffins and egg sandwiches. The create-you-own smoothies and acai bowls are great too. Just note that they close around lunchtime. The cafe is only open from 8 am to 2 pm.
Address: 44 Crown St, New Haven, CT
9. Pistachio Cafe
If you're looking for some variety, check out Pistachio Cafe. This modern coffee shop specializes in specialty coffee and cold brews. They serve a selection of Turkish, Baklava, and Syrian coffees, plus they have an extensive brunch menu.
There are so many options on the menu that it wouldn't do them justice to try to list everything here. All I can say is that this is one of my favorite spots to get coffee in New Haven. You can find the Pistachio Cafe in Westville near the edge of the city.
Address: 911 Whalley Ave, New Haven, CT
10. Willoughby's Coffee & Tea
Willoughby's Coffee & Tea is one of the longest-standing coffeehouses in New Haven. This laid-back coffee shop has two locations in New Haven, one on York Street near Yale and another on Church Street.
The brew here is very smooth and tastes great. Since Willoughby's roasts their own coffee, there is no shortage of options on the menu. You can order pretty much any type of coffee here. They are open from 9 am to 7:30 pm every day.
Address: 194 York St, New Haven, CT
11. Claire's Corner Copia
Claire's Corner Copia is a 100% vegan restaurant in New Haven that's actually kosher certified. They serve a wide range of breakfast and lunch items, but they also brew some delicious coffee.
Claires offers a number of brews, like hazelnut roast, cinnamon, Casablanca, Kenyan bold roast, house blend, and decaf. The cafe serves a really good House-made Chai as well, made with your choice of whole mile, skim milk, oat milk, soy milk, or coconut milk. If you stop by, make sure you order a delicious coffee cake while you enjoy your beverage.
Address: 1000 Chapel St, New Haven, CT
New Haven Coffee Shops – Final Thoughts
New Haven has some awesome coffee shops. Whether you like your coffee with creamer, milk, or sugar you'll be able to find your preferred brew in New Haven. If you're looking for a new spot to get your caffeine in town, any of the cafes listed here are great options.