6 Places to Go Cliff Jumping in CT
Cliff jumping is a popular summertime sport in Connecticut. But there are only a handful of locations in the state that offer optimal cliff diving conditions.
That's why we rounded up a list of the best cliff-jumping spots in Connecticut. But before we get into the list, please take note of these safety considerations…
It's important to note that you should only go cliff jumping where it is safe and legal. Always double-check that cliff jumping is allowed before visiting the places on this list. If you are unsure, DO NOT GO CLIFF JUMPING.
Also, make sure to survey the water and area surrounding the cliff to ensure it's safe to jump. Diving underneath the water and looking for obstacles is always a smart move.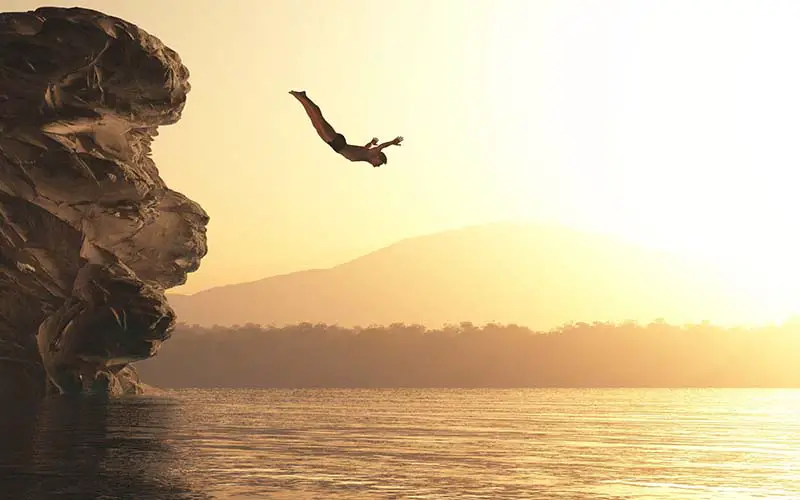 Places to Go Cliff Jumping in Connecticut
1. Brownstone Adventure Sports Park – Portland
Brownstone Adventure Sports Park is definitely the safest cliff diving option in Connecticut. This place has lifeguards and requires jumpers to wear lifevests.
And, if cliff jumping doesn't give you the adrenaline rush you're looking for, the park also has activities like rope swinging, rock climbing, and ziplining.
This is one of the few organized places to go cliff jumping in CT.
Location: 161 Brownstone Ave, Portland, CT
2. Great Falls – Cannan
Great Falls is another popular spot to go cliff jumping in Connecticut. The cliff is about 50 feet above the water, so you'll enjoy plenty of thrills on the way down.
This is probably the best overall cliff-jumping location in the state. Just be careful of the people swimming and kayaking in the water below.
You can find Great Falls in the small town of Canaan in northern Connecticut. It's also the home to one of the best waterfalls in CT.
Location: Great Falls, Canaan, CT
3. Indian Well State Park – Shelton
Indian Well State Park is a fantastic place to cliff jump into the water. Found in Shelton, there are multiple cliffs to jump from at this park.
However, there are more rocks to clear at this spot, so make sure you have good footing and a running start.
Also, when jumping off the cliff, always make sure to clear the area and look for people underneath you in the water.
Location: 1 Indian Well Rd, Shelton, CT 
4. East Lyme Quarry – Niantic
East Lyme Quarry is another place to cliff jump in southern Connecticut. There are a couple of cliffs to jump from here, both small and large.
The jumps from the larger cliff are approximately 60 feet, while jumps from the smaller cliff are about 20 feet into the water.
You can find the quarry behind the dump on Roxbury Road in Niantic, Connecticut. Just make sure you visit when the dump is closed, preferably on a Sunday.
Location: Roxbury Road, Niantic, CT
5. Ender Falls – Granby
Ender Falls is a fun cliff-jumping spot in Connecticut located near the Massachusetts border in Granby. This state forest has tons of waterfalls and ponds, which are great for swimming and cliff jumping.
There are several cascading waterfalls here, but just be aware that some of them are too shallow to jump into. It's important to check the water before jumping and use common sense.
It's about a 30 to 60-minute hike to get to the plunge pool but the trek is worth it. The views here are amazing as well.
6. Devil's Hopyard State Park – East Haddam
Devil's Hopyard State Park is one more place where you can go cliff diving in Connecticut. This popular state park has a beautiful waterfall (called Chapman Falls) and a nice pond at the bottom.
Although swimming is technically not allowed, when you visit this park on a busy day, you'll see plenty of people climbing the rocks and jumping into the water.
Location: 366 Hopyard Rd, East Haddam, CT
Other Places for Cliff Diving in CT
There are a few other places where locals go cliff jumping in the state, like Potter's Quarry in Ansonia and Wassel Reservoir in Berlin.
Cotton Hollow Preserve in Glastonbury also used to be a popular cliff jumping spot, however, the town closed the park since people were being reckless. They may reopen the park in the future.
Cliff Jumping CT – Final Thoughts
Those are the top places to go cliff diving in CT. Cliff jumping can be a ton of fun, just make sure you do it safely.
It's always important to ensure that the water isn't shallow and that there are no hidden obstructions in the water you can get caught up on.
If you're looking for other fun activities to try this summer, I recommend trying jet skiing. It's a great way to cool off in the water and it's a bit less risky than cliff jumping.