10 Best Buffets in CT [Updated 2023]
While recently searching for new places to eat in Connecticut, I was having a difficult time finding a buffet. So, I decided to do some research to find all of the best buffets in CT. Here's what I found.
Believe it or not, there aren't any traditional American buffets in Connecticut. Since the Hometown Buffet closed a few years ago, it has yet to be replaced with another American-style buffet.
Most of the buffets in Connecticut today specialize in either Brazilian or Asian food, with some also serving a handful of American dishes. So, if you're looking for traditional American food, I recommend you check out this article about the top brunch buffets in Connecticut. But if you're looking for a buffet that serves dinner, keep reading.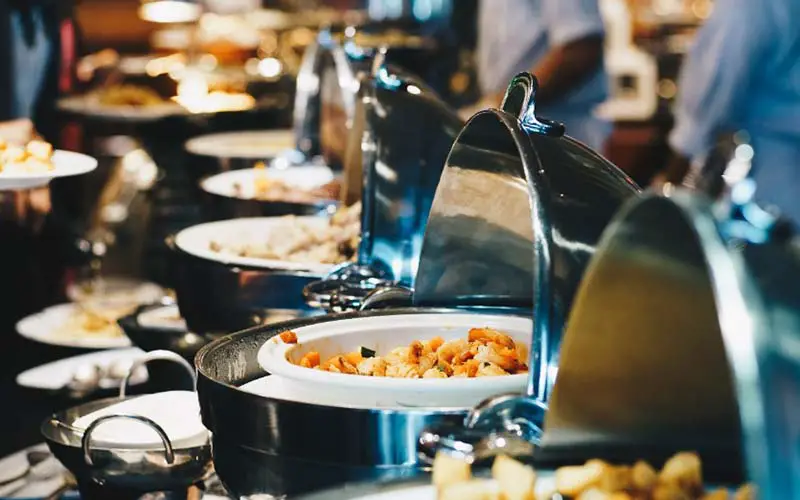 Top Buffets in Connecticut
1. Osaka Hibachi Buffet – Stratford, CT
The Osaka Hibachi Buffet is considered to be one of the best Connecticut buffets. They're known for their teppanyaki grill, but the restaurant also serves some American, Italian, Japanese, Chinese, and Mexican foods.
You can order dishes like sushi, pizza, ribeye steak, salmon, chicken, and lobster. The food here is high-quality food and super affordable. The all-you-can-eat lunch buffet costs less than $12 for adults, while the dinner buffet costs less than $17. You can also order food to-go and pay by the pound.
Address: 955 Ferry Blvd, Stratford, CT
2. Nutmeg Restaurant and Banquet – East Windsor, CT
Nutmeg Restaurant and Banquet is another popular buffet in CT. They only offer a Sunday brunch buffet, but it's one of the best in Connecticut. The buffet serves omelets, pastries, desserts, and breakfast items like eggs, bagels, muffins, and French toast.
There are also carving and luncheon stations where you can pick up roast beef, lamb legs, smoked ham, chicken, fish, pasta, and vegetables. The brunch buffet at Nutmeg Restaurant costs $32.99 per person and is served from 10 am to 2 pm.
Address: 297 S Main St, East Windsor, CT 
3. Royal Buffet – Willimantic, CT
The Royal Buffet is a popular all-you-can-eat Asian buffet located in Willimantic. This spot serves an affordable lunch buffet for $10.59 and a dinner buffet for $13.59, along with carryout options.
Some of the dishes you can order at the buffet include egg rolls, lo mein, chow mein, sweet & sour chicken, pork with broccoli, sushi rolls, and seafood. The staff here is very friendly as well, plus the restaurant is clean.
Address: 1228 Main St #1908, Willimantic, CT
4. Banana Brazil Grill – Multiple Locations
Banana Brazil Grill is a popular buffet in Connecticut with multiple locations throughout the state. You can find this Brazilian barbecue buffet in Hartford, Waterbury, Danbury, and Meriden.
They serve a wide variety of meats, including different cuts of beef, chicken, and pork. You're able to grab plates of food from the buffet or order barbecue meats individually (the individual barbeque meats cost a little bit more). There's a nice selection of sides as well.
Address: 341 New Park Ave, Hartford, CT
5. Imperial China Buffet – Watertown, CT
The Imperial China Buffet is one of Connecticut's top Chinese buffets. They serve all-you-can-eat Chinese food for both lunch and dinner.
The menu features different chicken, beef, pork, vegetable, and seafood dishes. Plus, you can order different fried rices, soups, appetizers, and combination platters. You can find the Imperial China Buffet in Watertown, Connecticut.
Address: 615 Straits Turnpike, Watertown, CT
6. Royal Buffet Sushi and Grill – New Milford, CT
The Royal Buffet Sushi and Grill is one of the Connecticut buffets that serve Chinese, Japanese, and American foods. The main focus of the buffet is Asian cuisine, but there are definitely some American dishes mixed in.
Items like BBQ spare ribs, chicken fingers, clam chowder, chicken chow mein, chop suey, roasted pork, sushi, and sashimi are all available. Buffet prices for adults are $8.99 for lunch and $14.59 for dinner. On the weekend, dinner prices are raised to $15.99, which is still pretty cheap.
Address: 132 Danbury Rd, New Milford, CT
7. iD Brazil Restaurant Churrascaria – West Haven, CT
iD Brazil Restaurant Churrascaria is another Connecticut buffet that focuses on Brazilian food. The restaurant offers Rodizio service, which means they'll bring as much food as you want to the table for a fixed price.
This buffet serves 12 different types of meats including sirloin steak, beef brisket, turkey breast, chicken wings, Brazilian pork sausage, and pork loins. Prices differ depending on the time of day you visit, but the dinner buffet at the restaurant is $39 a person.
Address: 241 Elm St, West Haven, CT
8. Pacific Buffet & Grill – Wallingford, CT
The Pacific Buffet & Grill is an all-you-can-eat buffet found in Wallingford. They mainly serve Asian foods, but you can find some American dishes here as well, particularly during brunch.
You can eat foods like fried chicken, mac & cheese, ham, broccoli, chicken wings, corn, and mashed potatoes. Pacific Buffet & Grill costs $11.99 for lunch, $16.99 for dinner, and $17.99 for brunch. You can dine in, but they also have an option for delivery and takeout at the restaurant.
Address: 20 Ives Rd # 301C, Wallingford, CT
9. Rancho Pantanal – Bridgeport, CT
Rancho Pantanal is another one of the restaurants that have a Brazilian buffet. They offer a wide range of Brazilian-style meats and sides in an all-you-can-eat buffet format.
Dining at Rancho Pantanal costs $24.99 per person, but you can make as many trips to the buffet as you want. You can find this restaurant in Bridgeport.
Address: 2025 Boston Ave, Bridgeport, CT
10. Jumbo Buffet Chinese Restaurant – Bloomfield, CT 
Jumbo Buffet Chinese Restaurant is a CT buffet located in Bloomfield. This Chinese buffet serves a variety of all-you-can-eat dishes including lobster lo mein, Mongolian pork, Szechuan beef, and kung pao shrimp.
At the time of writing, the restaurant actually stopped serving food in a buffet format. However, they may return to it in the future as they are still called "Jumbo Buffet." The standalone restaurant is still very good.
Address: 409 Cottage Grove Rd, Bloomfield, CT
Best Buffet CT – Final Thoughts
I used to enjoy the Hometown Buffet, but since it closed I would argue that the Osaka Hibachi Buffet is the best buffet in Connecticut right now. Although, any of the buffets on this list are solid dining options.