8 Best Places to Eat Breakfast in Stamford, CT
On a recent business trip to Stamford, I was having a difficult time trying to find a good spot to eat breakfast. So, I decided to do some research to find all the best breakfast restaurants in the area.
After doing some online searches and real-world taste testing, I am here to report back. These are the best places to eat breakfast in Stamford, CT.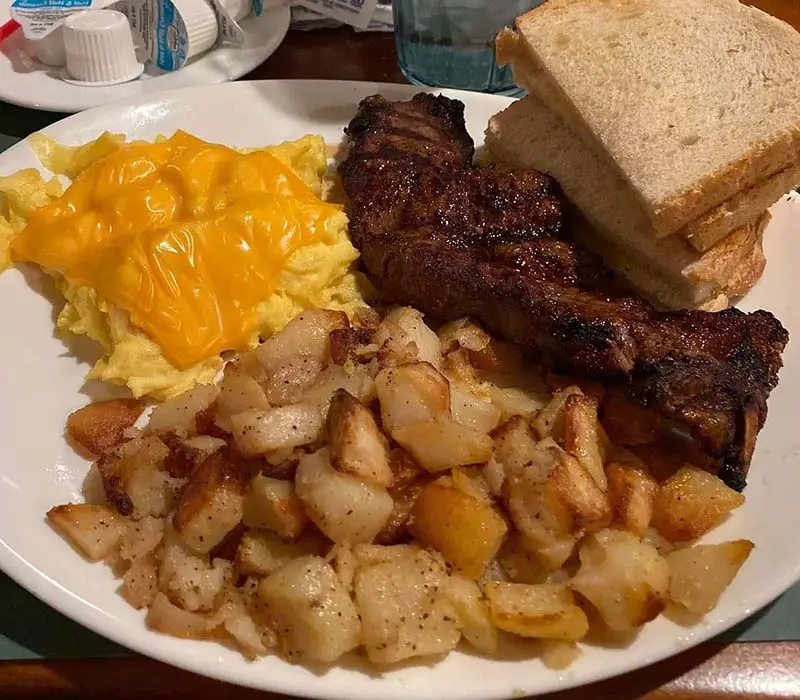 Best Stamford Breakfast Spots
1. The Stamford Diner
The Stamford Diner is one of the best places to eat breakfast in the city. This old-school retro diner serves classic American comfort food on the Greenwich-Stamford border.
They have an extensive breakfast menu that features dishes like eggs benedict, breakfast burritos, steak & eggs, pancakes, waffles, omelets, and wraps. You can order it all at The Stamford Diner. Plus, they offer both takeout and delivery 7 days a week.
Address: 135 Harvard Ave, Stamford, CT
2. Lakeside Diner
Lakeside Diner is another great place to grab breakfast in Stamford. You can find this diner right next to Holtz Ice Pond in the northern part of town serving affordable breakfast foods.
You're able to order everything from chocolate chip pancakes and omelets to corned beef sandwiches and breakfast burritos. The donuts, along with the strawberry, banana & blueberry French toast are really good as well.
Address: 1050 Long Ridge Rd, Stamford, CT 
3. Elm Street Diner
Elm Street Diner offers one of the best breakfasts in Stamford. If you're looking for a breakfast spot right in the heart of the city, this is the place to go.
The diner has an extensive menu of breakfast items, including omelets, chicken & waffles, smoked salmon, steak & eggs, corned beef hash, buttermilk pancakes, French toast, and greek yogurt. Plus, the Elm Street Diner is very affordable for the quality of food served, which has contributed to its rave reviews online.
Address: 463 Elm St, Stamford, CT
4. The Village Table
The Village Table is another great place to grab a Stamford breakfast. This family-owned cafe serves fresh all-day breakfast and lunch dishes, made from high-quality ingredients.
The restaurant offers breakfast plates like bacon, egg & cheese sandwiches, huevos rancheros, steak & eggs, and paninis. One of my favorite dishes is the create-you-own omelet. If you have dietary restrictions, The Village Table has a number of vegetarian-friendly options too.
Address: 1056 Hope St, Stamford, CT
5. Winfield Street Coffee
Winfield Street Coffee is one more place to get breakfast in downtown Stamford. This small coffee shop offers quick service from the staff and excellent breakfast sandwiches.
You can order ham & cheese croissants, avocado toast, bagels, oatmeal, and bacon, egg & cheese sandwiches, along with a range of salads. Winfield Street Coffee has both indoor and patio seating, so you're able to enjoy your meal outdoors if you wish.
Address: 96 Broad St, Stamford, CT
6. FreshCo Stamford
FreshCo Stamford is a top breakfast deli found a bit north of the city. They sell freshly made breakfast sandwiches, paninis, and bagels. This is the perfect place to grab breakfast if you're in a rush and just want something small.
Some of the items on FreshCo's menu include their BLT, smoked salmon egg sandwich, breakfast burrito, and chicken wrap. However, my favorite dish offered here is the delicious Rueben panini, made with hot pastrami, sauerkraut, swiss cheese, and Russian dressing. The Rueben is certainly worth a try if you don't know what to get.
Address: 22 Belltown Rd, Stamford, CT
7. Bedford Street Diner
Bedford Street Diner is one of Stamford's best breakfast spots. This highly-rated diner serves healthy options for breakfast, lunch, and dinner.
The restaurant has an expansive menu of breakfast classics, which includes corn beef hash, steak & eggs, huevos rancheros, breakfast burritos, eggs benedict, egg sandwiches, pancakes, waffles, and French toast. The make-your-omelet is always a great option too.
Address: 935 Bedford St, Stamford, CT
8. Divina Modern Italian
Divina Modern Italian is one of the lesser-known Stamford breakfast spots. This Italian restaurant is located in the heart of downtown Stamford and uses locally sourced ingredients to make all its dishes from scratch.
This place has a very simple breakfast menu of avocado toast, eggs, sausage, waffles, and bacon, egg & cheese sandwiches. Although a bit limited in its options, the breakfasts here are always amazing. Divina Modern Italian is also one of the restaurants that serve Sunday brunch in Stamford.
Address: 275 Summer St, Stamford, CT
Top Breakfast Stamford – Final Thoughts
These are all the top places to grab breakfast Stamford, CT. Whether you're a local or simply visiting for a few days, you'll be hard-pressed to find a better breakfast spot in the city.
However, if you're looking for a place to grab a sit-down brunch, I recommend you check out the article I recently wrote covering the best places to eat brunch in Stamford, Connecticut.