Best Places to Eat Breakfast in New Haven, CT [Updated 2023]
Breakfast is the most important meal of the day, so it's vital that you get it right. But where are the best spots to eat breakfast in New Haven? I decided to do some research to find out.
When putting together this list, I made sure to include a variety of cafes, diners, and traditional sit-down restaurants at every price point. So without further ado, these are the best places to eat breakfast in New Haven, CT.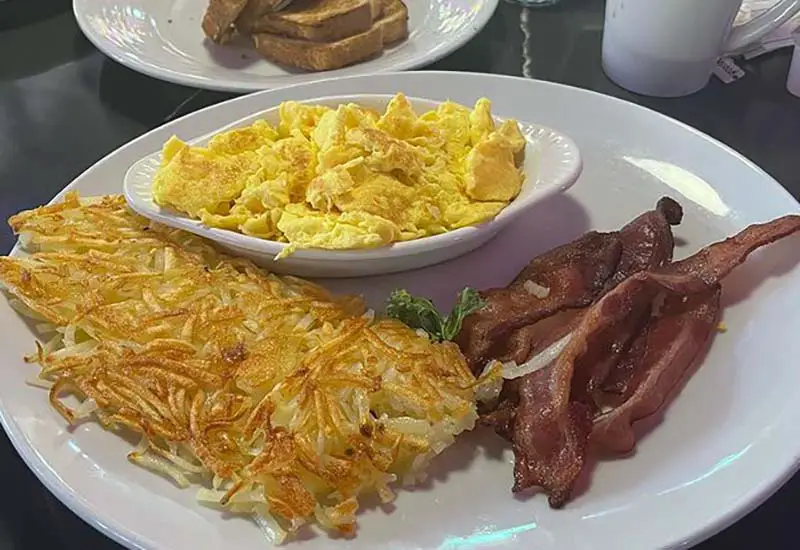 Best Breakfast in New Haven, Connecticut
1. Pistachio Cafe
The Pistachio Cafe is one of my favorite places to get breakfast in New Haven. This modern coffee shop serves specialty coffee and cold brews, but it also has an extensive breakfast and brunch menu.
You can order a variety of items, like omelets, paninis, croissants, waffles, and wraps. The Pistachio Cafe has a really good smoked salmon tartine as well. Breakfast is served from 8:30 am to 3 pm during the week, but they extend their hours to 5 pm on the weekend. You can find this breakfast spot in Westville near the outskirts of New Haven.
Location: 911 Whalley Ave, New Haven, CT
2. Bella's Cafe
Right across the street from the Pistachio Cafe you'll find Bella's Cafe. This popular restaurant serves breakfast and lunch during the week, and brunch on the weekends. My dining experience here has always been great, with delicious food and excellent service.
You can order all-day breakfast at Bella's. Some of the top dishes on the menu include Italian-style French toast, buttermilk pancakes, eggs benedict, corn beef hash, Philly steak omelet, and shrimp & grits. The restaurant is open from 8 am to 2 pm, but is closed on Mondays.
Location: 896 Whalley Ave, New Haven, CT
3. Whitney Donut And Sandwich Shop
This next breakfast spot is actually located a bit north of New Haven in Hamden, but the food here is more than worth the trip. It's only about a 15-minute drive from the center of New Haven. I'm of course talking about the Whitney Donut and Sandwich Shop.
This little diner is known for its freshly brewed coffee, warm sandwiches, and sweet donuts. I always pick up a handful of pastries when I come here. Their muffins, danishes, and sticky buns are top-notch. Plus, they offer pickup and delivery on Grubhub. Whitney's is open from 6 am to 4 pm during the week, although they close at 2 pm on Saturday and Sunday.
Location: 2574 Whitney Ave, Hamden, CT
4. Choupette Creperie & Cafe
Choupette Creperie & Cafe is a top breakfast spot found in the heart of New Haven. The crepes here are some of the best around, plus they're affordable and very filling. If you've never had a crepe, it's basically a thin pancake that can have different fillings inside.
There's a decent crepe selection on the menu, which includes flavors like butter & sugar, Nutella, cheese, blueberry, and banana to name a few. I really enjoyed the Piaf crepe which consisted of raspberry, white chocolate, and vanilla ice cream. Choupette Creperie is usually open from 8 am to 8:30 pm, but they close a bit earlier on Sunday, Monday, and Tuesday.
Location: 24 Whitney Ave, New Haven, CT 
5. Donut Crazy
Donut Crazy is another highly-acclaimed breakfast spot in New Haven. The restaurant serves a wide variety of tasty donuts, along with other breakfast classics, like eggs, hashbrowns, BLTs, breakfast burritos, and cereal cups.
Some of my favorites are the avocado toast, egg & cheese sandwich, and the Boston creme donut. Donut Crazy is typically open from 7 am to 8 pm, however, they are closed on Mondays.
Location: 290 York St, New Haven, CT
6. Atticus Bookstore Cafe
Atticus Bookstore Cafe serves one of New Haven's best breakfasts. This well-known local eatery has two locations in the city, one at the Yale British Art Museum and one the in the East Rock neighborhood. The Yale location is the original location and has been serving customers since 1975.
Breakfast is served all day at the Atticus Bookstore Cafe. The menu features breakfast dishes like egg sandwiches, chocolate croissants, breakfast BLTs, cheese danishes, and cinnamon buns. Additionally, this place has some of the best coffee in New Haven. The Atticus Bookstore Cafe is open from 8 am to 7 pm daily.
Location: 1082 Chapel St, New Haven, CT
7. The Pantry
The Pantry is another top breakfast restaurant in New Haven. From the outside, this place looks very unassuming, but once you get your food you'll know why it gets such great reviews.
The menu features a number of breakfast items, like waffles, pancake stacks, eggs, bacon, sausage, bagels, and coffee. They have an extensive selection of omelets as well. If you eat here, highly recommend you try the cinnamon swirl pancakes. The Pantry is open from 7 am to 2 pm on most days.
Location: 2 Mechanic St, New Haven, CT
8. Book Trader Cafe
The Book Trader Cafe is another excellent spot to eat a New Haven breakfast. This independent book store and cafe is located in the center of the Yale University campus and serves a range variety of gourmet breakfast sandwiches and pastries.
The cafe has plenty of seating, both inside and outside. Additionally, the Book Trader Cafe offers some amazing bargains on used books. Dining here is the perfect opportunity to catch up on some reading while you enjoy your meal in a relaxing atmosphere. They are open from 9 am to 7 pm, but close early on weekends (5 pm).
Location: 1140 Chapel St #4843, New Haven, CT
9. Zoi's
Zoi's is one more highly-rated New Haven breakfast spot. You can find this diner in the center of town, near Yale. They offer quick service, and a number of breakfast plates, omelets, and breakfast sandwiches.
Some of the items on the menu at Zoi's include pancakes, hashbrowns, bacon, french toast, ham, sausage, and muffins. This is also one of the best places to grab a flavorful yet healthy salad in New Haven. I can't recommend the buffalo chicken salad enough. If you want to have a meal here, stop by between 7 am and 3 pm.
Location: 63 Grove St, New Haven, CT
10. Maison Mathis
Maison Mathis is one of the breakfast restaurants found directly on the Yale Campus. This modern Belgian bakery serves up some excellent breakfast and lunch dishes.
When you look at the menu, you'll see items like three cheese omelets, French toast, greek yogurt, fruit bowls, and a variety of wraps. The avocado eggs benedict is one of the breakfast dishes available on the menu. The restaurant is open from 8 am to 9 pm every day.
Location: 304 Elm St, New Haven, CT
11. Nick's Luncheonette
The final restaurant on this list is actually not in New Haven but in the neighboring West Haven. Nick's Luncheonette is one of the best breakfast restaurants in the state, so I felt compelled to add it here. Plus, it's only about a 10-minute drive from New Haven.
Nick's Luncheonette makes its food with the highest quality ingredients, and you can taste it. You can order dishes like omelets, steak & eggs, corned beef, hash brown, Belgian waffles, French toast, and grilled cheese melts. There's a reason why this family-owned restaurant comes so highly recommended on places like Yelp. Nick's Luncheonette opens early, at 5:30 am. They close after lunch around 3 pm.
Location: 255 Saw Mill Rd, West Haven, CT 
Map of Breakfast New Haven, CT
If you're looking for breakfast New Haven, check out the map below. All the best breakfast spots in New Haven and nearby are listed on the map. There's no need to drive in circles. A good map can help find the best restaurants near you.
Breakfast Restaurants in New Haven – Final Thought
If you're looking for a new spot to grab breakfast in New Haven Connecticut, you'll certainly enjoy any of the restaurants on this list. There are so many different cuisines to try that you won't soon be bored with the culinary scene in New Haven.
If you're looking for more of a weekend brunch experience, I recommend that you check out the article I recently published about the best places to get brunch in New Haven, CT.