Boutique Hotels in CT – 12 Most Unique Hotels in Connecticut
If you're visiting Connecticut, it may be worthwhile to check out one of the many boutique hotels in the state. There are plenty of unique hotels in CT that offer an unforgettable experience you won't be able to find anywhere else.
These boutique hotels come in many shapes and sizes ranging from wooded cottages and treehouses to historic bed & breakfasts on the ocean. So without further ado, these are the best boutique hotels in CT.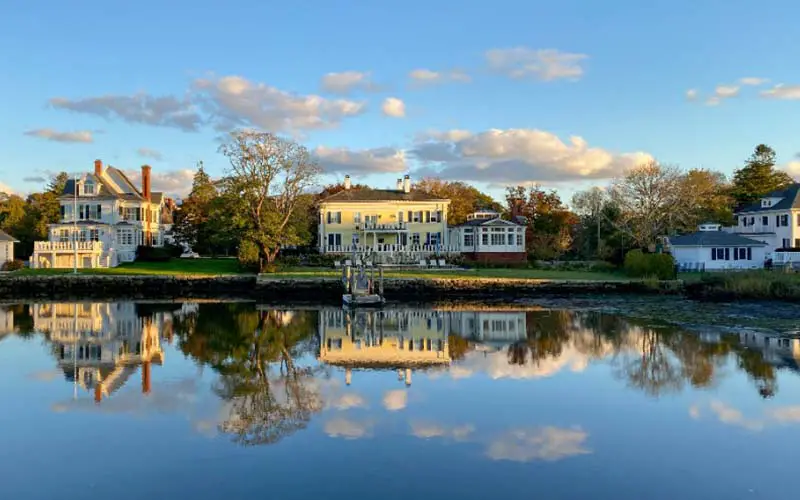 Interesting Boutique Hotels in Connecticut
1. The Griswold Inn – Essex
The Griswold Inn is a historic boutique hotel in CT. It was opened in 1776, making it one of the oldest continuously operating hotels in the entire country. But although it still resembles an old inn, the hotel's 33 unique rooms have been updated with modern amenities.
Some of the amenities you'll find at The Griswald Inn include historic dining rooms, an art exhibit, a wine bar, and a tap room. Plus, there is plenty to do in the area since Mystic, Mohegan Sun, and Foxwoods Casino aren't too far away.
Address: 36 Main St, Essex, CT
2. Stanton House Inn – Greenwich
The Stanton House Inn is a boutique New England bed and breakfast located in Greenwich, CT. This is another historic landmark, as it was built in 1843. It served as a private mansion and boarding house before being transformed into a hotel in 1985.
The boutique accommodations here feature 20 upscale rooms, all with a cozy, New England charm. When you book a room, you'll get to enjoy the property's tea room, library, open-air patio, outdoor swimming pool, and beautiful gardens.
The Inn also features concierge services, complimentary breakfast, and easy access to the beautiful parks, waterways, shops, and hiking trails Greenwich has to offer. If you're planning a trip to Greenwich, I highly recommend booking a room at the Stanton House Inn.
Address: 76 Maple Ave, Greenwich, CT
3. Goodwin Hotel – Hartford
The Goodwin Hotel is a boutique hotel located in the center of downtown Hartford. Built in 1881, this hotel features original architecture which has been combined with modern amenities. Some of the more distinctive elements of the hotel include the stone fireplaces and mahogany furniture.
A few of the hotel amenities here include in-room refrigerators, free Wi-Fi, a 24-hour fitness center, and pet-friendly rooms. Since the Goodwin Hotel is located in the heart of the state, you'll have easy access to I-84 and I-95 making trips to nearby attractions less of a hassle.
Address: 1 Haynes St, Hartford, CT
4. The Litchfield Inn – Litchfield
The Litchfield Inn is one of the boutique hotels in Connecticut found in the rolling hills of Litchfield County. The hotel is a reproduction of a classic colonial estate featuring 32 guestrooms, 12 of which are completely unique.
When you book a stay at The Litchfield Inn, you get access to the on-site botanical gardens, along with their fitness center, complimentary breakfast, and free parking. Aside from the hotel, there are plenty of things to do in the area including horseback riding and kayaking.
Address: 432 Bantam Rd, Litchfield, CT 
5. The Whaler's Inn – Mystic
The Whaler's Inn is a unique hotel found in Mystic, Connecticut. The property, located right next to Mystic Harbor, is made up of five adjacent buildings and forty-five bespoke rooms and suites.
The hotel has been renovated many times over its history, so the amenities are pretty modern. If you stay here, I highly recommend you grab a meal at their on-site restaurant, "The Shipwright's Daughter." Both the food and wine there are amazing.
Address: 20 E Main St, Mystic, CT
6. Inn at Middletown – Middletown
The Inn at Middletown is another popular boutique hotel in Connecticut. This colonial-style retreat does a great job of mixing old-world charm with modern amenities like an indoor heated pool & spa, a fitness center, a hot tub, and free Wi-Fi.
The on-site restaurant is really good as well. The chefs make delicious New England dishes like clam chowder and lobster rolls. This is also one of the many pet-friendly hotels in CT.
Address: 70 Main St, Middletown, CT
7. Winvian Farm – Morris
Winvian Farm is one of the top resorts in Connecticut. This boutique accommodation has 18 distinctive cottages spread across 113 acres of beautiful natural scenery in the foothills of the Berkshires. Each cottage is unique because they used 15 different architects to design the property.
Every room at this boutique hotel has 5-star amenities, making for an unforgettable experience. This is also one of the best spa hotels in Connecticut, so it's the perfect spot for a relaxing weekend getaway.
Address: 155 Alain White Rd, Morris, CT
8. Inn at Harbor Hill Marina – Niantic
Inn at Harbor Hill Marina is a highly-rated bed and breakfast found in Niantic. This Connecticut boutique hotel has 16 seaside rooms with a number of modern touches. Some of the rooms even have a private balcony and deck where you can feel the sea breezes coming in.
This is a great hotel to visit if you have a yacht since they offer boat slips on the nearby marina. If you're into boating or fishing, this is definitely a hotel you want to check into.
Address: 60 Grand St, Niantic, CT 
9. Madison Beach Hotel, Curio Collection by Hilton – Madison
The Madison Beach Hotel is another popular beachfront hotel in CT. This isn't necessarily a historic hotel, but it's certainly a unique one since it's only a few steps from the beach.
This 34-room resort has excellent amenities like a hotel spa, a fitness center, on-site dining, and room service. Plus, there are often open-air concerts and film festivals hosted on the beach near the hotel.
Address: 94 W Wharf Rd, Madison, CT
10. The Homestead – Madison
The Homestead is a little-known boutique bed and breakfast in Connecticut. Guests can find this hotel along the shoreline in the town of Madison, just a few minutes from the beach.
This classic New England hotel has an old-world charm, in part due to the fact that they have in-room vintage record players. Other amenities include luxury linens, smart TVs, an outdoor patio, and complimentary breakfast. Although they only have a handful of reviews online, the hotel's perfect rating speaks for itself.
Address: 391 Boston Post Rd, Madison, Connecticut
11. Graduate – New Haven
The Graduate is a local landmark in downtown New Haven. It's located across the street from Yale University and features countless icons and memorabilia from the historic school.
If you want to explore New Haven and other parts of southern Connecticut, the Graduate is a great starting point. The rooms are relatively affordable compared to other boutique hotels in Connecticut, plus they offer complimentary bike rentals at the front desk.
Address: 1151 Chapel St, New Haven, CT
12. The J House – Greenwich
The J House is another one of the Connecticut boutique hotels located in Greenwich (technically it's in Riverside, but it's part of Greenwich). This luxury resort features high-tech rooms for guests, on-site dining, and amazing service from the hotel staff.
The J house has amenities like a boutique spa, a 24-hour fitness center, and an outdoor pool. This is a great place to stay if you want to be close to the Connecticut-New York border.
Address: 1114 E Putnam Ave, Riverside, Connecticut
Other Notable Boutique Hotels in CT
There are so many boutique hotels in the state of Connecticut that it would be impossible to list them all here. But these are some other notable unique hotels in Connecticut:
Abbey's Lantern Hill Inn – Ledyard, Connecticut
West Lane Inn – Ridgefield, Connecticut
The Inn At Stonington – Stonington, Connecticut
Stonecroft Country Inn – Ledyard, Connecticut
Westbrook Inn Bed and Breakfast – Westbrook, Connecticut
Boutique Hotels CT – Final Thoughts
These are the best boutique hotels in Connecticut. When booking your room, know that many of these hotels have limited availability and the prices often reflect that. It's important that you book your stay a couple of months in advance to ensure you get the best deal.