Whether you're shopping for your first bike or are looking for an upgrade, Connecticut has plenty of well-equipped bike shops. But with so many bike stores available, it can be difficult to decide which one to visit.
That's why I decided to review all of the most popular bicycle shops in the state to see which ones are the best. So without further ado, these are the top bike shops in CT.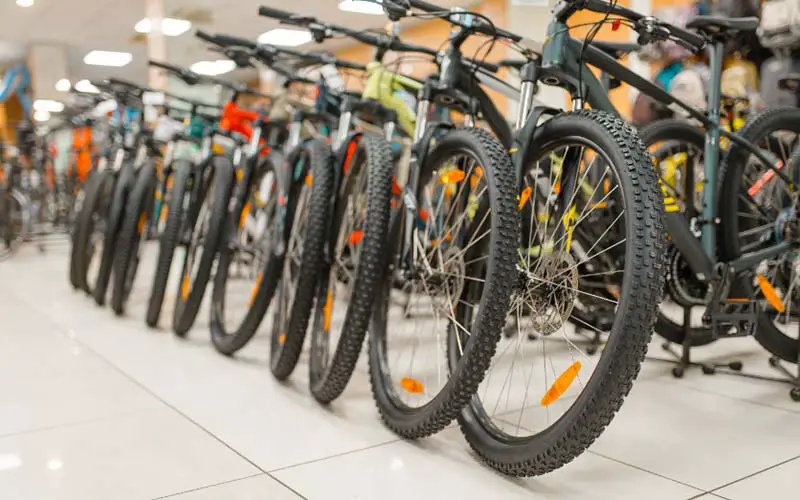 Best Bike Stores in Connecticut
1. Zane's Cycles – Branford, CT
Zane's Cycles is one of the best bike shops in Connecticut. They offer a wide selection of high-quality mountain bikes, road bikes, and electric bikes.
Plus, Zane's Cycles has bike-fitting and kid's trade-in programs, to ensure you get the most out of your bike. You can find this bike store in Branford, right off I-95.
Address: 330 E Main St, Branford, CT
2. Pedal Power – Multiple Locations
Pedal Power is a popular bike shop in Connecticut with locations in Middletown, Vernon, Willimantic, and Essex. This bicycle store sells a variety of road, mountain, gravel, and kid's bikes, along with some electric and hybrid bikes too.
In addition to offering affordable bikes, this shop does repairs as well. Just be aware that they are closed on Mondays.
Address: 359 Main St, Middletown, CT
3. Bloomfield Bicycle & Repair Shop – Bloomfield, CT
Bloomfield Bicycle & Repair Shop is an excellent bike shop in CT. The store's inventory features e-bikes, kid's bikes, recumbent bikes, and mountain bikes in a bunch of different brands like Trek, Schwinn, Jamis, Nirve, Haro, Giant, and Redline.
This is Connecticut's oldest bike shop and it's family owned and operated. Just know that they are closed for business on Sundays and Tuesdays.
Address: 38 Tunxis Ave, Bloomfield, CT
4. The Devil's Gear Bike Shop – New Haven, CT
The Devil's Gear Bike Shop is a great place to purchase a bike in New Haven, Connecticut. The staff here have decades of experience dealing with both street and off-road bikes, so they can easily help you find your ideal bicycle.
The store offers all the basic parts and accessories you need to keep your bike in tip-top shape. If you have an older bike, The Devil's Gear Bike Shop does trade-ins as well.
Address: 845 Chapel St, New Haven, CT
5. Cutting Edge – Berlin, CT
Cutting Edge is a Connecticut bike shop located in Berlin. For over 30 years, this bike shop has been selling and servicing bikes from all of the top brands.
You can buy mountain bikes, BMX bikes, kid's bikes, fitness bikes, road bikes, and electric bikes. They offer equipment like helmets, handlebars, and car racks as well.
Address: 146 Mill St, Berlin, CT
Read: Best Snowboard and Ski Shops in CT
6. Trek Bicycle – Newington, CT
Trek Bicycle is another fantastic store to buy and repair bicycles in central Connecticut. They only sell of few brands of cycles, including Trek and Bontrager, but they do tune-ups for any brand.
Many of the bicycles here are sold with lifetime warranties, so you can be certain that you've picked out a good product. The store is also active in the local biking community as they organize monthly mountain bike rides.
Address: 1030 Main St, Newington, CT
7. Biker's Edge – Bristol & Torrington, CT
Biker's Edge is another one of the top bicycle shops in Connecticut. This cycling shop has showrooms in both Bristol and Torrington, which feature different road, mountain, electric, kid's, and active bikes.
They offer bike servicing and maintenance too, with a free no-obligation estimate. The friendly staff here is professionally trained, so they can help you get your bike on the road quickly.
Address: 99 Main St, Bristol, CT
Read: Best Shopping Malls in Connecticut
8. Benidorm Bikes – Canton, CT
Benidorm Bikes is a full-service cycling shop found in Canton, Connecticut. The shop offers a wide range of cycling products like bikes, parts, accessories, tires, and apparel.
You can order anything from road and mountain bikes to commuter and BMX bikes. They do tune-ups, overhauls, and bike fittings at the shop too.
Address: 247 Albany Turnpike, Canton, CT
9. Tony's Bikes & Sports – Milford, CT
Tony's Bikes & Sports is one more highly-rated bike store. Located in Milford, the store's inventory features over a dozen types of bicycles, including BMX bikes, cross trail bikes, enduro bikes, e-bikes, folding bikes, mountain bikes, and fat bikes to name a few.
The staff here is made up of certified mechanics and actual cyclists, so you can be certain that they know what they are talking about when it comes to cycling.
Address: 108 Broad St, Milford, CT
10. Bicycles East – Glastonbury, CT
Bicycles East is another one of the Connecticut bike shops found in the central part of the state. They offer a number of biking brands like Trek, Liv, Giant, Electra, Surly, and All-City.
They also sell custom bikes and have an affordable repair service. If you need accessories or indoor trainers, Bicycles East has those as well.
Address: 331 New London Turnpike, Glastonbury, CT
Read: Best Shopping Outlets in Connecticut
Other Great Places to Buy Bikes
Aside from the cycling shops already mentioned, here are a few other solid places to buy bikes, parts, and cycling accessories in CT:
Danny's Cycles in Darien
The Bicycle Center in Brookfield
Greenwich Bicycles in Greenwich
Mystic Cycle Centre in Stonington
Best Bike Shop CT – Final Thoughts
Those are all the best bike shops CT. Regardless of whether you're shopping for a new bike, looking for parts, and are in need of repairs, all of these bicycle shops are excellent choices.
Once you have your dream bike, you'll want to try it out on Connecticut's top bike trails.