11 Best Places to Eat Wings in CT [Updated 2023]
Whether you're watching the big game or simply going out to eat, it's never a bad time to order some chicken wings. However, not all restaurants that serve wings are created equal.
Some wings are simply better than others. That's why I decided to try all of the most popular restaurants that offer wings in Connecticut to see which ones are the best. After careful consideration, these are the best places to eat wings in CT.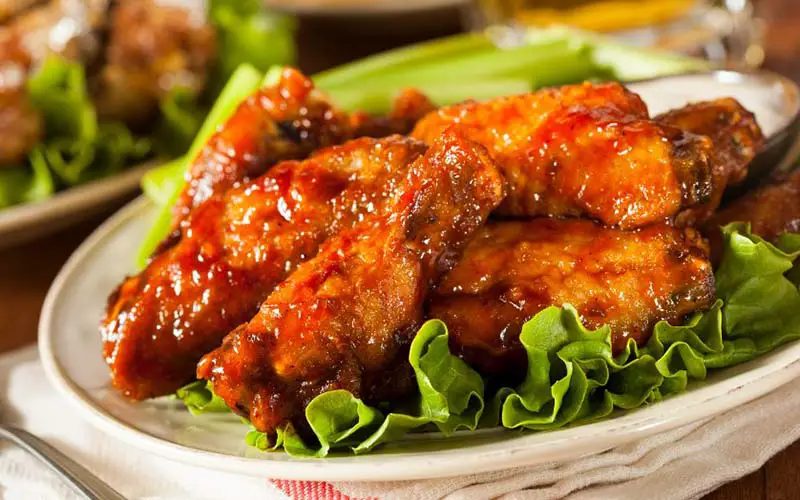 Best Chicken Wings in Connecticut
J Timothy's Taverne has some of the best wings in CT. The food network actually awarded the "Dirt Wings" here as one of the top 5 bar foods in the entire country.
The Dirt Wings are fried and sauced twice before being served, to give each wing some serious flavor. You can order buffalo wings, honey gold BBQ wings, teriyaki wings, buffalo chipotle dry rub wings, and sweet red chili wings. In my opinion, these are some of CT's best wings.
Location: 143 New Britain Ave, Plainville, CT
The Dew Drop Inn is another great spot to grab some wings in Connecticut. This restaurant and bar has an extensive menu with nearly 100 different options for flavored wings. It can be overwhelming, but the wings are really good.
Some of my favorite wings on the menu include the honey mustard wings and the Reese's Cup dessert wings. Regardless of what you order, all orders of wings here are served with a side of blue cheese and celery. You can find the Dew Drop Inn in Derby, CT.
Location: 25 North Ave, Derby, CT 
One of the most popular spots to eat Connecticut wings is Buffalo Wild Wings. The chain currently has 10 restaurants in CT (3 in the Hartford area), so you'll have no problems finding one near you.
The menu at Buffalo Wild Wings features a number of options, including traditional wings, boneless wings, cauliflower wings, and combination plates. They have some really good appetizers as well, plus plenty of sauces to dip your wings into.
Locations: Manchester, Windsor, Wethersfield, Southington, North Haven, Waterbury, Milford, Waterford, Danbury, Stamford
The Hot Rod Cafe is an excellent bar and grill that serves CT wings. This place has a very fun and relaxed atmosphere overlooking the Thames River in New London, CT.
The menu features over 20 chicken wings flavors, including BBQ ranch, jerk, buffalo, and garlic parmesan. The Hot Rod Cafe is also known for its craft beers and live music. Just know that they are closed on Tuesdays.
Location: 114 Bank St, New London, CT 
The Hidden Still was Connecticut's first restaurant and moonshine bar, but it's also known for its delicious wings. The chicken wings here are brined for 25 hours in order to add color and flavor.
The restaurant serves both bone-in and boneless wings in a variety of different flavors. Some of my favorites include the spicy honey peanut butter, the cajun honey BBQ, and the maple bourbon.
Location: 87 West Rd, Ellington, CT
Archie Moore's Bar & Restaurant is one of the best local spots to get chicken wings in Connecticut. In fact, the restaurant's wing sauces are so popular that you can find them at Stop & Shop and order them on Amazon.
There are several Archie Moore restaurants spread throughout southern Connecticut, so this eatery is easy to find. Boneless and classic wings are available on the menu, along with a variety of other bar dishes, like burgers, fries, nachos, and ribs.
Locations: Wallingford, Branford, Milford, Fairfield, New Haven
Hoodoo Brown BBQ is a southern BBQ joint found in Ridgefield, CT. The wings are only a small part of the menu, but they are delicious!
Some of the flavors offered on the menu include BBQ, buffalo, Rajun Cajun, Chipotle Honey, and Garlic Parmesan. If you live in the Danbury area, I highly recommend that you try both the BBQ and Garlic Parmesan wings.
They are clearly some of the best in CT, albeit, difficult to get to from other parts of the state. Hoodoo Brown BBQ also made our list of best BBQ restaurants in CT.
Location: 967 Ethan Allen Hwy, Ridgefield, CT
Wing On It! is a top chicken wing restaurant found in New Britain, Waterbury, and Stratford. They serve mouth-watering wings, chicken tenders, and chicken sandwiches. The restaurant keeps the quality of its food high by ensuring that every wing is fresh and never frozen.
Wing On It! serves over 20 flavors of wings, at various points on a hot and spicy scale. I really like how they deliberately tell you exactly how spicy each wing is from a scale of 1 to 9 on the menu. This wing joint offers dine-in, takeout, and delivery.
Location: New Britain, Waterbury, Stratford
Wings Over is a quick-service wing spot found in the Uconn area making it a popular choice for college students looking for affordable and fast food. Besides its popular Storrs location, the chain also has other restaurants in CT, most notably in the Hartford area.
Wings Over has an expansive menu of wings, chicken tenders, sandwiches, wraps, salads, and sides. Some of the top wing sauces here include Jamaican jerk, cajun BBQ, sweet chili, and mango habanero.
Location: Storrs, Bristol, West Hartford, New Britain, Middletown, Fairfield, Stratford 
If you love wings and live in Middletown, you need to try WesWings. This is another favorite of college students looking for a quick meal of flavorful chicken wings.
The menu features both traditional bone-in and boneless wings, along with a vegetarian option (breaded seitan). Some of the wing sauces here include BBQ, buffalo, honey ginger, and Rochester sauce.
Location: 156 High St, Middletown, CT
Sliders Grill & Bar is a family-friendly restaurant that makes some of the best wings in Connecticut. The chain has multiple restaurants in CT, mostly in the center of the state.
They serve a variety of wings in flavors like honey BBQ, buffalo blue cheese, wicked taco, and angry BBQ. The inside of Sliders Grill & Bar is lined with TVs as well. Although not as well-known as Buffalo Wild Wings, this spot is a great place to watch any sporting event.
Location: Plainville, Berlin, Plantsville, Middletown, Wallingford
Best Wings CT – Final Thoughts
It's tough to say which restaurant serves the best wings since everyone has different taste preferences. Some wing restaurants can also be quite far, depending on what part of Connecticut you live in.
So, I recommend that you try the restaurants that are closest to you first, before venturing across the state. There are so many great places to find get wings CT, you won't be disappointed with any of the restaurants listed here.