Best Places to Live in Connecticut [2023 Update]
Whether you're moving to Connecticut from another state or moving from one town to another, choosing where to live is an important decision.
It determines your tax rates, housing prices, the quality of public schools, and what jobs are available nearby, among other things. That's why I put together this list of the top Connecticut cities and towns.
As a lifelong Connecticut resident, I think I can provide a unique perspective on which neighborhoods are the best. So, here's a look at the best places to live in CT.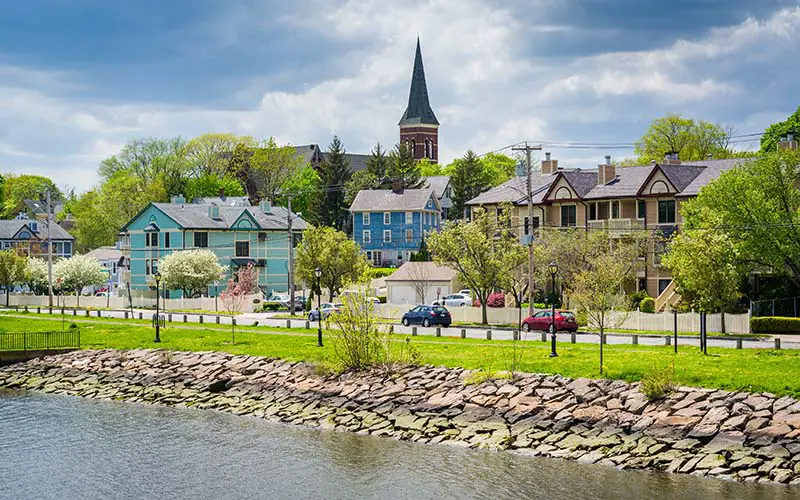 Best Places to Live in Connecticut
1. Greenwich
Greenwich is widely regarded as one of the best places to live in Connecticut. It's one of the oldest towns in the state, plus it's one of the wealthiest towns in the country. The area has a small-town charm, but plenty to do.
The town has a number of amenities, including shopping outlets, great restaurants, public parks, golf courses, and beaches.
Since it's only an hour from New York City, many hedge fund managers and other Wall Street types live in Greenwich and commute to work. The town's wealth lends itself to a good school system and low crime rates.
Greenwich has four main neighborhoods, including Cos Cob, Riverside, Greenwich Proper, and Old Greenwich. All of them are excellent places to live.
2. Fairfield
Fairfield is another excellent place to settle down in Connecticut. Specifically, the Southport neighborhood, which is known for its beaches and luxury yacht clubs.
Fairfield is a large town with a population of over 62,000 people, so there is a pretty diverse economy when it comes to home prices. Overall, the town has solid school systems, colleges, and lower-than-average crime statistics.
It's a great place to live if you're looking for a neighborhood with a dense suburban feel, yet affordable housing.
One word of caution – Fairfield is located next to Bridgeport which is one of the worst cities in CT for crime. So, I'd recommend moving to the western or central part of town.
3. Darien
Darien is another town in Fairfield County found along the shore of Long Island Sound. This is a largely suburban community with a small population relative to the surrounding area.
It's a fantastic place to live since you can enjoy the small-town feel while having access to Stamford (which is a major city) right next door.
Because of its close proximity to New York, the median home prices are well above the state's average. But with that comes a low crime rate and good public schools.
4. Glastonbury
If you're looking to move to the northern part of the state in Hartford County, Glastonbury is one of the best places to live.
The town is largely suburban, but it's only a few minutes from downtown Hartford. It's centrally located in the state so you can get anywhere within about an hour.
Housing is relatively affordable in Glastonbury compared to the towns on the Connecticut-New York border, making it the perfect spot to raise a family.
Plus, Glastonbury has a very low crime rate and some of the best schools in the region. As far as livability goes, you can't do better for a Hartford suburb.
5. Simsbury
Simsbury is another great place to live in northern Connecticut. The town is very similar to Glastonbury with a high median income, good schools, and a suburban layout.
However, the population in Simsbury is a bit lower, along with home prices. So, it can be a good alternative to look at.
There are plenty of state parks, vineyards, and golf courses, so there's certainly a lot to do. If you're looking to purchase a house with an abundance of backyard space, I highly recommend you consider living in Simsbury.
6. Westport
Westport is another town on Connecticut's gold coast (the gold coast is southern Fairfield County). It's located right next to Fairfield but has a very similar feel to Darien. This is a classic New England town with plenty of history, scenic views, and great beaches.
Norwalk (which is a major city in CT) is just one town over, so people living here are within a few minutes' drive of all the top restaurants, bars, and shopping outlets in the area.
Westport is a good place to buy a home in Connecticut since it's going to hold its value. The taxes, schools, and crime rates here are very good too.
7. Ridgefield
Ridgefield is located on the Connecticut state border, right next to Danbury. It's a large town by land mass, but very small in terms of population, with just 7,000 residents.
Since it's in the foothills of the Berkshires, the town is known for its charming, small-town New England feeling. It's one of the safest and friendliest towns in the state, with a strong local community.
Considering its low population, the schools are very good. Just be aware home prices are not cheap. Expect to pay 50% more than the state average.
Ridgefield is one of the best places to live in Connecticut if you're looking for a neighborhood with a mix of rural and suburban.
8. Weston
Weston is located just south of Ridgefield, Connecticut. The demographics are very similar, with a relatively small population and a high median income.
The town is the perfect mix between rural and suburban, but that comes at the cost of having to pay for very expensive real estate if you want to live here.
This is one of the areas of Connecticut with minimal commercial development and a ton of open space for hiking and enjoying nature. If you want to go shopping, Norwalk is only a few minutes up the road and New York City is about an hour away.
Weston's school systems are also some of the best in Connecticut. The education programs are award-winning and known for producing results.
9. New Canaan
New Canaan is another top place to live in southwestern Connecticut. This Stamford suburb is one of the best neighborhoods in the state.
The town is known for its beautiful architecture, public parks, and unique boutique shops. It also boasts a low crime rate and an extraordinary education system.
New Canaan is also a popular commuter town for people who work in New York City, but prefer living in Connecticut. The average travel time into the city is about an hour by car assuming there's minimal traffic.
The only downside to life in New Canaan is the traffic and the expensive real estate prices. Other than that, it's a great place to live.
10. Avon
Avon is a quiet Hartford suburb found in the Farmington Valley region. The town is on the edge of Hartford County and Litchfield County, so the homes are pretty spread out.
Living in Avon is very affordable, with the cost of living hovering around the state average. The public schools in town are exceptional and crime is low.
The population is a bit older, so there's a decent-sized retiree community in the town. But with that being said, it's still a fantastic place to raise a family if you have kids.
11. South Windsor
South Windsor is a popular suburban town not too far from the Connecticut-Massachusetts border. I would argue that it's probably the best-budget town on this list since homes are extremely affordable.
The town has a dispersed suburban feel, but it's still centrally located. South Windsor is only 15 minutes from both Hartford and Bradley International Airport.
Plus, it's only one town over from Manchester, which is an urban and commercial center. The school system in South Windsor is highly-rated and crime is low.
12. Woodbridge
If you're looking to live near one of the cities in Connecticut, Woodbridge is a good option. The town is located right outside of New Haven and has a population of only about 10,000 people.
As a suburb of New Haven, there are plenty of job opportunities in the area. And if you want to check out the high-end restaurants and nightlife of the city, it's only a 10-minute drive away.
It's really nice to live in a rural town and still have big-city amenities nearby, which makes Woodbridge ideal for young professionals.
It's also a good price to raise kids since the schools are well-funded and crime is low. Housing prices are relatively high compared to the state as a whole but are reasonable given how desirable the area is.
13. Cheshire
Chestire is a town found just north of Woodbridge. It's centrally located giving residents easy access to cities like Hartford, Waterbury, and New Haven.
There are plenty of hiking trails and state parks in the area, so the town definitely has a rural feel despite its nearly 30,000-person population.
Cheshire has some of Connecticut's best bargains on houses when it comes to location and overall quality of life. The public schools are good and most people are friendly.
14. Wilton
If you're set on living in the Greenwich area, Wilton is one more town to check out. The town is perfectly situated between Norwalk, Stamford, and Danbury, so you have plenty of options when it comes to entertainment.
The town has a sizable population, yet maintains a rural feel with its winding back roads, dense woods, and rolling hills. If you're looking to get out of the city, Wilton is a great place to live.
The schools in town are very good and it's a safe place to live. The only hurdle you need to jump before moving here is the high home prices.
15. West Hartford
If you need to live close to the state capital for work, West Hartford is a town you should consider. The crime statistics and school systems aren't quite up to par with some of the other towns on this list, but they are decent.
What the town does have is cost-effective housing. Home prices in West Hartford are very affordable and fall in line with the state average.
Moreover, the town has the best nightlife in northern Connecticut with no shortage of bars and restaurants. Two of the best shopping malls in the state (West Farms and Blue Back Square) are also found in West Hartford.
If you're moving to Connecticut on a strict budget, you should certainly look at homes in West Hartford. Especially if you're a young professional without kids.
Other Top Cities & Towns in the State
Those are some of the best places to live in the state, but there are a number of other great towns to reside in. Here are some other popular places to live in Connecticut that often fly under the radar:
Torrington
Farmington
Wilton
Berlin
Bolton
East Lyme
Thompson
Many of the more rural towns in Connecticut have a lower cost of living, so they're worth checking out if you don't mind being in the backwoods of the state. To see where all of these towns are located, check out this Connecticut map.
Best Places to Live in Connecticut for Families
If you're looking to raise a family in Connecticut, all of the towns on this list are going to be solid options.
Of course, the more expensive towns like Greenwich and Darien are going to have the best public schools, but more affordable towns like Glastonbury and Avon are just as good.
There are several regional private schools in the state as well, so you can always send your kids there if you're not happy with one of the public school districts.
Best Places to Live in CT for Young Adults
If I had to recommend the best place to live in Connecticut for young adults, I would probably say New Haven or one of the surrounding towns like Woodbridge.
The city of New haven has the best nightlife in Connecticut, so there's plenty to do, along with the beaches in the nearby towns. New Haven is also within two hours of NYC, so day trips are possible.
West Hartford is a good option too since there are plenty of restaurants and bars centrally located in the area. West Hartford is also close to the airport, which is super convenient for frequent travelers.
Living in CT – Final Thoughts
That's my list of best places to live in Connecticut. Many of the top cities in Connecticut are located in Fairfield County on the Connecticut-New York border, however, these places have two downsides.
Houses are extremely expensive and the traffic is horrible on I-95 (the main highway). If you can live with those two things, I highly recommend the towns in southern Connecticut.
However, if you're on a tighter budget and want to avoid traffic, I recommend living somewhere in northern or central Connecticut. Towns like Glastonbury and Simsbury come with all the same perks as the wealthy towns on the gold coast, like low crime and good schools, but with a lower price tag.
If you're trying to figure out if Connecticut is the right state to move to, check out this article about the pros and cons of living in Connecticut.