Beach Hotels in CT – 11 Best Connecticut Waterfront Resorts
Whether you're on vacation in Connecticut or simply looking for a weekend getaway, everyone can appreciate a beautiful beachfront hotel. Nothing quite compares to the feeling of fresh sand between your toes or the sight of sailboats on Long Island Sound.
If you're not sure which are the best beach hotels in CT, we've got you covered. I compiled a list of all the top waterfront hotels in Connecticut, along with their prices and amenities. Let's dive in.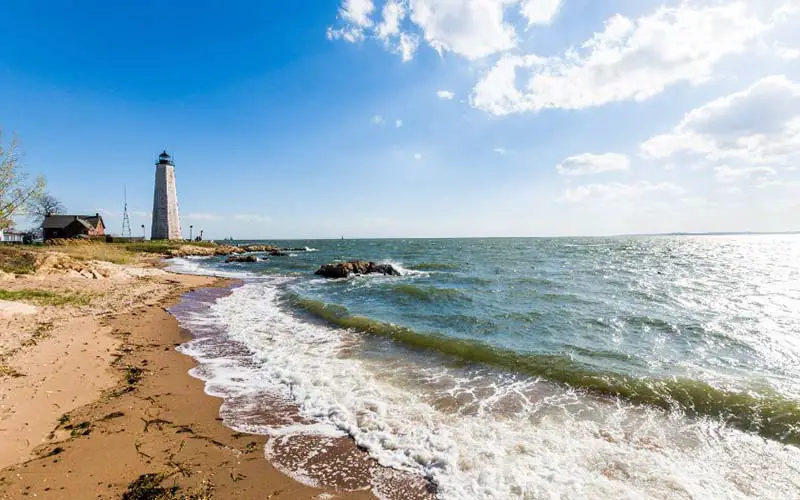 Top Beach Hotels in Connecticut
1. Water's Edge Resort & Spa – Westbrook
Water's Edge Resort & Spa is a popular Connecticut beach hotel found in Westbrook. This hotel has a private white sand beach, along with a beautiful garden that overlooks the water, making it a popular spot for weddings and romantic getaways.
In addition to the beach, Water's Edge Resort has other superb amenities like a full-service spa, on-site dining, a pool, ocean-view rooms, and on-site entertainment like comedy shows and live music.
Location: 1525 Boston Post Rd, Westbrook, CT
2. Delamar – Greenwich Harbor
The Delamar is a highly-rated waterfront hotel found in Greenwich, CT. When you stay here, you'll be able to enjoy a variety of luxury amenities, including some unique private yachting experiences.
The rare custom yachts at the resort are crafted to the highest possible standards, making for an unforgettable sailing adventure. Chartering one of these private yachts makes for the perfect romantic getaway in CT.
Aside from the marina, The Delamar also has several other award-winning amenities including a spa, a restaurant, and a complimentary glass of bubbly upon your arrival. L'escale, the onsite restaurant, even made our list of the best places to enjoy fine dining in Connecticut.
Location: 500 Steamboat Rd, Greenwich, CT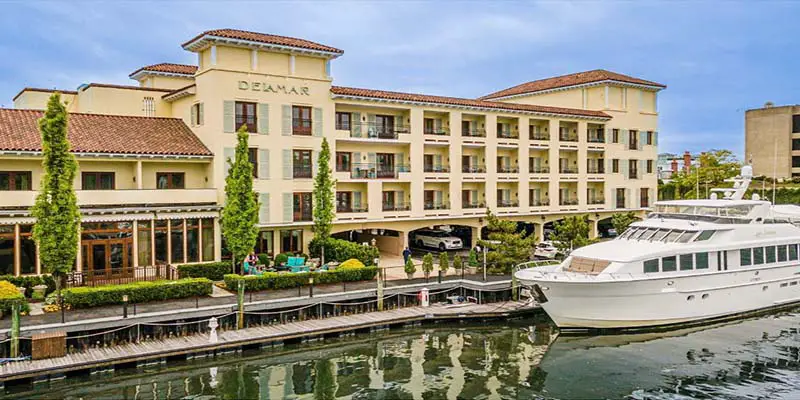 3. Madison Beach Hotel, Curio Collection by Hilton – Madison
The Madison Beach Hotel is widely considered to be one of the best beachfront hotels in CT. With the beach just a few steps from the resort, you really can't get much closer to the water. Plus, they provide guests with complimentary beach chairs, towels, and umbrellas.
During the summer, the beach often puts on open-air concerts and film festivals, so they're plenty to do aside from just swimming and sailing. The hotel has great amenities as well, including a spa, fitness center, on-site dining, and room service.
Location: 94 W Wharf Rd, Madison, CT
4. The Inn At Stonington – Stonington
The Inn At Stonington is a small,18-room boutique hotel found in Stonington Harbor. Located on the waterfront, this upscale bed-and-breakfast-style resort has in-room fireplaces and luxury soaking tubs (it's one of the few beachfront hotels in Connecticut with an in-room jacuzzi).
There's plenty to do nearby if you book a room at the Inn at Stonington, including private sailing lessons, kayaking, and shopping. It's also within walking distance of the historic Stonington Lighthouse Museum.
Location: 60 Water St, Stonington, CT
5. Inn at Harbor Hill Marina – Niantic
The Inn at Harbor Hill Marina is one of the Connecticut beach hotels located in Niantic. This awarding-winning waterfront hotel feels like a microcosm of New England overlooking the marina on Long Island Sound.
Niantic Beach is just steps away from the doors of the resort, but you may not want to leave your room with all the great amenities they have. The rooms feature fireplaces, private balconies, and soaking tubs. The hotel also serves a complimentary homemade breakfast for guests every morning.
Location: 60 Grand St, Niantic, CT
6. Saybrook Point Resort & Marina – Old Saybrook
Saybrook Point Resort & Marina is another luxury beach hotel in Connecticut. They have a number of suites that overlook the ocean, along with plenty of top-notch amenities. You can even park your yacht in their marina.
The resort features several onsite restaurants, a marina bar, a luxurious spa, and year-round pools. Plus, the hotel is dog-friendly. As a side note, Saybrook Point Resort & Marina also made our list of the best spa hotels in CT.
Location: 2 Bridge St, Old Saybrook, CT
7. The Surfside Hotel – Stratford
The Surfside Hotel is an affordable waterfront hotel in CT. Found in Stratford, this property has beachfront rooms with sliding glass doors and walk-out patios. These rooms offer a gorgeous panoramic view of the ocean.
A few of the other amenities at the hotel include a TV, free Wi-Fi, a mini-fridge, and complimentary beach towels. The Surfside Hotel offers holistic in-room massages and beach yoga classes too.
Location: 10 Washington Pkwy, Stratford, CT
8. Owenego Inn – Branford
Owenego Inn is a little-known beach hotel in CT. The hotel's grassy knoll overlooks Long Island Sound, making it a popular spot for weddings, special events, and family vacations.
There are a ton of fun activities at this hotel, including swimming, crabbing, fishing, and kayaking. The Owenego Inn also has three tennis courts if you're looking to get a workout in while your kids play in the sand.
Location: 40 Linden Ave, Branford, CT
9. Captain Stannard House Bed and Breakfast Country Inn – Westbrook
The Captain Stannard is another one of the beach hotels in Connecticut located in Westbrook. While technically not located directly on the beach, it's certainly within walking distance of the shoreline.
This classic New England Bed and Breakfast gives you easy access to all the cool things to do in the area, including fishing, golfing, shopping, and dining. There are a number of excellent Connecticut wineries nearby as well.
Location: 138 S Main St, Westbrook, CT
10. Circle Hotel – Fairfield
The Circle Hotel is one of the few waterfront hotels in CT located in Fairfield. The property gives you easy access to Jennings Beach, Penfield Beach, and the Fairfield Marina at an affordable price.
If you book a stay here, you'll also be close to many of the local golf courses, restaurants, and entertainment centers of Fairfield. You can find the hotel right off of I-95.
Location: 417 Post Rd, Fairfield, CT
11. Hyatt Place – Milford / New Haven
Hyatt Place in Milford is one more hotel that's close to the beaches of Connecticut. The resort doesn't have direct beach access, however, it's within driving distance of the many beaches in Greater New Haven.
This is one of the best hotels to stay at if you're on a tight budget since room rates hover around $100 a night. Plus, they have great amenities like free parking, free breakfast, an on-site restaurant, a bar, a fitness center, and pet-friendly rooms.
Location: 190 Old Gate Ln, Milford, CT
Other Excellent Beachfront & Waterfront Hotels in Connecticut
If you want to stay at a hotel close to the beach, you'll have a few other accommodation and lodging options beyond the hotels already mentioned. Here are some of the other CT hotels close to the shore.
The Inn At Fairfield Beach
The Inn at Longshore
The Surfside Hotel
Scranton Seahorse Inn
Connecticut Beach Hotels – Final Thoughts
Those are the top beachfront hotels in Connecticut. When booking a room, just make sure you make a reservation in advance. Many of these beachfront hotels book up fast so they don't allow same-day check-in.
Even if you're not staying at a beach hotel, you can still find a Connecticut beach close to your accommodation.