BBQ in CT – 11 Best Barbecue Joints in Connecticut
There is no shortage of BBQ restaurants in Connecticut. In fact, there are so many options that it can be overwhelming to decide where to eat.
That's why I recently tried all of the major barbecue joints in the state to see which ones are the best. So without further ado, these are the best places to eat BBQ in CT.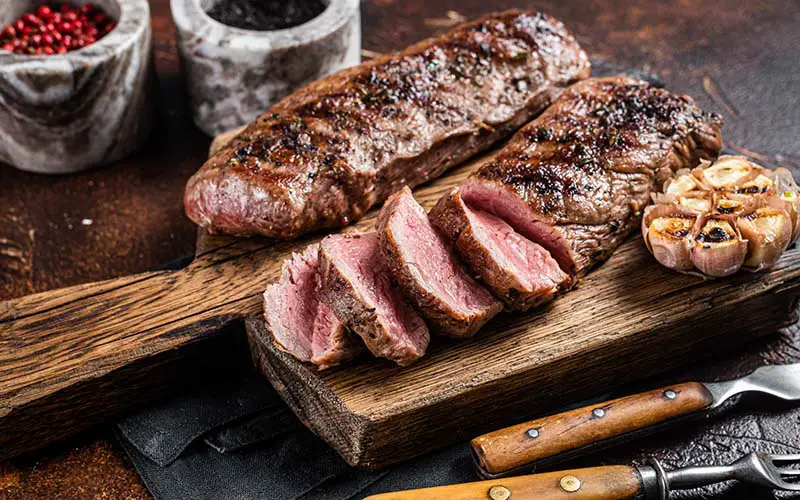 Top BBQ Restaurants in Connecticut
1. Hoodoo Brown BBQ – Ridgefield
Hoodoo Brown BBQ is one of the best barbecue restaurants in Connecticut. This casual restaurant serves classic Texas-style barbecue, along with craft beer and cocktails.
The menu features signature dishes like smoked chicken wings, beef brisque, smoked turkey, and BBQ sandwiches.
The wings at Hoodoo Brown are also some of the best appetizers in the state, which helped this eatery make our list of best restaurants in Connecticut. You can find them in Ridgefield, which is just south of Danbury.
Address: 967 Ethan Allen Hwy, Ridgefield, CT
2. Bear's Smokehouse Barbecue – Multiple Locations
Bear's Smokehouse Barbecue is another great place to BBQ in Connecticut. The chain has locations in South Windsor, Windsor, New Haven, and Hartford.
The menu has a variety of dishes like smoked meats, ribs, wings, and sandwiches, along with delicious sides like nachos.
Plus, Bear's Smokehouse Barbecue offers a few family deals and catering options. If you're short on time, you can also order your meal for pickup or delivery.
Address: 25 Front St, Hartford, CT
3. Pig Rig BBQ – Wallingford
Pig Rig BBQ is a highly-rated barbecue restaurant in south-central Connecticut. This casual spot serves authentic American BBQ, specializing in hickory-smoked meats.
You're able to order dishes like baby back ribs, pulled pork sandwiches, beef briskets, hot dogs, and smoked chicken. There's no shortage of options.
The restaurant has both indoor and outdoor seating, but Pig Rig has a local food truck as well. You can visit them in Wallingford, Connecticut.
Address: 950 Yale Ave, Wallingford, CT
4. Black-Eyed Sally's Southern Kitchen & Bar – Hartford
Black-Eyed Sally's Southern Kitchen & Bar is a fantastic spot to order barbeque in CT. This BBQ joint has a Southern vibe, often playing live jazz or soul music.
Some of the top menu items include pulled pork platters, BBQ chicken, ribs, brisket, fried chicken, and tacos. This is one of the CT restaurants with a gluten-free menu as well.
Black-Eyed Sally's serves lunch, dinner, and Sunday brunch. You can order your food for both takeout and delivery.
Address: 350 Asylum St, Hartford, CT
5. Wire Mill Saloon & Barbeque – Redding
Wire Mill Saloon & Barbeque is a popular BBQ restaurant in Redding, CT. It has a country vibe and an outdoor patio during the warmer months.
All of the meats are smoked at the restaurants and are seasoned with a special spice rub. Plus, they're slow-cooked for 8 to 16 hours using apple, cherry, and oak wood to enhance the flavor.
You can order a wide range of BBQ dishes, sandwiches, and sides including pulled pork, homemade smoked sausage, and chicken.
Address: 12 Old Mill Rd, Redding, CT
6. Smokin' With Chris – Southington
Smokin' With Chris is a popular Connecticut BBQ spot in Southington. The chefs here use fresh, local ingredients, so you know the food is good.
Although the focus of the restaurants is on smoked barbeque meats, the menu also features other items like salads, seafood, and even a few vegetarian dishes.
This BBQ joint is open 7 days a week and often plays live music. It also has a gorgeous outdoor patio if you prefer dining outside.
Address: 59 W Center St, Southington, CT 
7. Walrus Alley – Westport
Walrus Alley is an award-winning BBQ spot in Fairfield County. They are known for their delicious Southern-inspired BBQ, along with their excellent cocktails, wines, and craft beers (their beer can compete with some of the top Connecticut breweries).
Some of my favorite dishes here include smoked fried chicken wings, turkey breast, half a rack of baby back ribs, and NY strip steak. If you have kids, they'll love the grilled cheese.
All of the dishes come straight from the grill, the oven, the smoker, or the pan. You can find this CT BBQ restaurant in Westport. Just know that the restaurant is usually closed on Mondays and Tuesdays.
Address: 90 Post Rd E, Westport, CT
8. Taino Smokehouse – Middletown & Meriden
If you're a meat lover living in central Connecticut, you need to visit Taino Smokehouse. This classic BBQ joint has locations in both Meriden and Middletown. 
The restaurant specializes in burgers, BBQs, dry-aged steak, and craft cocktails, but the menu features pretty much every type of meat you can think of. This includes pork ribs, brisket, pulled pork, and smokehouse burgers. 
This place also offers a range of other dishes like smoked chicken wings, mac and cheese, mashed potatoes, and collard greens with bacon.
Address: 482 S Main St, Middletown, CT
Address 2: 1388 E Main St, Meriden, CT
9. Zach and Lou's Barbeque – Torrington
Zach and Lou's Barbeque is a family-owned BBQ joint in Torrington. The food at this place has a consistent flavor and the service is fast.
A few of the items on the menu include pulled pork, pulled chicken, kielbasa, smoked turkey, brisket, pork belly, and ribs. They have really good sides and desserts as well. The cole slaw and beans are fantastic.
If you're looking to eat BBQ in Litchfield County, you need to check out Zach and Lou's Barbeque.
Address: 2936 Winsted Rd, Torrington, CT
10. Hindsight BBQ – Waterbury
Hindsight BBQ is one of Connecticut's top barbecue restaurants in the Waterbury area. The wood-fired meats here are slow-cooked to enhance the flavor, and you can really taste it.
You can order entrees like pulled pork, smoked sausage, chicken wings, slow-cooked ribs, and brisket. But their sandwiches are delicious as well. I highly recommend the pastrami prime brisket Rueben.
When deciding to eat at Hindsight BBQ, you can either dine in or order delivery on apps like Grubhub.
Address: 1503 Thomaston Ave, Waterbury, CT
11. Chester's Barbecue – Groton
Chester's Barbecue is one more place where you can eat barbeque in Connecticut. It's one of the highest-rated barbecue spots in the New London-Mystic area.
The meats here are smoked overnight for up to 16 hours. Everything is cooked indirectly instead of grilling to retain a rich flavor and seasoned with their signature BBQ sauce.
The menu features everything from brisket and ribs to chicken and pulled pork. Plus, the atmosphere is very relaxed and the servers are always friendly.
Address: 943 Poquonnock Rd, Groton, CT
More Barbecue Spots in CT
For people that don't live near these barbecue spots, there are plenty of others scattered throughout the state. Here are some more Connecticut barbecues you can check out:
Mission BBQ in Orange and Southington
Noble Smokehouse in Mystic
Wood's Pit BBQ & Mexican Cafe in Bantam
When Pigs Fly in Sharon
Judy's BBQ Kitchen in Stamford
There are also a ton of restaurants that serve amazing chicken wings in CT. Or if you want something new, Connecticut has a couple of superb Korean BBQ restaurants as well.
Best BBQ CT – Final Thoughts
Those are some of CT's best BBQ restaurants. Whatever your final dining choice is, I'm certain that you'll enjoy the food. All of these places taste great and get excellent reviews online.
But if you're looking to order some premium meats, I recommend checking out one of the many steakhouses in CT.