Best Batting Cages in CT (Indoor & Outdoor Baseball Facilities)
Batting cages are a great way to work on your swing during the off-season. They're also a ton of fun. But where can you find a batting cage in Connecticut? I decided to find out.
After some searching, I was able to find a handful of reputable battle cages around the state. These are the best batting cages in CT.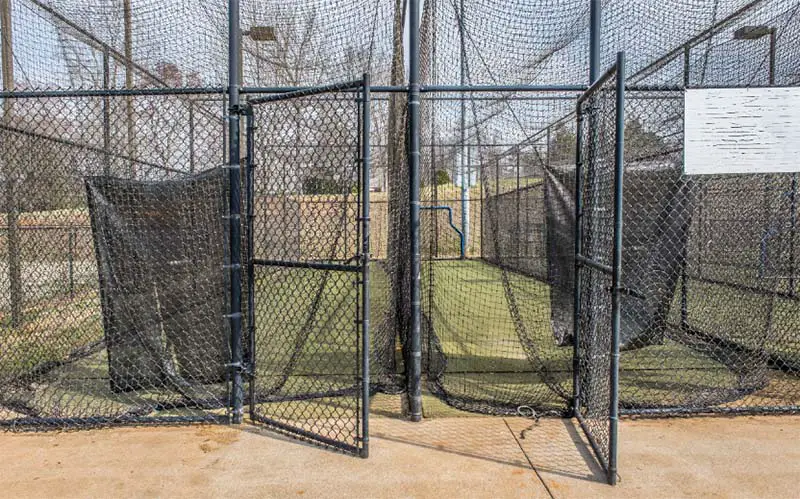 Top Batting Cages in CT
1. Berlin Batting Cages – Berlin
The Berlin Batting Cages are one of the best batting cages in Connecticut. They have multiple cages, so there usually isn't much of a wait. There 4 speeds to choose from (40 mph, 50 mph, 60 mph, and 70 mph), plus a couple of softball machines.
The starting price at the Berlin Batting Cages is 12 pitches for 99 cents, or you can rent the cage out for an hour for $40. When you're done working on your swing, this place also has other cool things to do like mini golf, go-karts, and bumper boats.
Address: 1801 Berlin Turnpike, Berlin, CT
2. Sports Center of Connecticut – Shelton
The Sports Center of Connecticut is another batting cage in CT. This is a great place to increase your batting percentage if you live in the Shelton area. They offer both softball and baseball pitches in a variety of pitch speeds and arcs.
When you're up to bat, you can choose speeds between 28 and 75 mph, so it's suited for kids of all skill levels. Just know that the batting cages are located outdoors, so they may be closed if it's raining or snowing.
Address: 784 River Rd, Shelton, CT 
3. All Star Indoor Batting Range – Brookfield
All Star Indoor Batting Range is a popular CT batting cage in the Danbury area. It's not the cheapest batting cage in Connecticut, but it's convenient if you live nearby. Plus, they've recently been getting some excellent reviews online.
They accept walk-ins with no appointments during business hours. All Star Indoor Batting Range is open from 1 pm to 8 pm during the week and from 11 am to 4 pm on the weekend.
Address: 1120 Federal Rd, Brookfield, CT
4. Batter's Box Inc – Hamden
Batter's Box Inc is a baseball and softball training facility found in Hamden. They have 5 batting cages and 3 pitching mounds in their 11,000-square-foot facility.
Cage rentals here cost $25 for 30 minutes or $45 for an hour. They also offer pitching and batting lessons and camps here too. If you're serious about getting better at baseball, I recommend checking out one of these events.
Address: 21 Marne St, Hamden, CT
5. Fairways Mini Golf Batting and Ice Cream – South Windsor
Fairways Mini Golf Batting and Ice Cream is home to one more Connecticut batting cage. The facility is located in South Windsor, so it's perfect for anyone who lives in the northern part of the state.
They have five automatic baseball and softball pitching machines (and two slow-pitch softball machines). The speeds available are 40 mph, 60 mph, and 70 mph. They don't do cage rentals, so you must purchase batting cage tokens to use the machines (you get 15 pitches per token). Fairways provides helmets and bats for you if you didn't bring you're own.
Address: 75 Spielman Rd, South Windsor, CT
6. D-BAT – Cheshire & Trumbull
D-BAT has of the best CT batting cages in the entire state. This is an indoor facility with 14 cages available, so you can come here year-round. Plus, D-Bat members get free access.
If you're not a D-Bat member, a 30-minute cage rental costs $30, while an hour rental is $50. The pitching machines can be set to speeds between 40 and 70 mph. You can find them in Cheshire and Trumbull, Connecticut.
Address 1: 30 Nutmeg Dr, Trumbull, CT
Address 2: 613 W Johnson Ave, Cheshire, CT
7. R & B Sports World – Winstead
R & B Sports World is one of the few Connecticut batting cages found in Litchfield County. They offer both softball and baseball machines, which can go up to 80 mph. This place doesn't do cage rentals, so you have to purchase tokens.
The tokens are super cheap, costing $2 for 1 token or $5 for 3 tokens. Each token gets you 15 pitches, so for $20 you can get nearly 200 pitches. R & B Sports World can supply a bat and helmet if you don't have one, plus they have other games like mini golf and go-karts.
Address: 19 Rowley St, Winsted, CT 
8. Sonny's Place – Somers
Sonny's Place is a good spot to go practice your hitting if you live near Somers. This place has 5 batting cages equipped for both softballs and baseballs. For baseballs, you can choose pitch speeds between 40 and 70 mph.
A 30-minute cage rental costs $30 here, while an hour is $45. If you don't need that much time at the plate, you can also purchase tokens. Aside from the cages, Sonny's also has miniature golf, laser tag, and an arcade, so it's great for birthday parties.
Address: 349 Main Street, CT-190, Somers, CT
9. Chelsea Piers Fitness – Stamford
Chelsea Piers Athletic Club in Stamford has 5 state-of-the-art batting cages made by Master Pitch. These machines are arm-style, which allows you to see them wind up (this gives the batter a better sense of timing).
Baseball pitch speeds can go between 35 mph and 80+ mph. Batting sessions cost $40 for a half-hour and $65 for an hour. Members of Chelsea Piers Athletic Club get a slight discount.
Address: 1 Blachley Rd, Stamford, CT
Indoor Batting Cages for Baseball During the Winter
If you're looking to play some baseball in the winter, I highly recommend D-BAT. They have a top-notch facility with 2 locations in CT, plus it's completely indoors.