10 Best Bars in New Haven, CT [2023 Update]
New Haven has one of the best bar scenes in the state of Connecticut. But with dozens of bars to choose from, it can be difficult to decide where to go.
So, I decided to grab a drink at all of the top New Haven bars to see which ones are the best. After about a month of hangovers, I'm back to report that these are the best bars in New Haven, CT.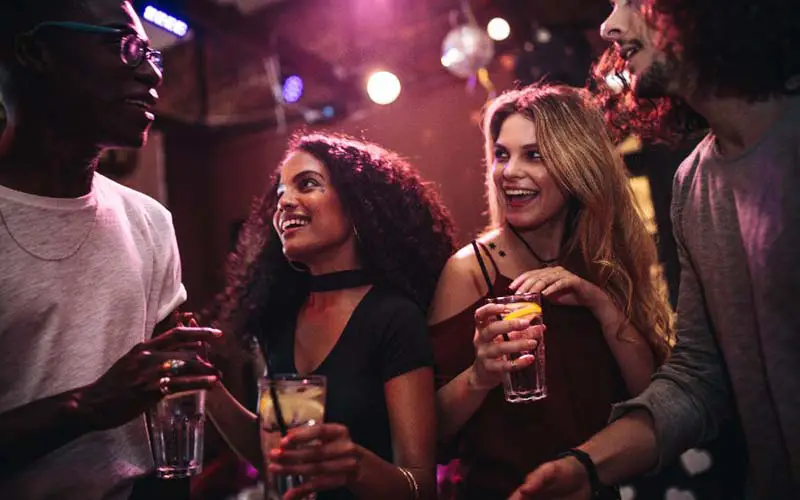 Top New Haven Bars
1. BAR
BAR is a quasi nightclub/bar in New Haven. Early in the night, this spot is a lively brewery with TVs, pool tables, beer, and excellent pizza, but it turns into a dance club around 9:30 pm (Friday and Saturday only).
The crowd at BAR is relatively young, so they usually play a combination of indie rock music and modern hits. This is arguably the best bar in New Haven if you're a college student. Just be aware there may be a small cover charge on Friday and Saturday nights.
Address: 254 Crown St, New Haven, CT
2. Elm City Social
Elm City Social is another one of New Haven's top bars. They serve seasonally inspired craft cocktails that are downright delicious, but the food here is really good as well.
The venue has both an indoor bar and a rooftop bar, so you can enjoy your drinks regardless of the weather. Elm City Social has excellent happy hour specials as well.
Address: 266 College St, New Haven, CT 
3. Barcade
Barcade is one of the more unique New Haven bars. This place is half a pub and half an arcade. They have nearly 75 different video games and classic pinball machines from the 1980s, which give the bar a retro feel.
The games at Barcade only cost 25 cents each, and the drinks are affordable as well. If you're looking for a fun night out with your friends in New Haven, Barcade is certainly worth a visit.
Address: 56 Orange St, New Haven, CT 
4. Ordinary
Ordinary is a highly-rated cocktail bar in New Haven with a ton of history. The drinks at this place are some of the best in the state. The bartenders offer a wide selection of spirits, like bourbon, whiskey, scotch, gin, tequila, and rum.
This isn't a party spot, but more of a place to enjoy a really good cocktail. The bar provides a quiet and very intimate atmosphere. You can find the Ordinary cocktail bar in downtown New Haven, near the New Haven Green.
Address: 990 Chapel St, New Haven, CT
5. The Trinity Bar & Restaurant
The Trinity Bar & Restaurant is an Irish pub with live music and flat-screen TVs, so it's a great place to watch sports on the weekend. The bar serves mostly beer, but there's a decent selection available.
The staff here is always super friendly, plus the bar has outdoor seating when it's warm out. In my opinion, The Trinity Bar & Restaurant is the best sports bar in the New Haven area.
Address: 157 Orange St, New Haven, CT
6. 116 Crown
116 Crown is a fantastic New Haven bar. This cocktail lounge has great drinks, plus the staff is knowledgeable and friendly.
They have both indoor and outdoor seating (there are outdoor igloos available in the winter). The food is pretty good here too.
Address: 116 Crown St, New Haven, CT
7. Archie Moore's
Archie Moore's is a highly-reviewed restaurant and bar in New Haven, Connecticut. The spot is known for its excellent food and top-notch drinks.
If you visit this bar, I highly recommend you try their chicken wings. Of all the bars in the New Haven area, it's clear that Archie Moore's has the best food menu.
Address: 188 1/2 Willow St, New Haven, CT
8. Geronimo Tequila Bar and Southwest Grill
Geronimo Tequila Bar and Southwest Grill is another great bar in the city of New Haven. This place is known for its award-winning southwestern cuisine, but the drinks also get glowing reviews.
The restaurant has the largest selection of tequila on the east coast with over 400 options. Plus, the bar also offers 40 varieties of Mezcal, draft beers, wines, and high-quality liquors.
Address: 271 Crown St, New Haven, CT
9. Gryphon's Pub
Gryphon's Pub is a little-known pub that only serves grad students and professionals from Yale. It's located within walking distance of the university and hosts weekly events like karaoke nights.
The drink menu at this CT bar features tap and bottled beers, ciders, wine, and seltzers. Everything on the menu is super affordable, plus the venue has a cool billiards room.
Address: 204 York St, New Haven, CT
10. Rudy's Bar
Rudy's Bar is one more spot to grab a drink in New Haven. This classic bar has been open for over 75 years, serving delicious food and alcoholic beverages to locals.
You can order draft, canned, and bottled beer, along with a few wines. The atmosphere here is very relaxed, making Rudy's Bar a great spot to hang out with your friends if you live in the area.
Address: 1227 Chapel St, New Haven, CT
Other Popular Nightlife Venues in New Haven, CT
New Haven nightlife isn't limited to just bars. There are a number of popular nightclubs in the city as well. If you haven't already, I recommend you check out the article I recently published reviewing all of the top clubs in New Haven.
New Haven Bars – Final Thoughts
Those are all of the best bars in New Haven, CT. Regardless of which venue you decide to visit, I'm certain you'll have a great time. The people that visit these bars are usually very friendly.