Bagels in CT – 15 Best Bagel Shops in Connecticut
Whether you prefer cream cheese, plain, or toasted, there's no doubt bagels are one of the best breakfast foods. But where can you get the best bagels in Connecticut? I decided to find out.
While reviewing the best donut shops, coffee shops, and bakeries in Connecticut, I was able to chow down on some seriously delicious bagels. These are my picks for the best spots to eat bagels in CT.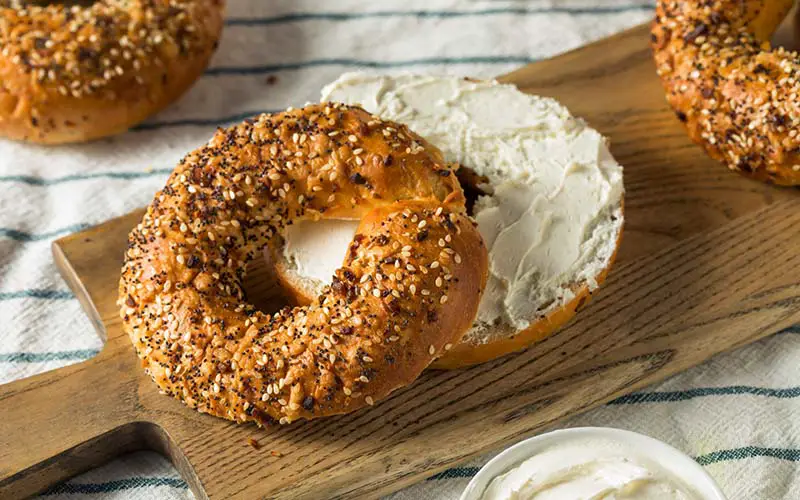 Top Bagel Shops in Connecticut
1. Goldberg's Bagels – West Hartford
Goldberg's Bagels is one of the top places to order bagels in Connecticut. They have a solid lineup of housemade bagels, breakfast sandwiches, breakfast burritos, lunch sandwiches, and salads.
I love their premium meat, egg & cheese bagel sandwich, but some of their other popular choices include cream cheese bagels, peanut butter bagels, salmon bagels, and hummus bagels.
Location: 1131 New Britain Ave # A, West Hartford, CT
2. Shef's Bagels – Cheshire
Shef's Bagels is a popular bagel joint in the central part of the state. This Connecticut bagel shop makes old-fashioned hand-rolled, boiled bagels in a variety of different flavors.
It's one of the best bagel shops in the area, plus they make breakfast sandwiches and gourmet salads. The coffee and tea here are very good as well.
Location: 1040 S Main St, Cheshire, CT
3. Bruegger's Bagels – Multiple Locations
Bruegger's Bagels specializes in small-batch, New York-style bagels. They serve tons of gourmet-topped bagels, kettle-boiled bagels, and bagel sandwiches, all of which are delicious.
The cafe has locations throughout Connecticut in towns like West Hartford, Glastonbury, New Haven, Shelton, and Avon. The shop is open everyday from 6 am to 2 pm.
Location: 1 S Main St, West Hartford, CT
4. Cohen's Bagel Company – Madison
Cohen's Bagel Company makes fresh bagels daily using the finest ingredients. Some of the bagels on their menu include sesame seed, poppy seed, everything, chocolate chip, French toast, Cheddar, blueberry, and cinnamon raisin.
You can order bagels every day of the week at their restaurant in Madison. The bakery is open from 6 am to 3 pm on most days.
Location: 1347 Boston Post Rd #105, Madison, CT
5. Bagel Delight – Newtown
Bagel Delight is a great bagel shop in the Danbury area. Located in Newtown, the bagel shop offers affordable bagels and breakfast sandwiches.
You'll have your choice of different toppings and cream cheeses, like butter, plain cream cheese, veggie cream cheese, garlic cream cheese, and lox cream cheese to name a few.
Location: 30 Church Hill Rd #1, Newtown, CT
6. Bagelman – Danbury & Brookfield
Bagelman is another CT bagel shop with multiple locations in the Danbury area. You can order a wide range of breakfast items and bagels, including flavors like plain, poppy, sesame, onion, multigrain, everything, garlic, salt, and egg.
The shop allows you to order online for both takeout and delivery. Plus, Bagelman does catering as well.
Location: 39-B Mill Plain Rd, Danbury, CT
7. Ami's Crispy Bagels & Deli – Waterbury
Ami's Crispy Bagels & Deli is an excellent bakery to visit if you live in Waterbury. This bagel shop offers a wide range of bagel flavors and spreads.
You can order individual bagels for your meal, or take home a dozen, half-dozen, or baker's dozen. You're also able to order breakfast specials, wraps, sandwiches, salads, muffins, and drinks like coffee, tea, and hot chocolate.
Location: 2457 E Main St #2b, Waterbury, CT
8. Liz Sue Bagels – Stamford & New Canaan
Liz Sue Bagels is one of the top bagel shops in southern CT. It's known for its tasty bagels, gourmet cream cheese, egg sandwiches, and gourmet coffee.
If you're looking for bagels in the city of Stamford, you'll want to check out Liz Sue Bagels. The shop has a second location in New Canaan, and they're open for business from 5 am to 3 pm daily.
Location: 63 High Ridge Rd, Stamford, CT
9. Fancy Bagels – Multiple Locations
Fancy Bagels is another great place to order a bagel in Connecticut. They've been serving bagels for over 30 years, so you know they're good.
The bagels are freshly made daily using premium ingredients and deli products. In addition to their high-quality food, they also serve high-quality beverages like gourmet coffee, decaf, cappuccino, and hot chocolate.
Location: 353 Scott Swamp Rd # 3, Farmington, CT
10. Deke's Bagels – Niantic & Guilford
Deke's Bagels has locations in Niantic and Guilford, Connecticut. They offer a wide assortment of bagels, including everything bagels, whole wheat, egg, sesame, poppy, onion, cinnamon raisin, plain, Jalapeno cheddar, and feta spinach artichoke.
The restaurant also has pastries, egg sandwiches, lunch sandwiches, and smoothies, which are all worth a try.
Location: 157 W Main St, Niantic, CT
11. Village Bagels – Fairfield & Westport
Village Bagels is a popular local bagel shop with locations in Fairfield and Westport. They have a full breakfast and lunch menu featuring a variety of different bagels, sandwiches, and paninis.
The restaurant allows you to order online or through DoorDash, which is super convenient. They are open every day of the week, usually from 6 am to 4 pm.
Location: 873 Post Rd, Fairfield, CT
12. A.M. Bagel – Derby
A.M. Bagel is a family-run bagel shop that makes all of its bagels from scratch in small batches. They are made fresh in-house every day to ensure quality.
In addition to bagels, the restaurant also makes excellent cream cheese, sandwiches, and coffee. You can visit A.M. Bagel in Derby.
Location: 111 New Haven Ave, Derby, CT
13. Isaac's Bagel Cafe – Bloomfield
Isaac's Bagel Cafe is a great place to pick up some bagels in Bloomfield, CT. They are known for their wide selection of freshly baked bagels, coffee, breakfast sandwiches, and wraps.
There are over 30 types of bagels on the menu here, including poppy, sesame, rye, everything, cheddar, asiago, blueberry, cinnamon sugar, mozzarella, and wheat.
Location: 927 Blue Hills Ave, Bloomfield, CT
14. Brookside Bagels – Simsbury
Brookside Bagels is a local bakery, bagel shop, and deli found in Simsbury. They offer a range of bagels and spreads, including plain, double sesame, double poppy, garlic, dutch apple, and honey wheat.
They also make really good breakfast sandwiches, specialty lunch sandwiches, and wraps. Everything on the menu tastes amazing.
Location: 563 Hopmeadow St, Simsbury, CT
15. Bagel King – Fairfield & Bridgeport
Bagel King is one more spot to eat a bagel in CT. With locations in Fairfield and Bridgeport, this bagel shop has been serving customer breakfast and lunch for over 50 years.
They make New York-style kettle-boiled bagels at the bakery daily. With over 20 daily flavors of bagels, there's no shortage of options to choose from. Mini-bagels are available as well.
Location: 3550 Main St, Bridgeport, CT
Other Places to Get Bagels in Connecticut
There are so many bakeries that sell bagels in CT, it's difficult to list them all here. But, here are some other excellent places to eat Connecticut bagels:
Upper Crust Bagel Co in Greenwich
Flanders Donut & Bake Shop in East Lyme
Lox Stock & Bagels in West Hartford, Bloomfield, and Granby
Kettle Bagels & GRILL in Southington
Bagels CT – Final Thoughts
Those are all of the top places to grab CT bagels. Regardless of where you eat breakfast, I'm confident that you'll enjoy the food at these restaurants.
If you're looking for a more fulling spot to eat, I recommend checking out some of the top breakfast and brunch spots in CT.