Amusement Parks in CT – 12 Best Theme Parks in Connecticut
Although Connecticut isn't known for its amusement parks, you can still find a handful of them around the state. But, which theme parks are the best? I decided to find out.
After visiting all of the most popular amusement parks in CT, I'm confident that I've found the best ones. This article will cover everything you need to know about amusement parks in Connecticut including a list of rides and what to expect at each one. Let's dive in.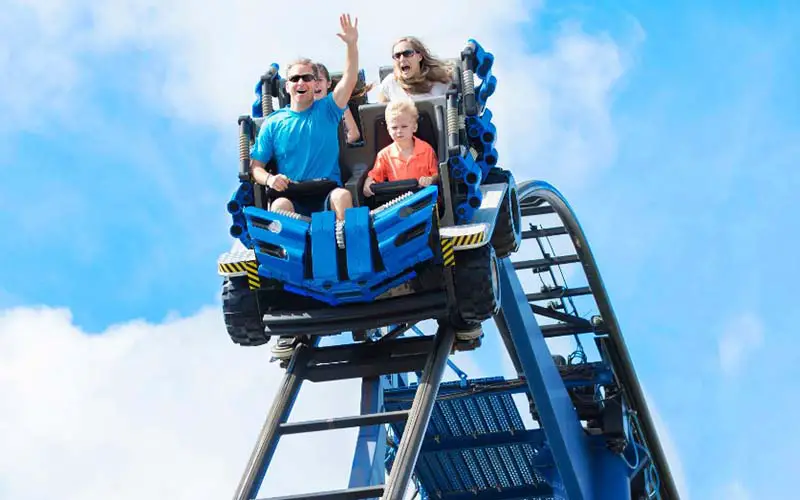 Top Amusement Parks in Connecticut
1. Lake Compounce
Lake Compounce is the largest Connecticut amusement park. Located in Southington, the park spans 332 acres and includes both a traditional amusement park with rides and a water park. There are dozens of thrill rides, kiddie rides, water rides, and roller coasters (including the number one wooden roller coaster in the world).
In addition to the main amusement park attractions, Lake Compounce also hosts events like concerts and light shows. To attend the park, you can purchase an individual ticket or get one of their season passes. Discounted tickets are available too if you're camping at the park.
Address: 185 Enterprise Dr, Southington, CT 
2. Quassy Amusement & Waterpark
Quassy Amusement & Waterpark is a highly-rated theme park in Middlebury. The park features a ton of thrill rides, family rides, and kiddie rides, like bumper cars, roller coasters, and carousels.
Many of the attractions here are geared toward younger kids, so this is a great place to visit if you have little ones. Plus, there's a water park, a swimming beach, and an arcade. You can find Quassy Amusement & Waterpark right off of I-84 between Waterbury and Danbury.
Address: 2132 Middlebury Rd, Middlebury, CT
3. Six Flags New England
While not technically located in Connecticut, Six Flags New England is just 5 minutes from the Connecticut border. In fact, Six Flags might be the closest amusement park to your home if you live in the northern part of the state.
This place is widely regarded as the best amusement park in New England, and for good reason. There are over 50 different rides, including some of the biggest rollercoasters in the world. If you're looking for some serious thrills, Six Flags is the place to be.
Address: 1623 Main St, Agawam, MA
4. Brownstone Adventure Sports Park
Brownstone Adventure Sports Park is a fantastic amusement park in CT found in Portland. This place has a ton of cool outdoor activities like ziplining, rock climbing, cliff jumping, rope swinging, kayaking, wakeboarding, and swimming.
There's also a water obstacle course, which is perfect for smaller kids. The park is seasonal since many of the activities involve water, but it's a ton of fun in the summer. If you're looking for an amusement park that's open during the winter, you'll want to check out the next park on this list.
Address: 161 Brownstone Ave, Portland, CT
5. Nomads Adventure Quest – Indoor Amusement Center
Nomads Adventure Quest is a great indoor amusement park. With over 65,000 square feet of fun, it's the largest indoor family entertainment facility in the state.
The park features plenty of games, like a laser tag arena, a bowling alley, rock climbing walls, full-size basketball courts, bumper cars, glow-in-the-dark mini golf, and even a tea-cups ride. Nomads is also home to one of the biggest arcades in Connecticut.
Address: 100 Bidwell Rd, South Windsor, CT
6. Ocean Beach Park
Ocean Beach Park is a popular amusement park in Connecticut located on the shoreline. This fun park offers a number of old-school carnival rides for both kids and adults, along with water slides, mini golf, a playground, an arcade, and an Olympic-sized swimming pool.
If that wasn't enough, there's also a beach where your kids can play and the sand and jump around in the waves. Admission here is cheap, but you have to pay to access the individual rides. There's also a food court as well if you get hungry.
Address: 98 Neptune Ave, New London, CT
7. Urban Air Trampoline and Adventure Park
Urban Air Trampoline and Adventure Park is a massive indoor amusement park with locations in Manchester and Orange. The park features a number of attractions, including a trampoline park, bumper cars, laser tag, bowling, rock climbing, a trapeze, go-karts, and a tube playground.
There are plenty of family-friendly attractions for both toddlers and older children. Prices for tickets at Urban Air cost $25 per person, but kids under 5 get a big discount.
Address: 260 Bull Hill Ln, Orange, CT
8. Thrillz High Flying Adventure Park
Thrillz High Flying Adventure Park is another indoor theme park in Connecticut. Found in Danbury, this spot offers a ton of cool activities including laser tag, zip lines, ninja courses, a trampoline park, rock climbing walls, axe throwing, and an arcade with prizes.
Thrillz is one of the more affordable parks in the state, costing between $15 to $30 for a ticket. It's the perfect day trip for fun with the family.
Address: 5 Prindle Ln, Danbury, CT
9. The Dinosaur Place at Nature's Art Village
The Dinosaur Place at Nature's Art Village is a Connecticut theme park that also doubles as a museum. The park has a number of attractions including life-size dinosaur replicas, mazes, nature trails, a splash pad, a playground, and mini-golf.
The Geode Center located next to The Dinosaur Place is also a great place for kids of all ages to learn and have fun. This is a very affordable park to visit, with tickets costing less than $30. You can find The Dinosaur Place in Oakdale, Connecticut.
Address: 1650 Hartford-New London Turnpike, Oakdale, CT
10. The Adventure Park at Storrs
The Adventure Park at Storrs is one of the lesser-known theme parks in Connecticut. This popular aerial park has rope courses, zip lines, and climbing challenges that twist and turn through the trees. Plus, you have the option of hiring a guide for a more structured experience.
The Adventure Park is perfect for birthday parties and family events since there's something to do here for kids of all ages (Just be aware that kids must be 7 years of age to get on the larger zip lines).
Address: 2007 Storrs Rd, Storrs, CT 
11. Xtreme Play Extreme Adventure Park
Xtreme Play Extreme Adventure Park is another one of the indoor Connecticut amusement parks. It offers a ton of cool attractions like laser tag, an indoor playground, high ropes, mini bowling, a VR arena, rock climbing, and an obstacle course.
Admission to the park is free, but you pay per attraction (most attractions cost about $7). This is one of the best places to play laser tag in CT.
Address: 38 Mill Plain Rd, Danbury, CT
12. Sonny's Place
Sonny's Place is another one of the theme parks in CT located in the northern part of the state. The park has plenty of fun attractions including batting cages, go-karts, rock climbing walls, laser tag, an arcade, outdoor mini golf, a zipline, and a carousel.
This is one of the parks that's popular for birthday parties due to its affordable pricing and long list of attractions. You can find Sonny's Place in Somers, not too far from I-95.
Address: 349 Main Street, CT-190, Somers, CT
Best Amusement Park in CT
Those are all of Connecticut's top amusement parks. I would argue that Lake Compounce and Six Flags New England are the best, however, they aren't open in the winter. The same goes for many of the parks on this list.
Indoor amusement parks are better in the winter since they aren't seasonal. I really like Nomads Adventure park, but all of the other parks mentioned are great as well. I recommend visiting the theme park in CT that's closest to you.
Connecticut Amusement Parks – Final Thoughts
As a kid, I really used to really enjoy The Great Escape in Glastonbury, but that closed many years ago. Fortanently, you have plenty of other parks to choose from with a wide variety of things to do. Many of these parks also make our list of the best water parks in CT.